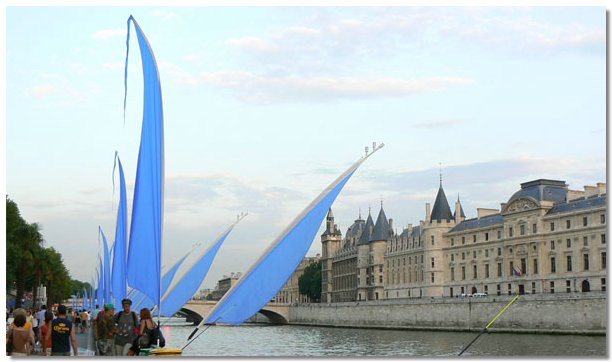 Conciergerie and the Chatelet towers, facing Paris beach.
Parismarais Newsletter
Issue 16, August 2006
http://www.parismarais.com
Cool down this summer with hot Paris prices.
Bonjour Parismarais Readers,
Every year, we eagerly await all the spectacular summer events happening in Paris. And what a summer it's been!
Last month, we enjoyed the biggest Gay Pride Parade Paris has ever seen. For fabulous photos and all the details, visit http://www.parismarais.com/paris-gay-pride-2005.htm
Then two weeks ago, the fire stations were the hottest spots in Paris as they opened their doors on July 13 and Bastille Day, July 14, for the Bals des Pompiers. Handsome and sexy firefighters welcomed Parisians and tourists alike for music and dancing, with celebrations lasting until the early morning hours. These military men certainly know how to throw a party! See all the fun photos at http://www.parismarais.com/bastille-day-firefighters-paris.htm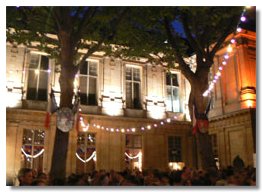 ........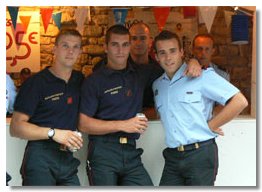 A very special thank-you goes to Catherine Pastore, a Parismarais visitor who sent us a wonderful U.S. firefighter t-shirt to thank us for taking her to the firemen's ball last year. We're starting a collection of firemen t-shirts from all over the world, so feel free to send them in!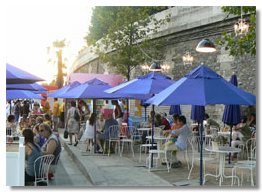 ........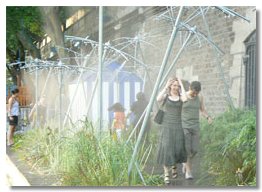 On July 20, the annual Paris Plage opened in le Marais, with the theme of «French Polynesia». The banks of the river Seine by the Hotel de Ville have been transformed into a Polynesian paradise, complete with sand, palm trees, deck chairs…and special events every night. You can even enjoy a massage for free, courtesy of the Mairie de Paris. And Paris Plage is even bigger this year – it reaches along the south bank of the river to the Quai de la Gare d'Austerlitz, and includes a new floating swimming pool on the Seine. Come on out, relax and soak up the sun until August 20.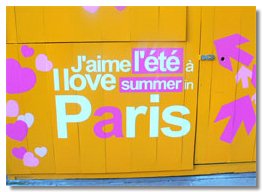 ........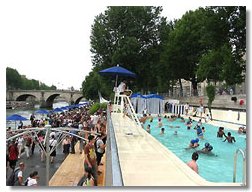 And there are still lots of exciting events to look forward to in August – we've listed a few here. For more things to do in the City of Light this month, visit the Paris tourist office web site at www.parisinfo.fr
Festival Musique en l'Ile
Enjoy classical music concerts with the Academy of Saint Louis en l'Ile Church, featuring the voice of the Neva, a famous Russian chorus. This is a wonderful place to stay cool, while discovering the lovely decor and listening to beautiful music at affordable prices, usually under 15 euros. For more details visit www.latoisondart.com
Madonna
On stage at Paris Bercy, August 27, 28, 30 and 31, our favorite American star will be performing fresh new songs, with the same hot ambiance, all in an air-conditioned concert hall. Buy tickets online at http://www.bercy.fr
Marilyn Monroe: The Last Sitting
Marilyn Monroe is being honored in Paris with a fantastic exhibition at Musée Mayol, featuring 59 fabulous photos of the star taken for Vogue by Bert Stern. Visit www.museemaillol.com
August is a great time to visit Paris as the whole city is on sale! You'll find hot deals with 50% off in all the shops, and hotels and apartments offering discounts of 30% to 50% off. With discounts like that, it's well worth the plane ticket! For all the coolest specials, check out http://www.parismarais.com/4-star-hotels-in-le-marais-paris.htm and http://www.parismarais.com/visit-our-flats.htm
A bientôt en septembre!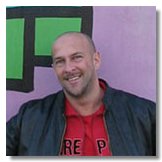 Pascal Fonquernie, Editor
P.S. For our friends from Quebec, Switzerland, Belgium, Monaco, Luxembourg, Africa and the entire francophone community, next month we will be online with PARISMARAIS.FR! All the same great information, but all in French, mais oui absolument! So be sure to tell your French friends. And very soon we will have a version for German, Austrian and Swiss visitors, PARISMARAIS.CH in German.
---
WHERE TO BE COOL IN AUGUST?
Air-conditioned hotels
At great prices – 20% to 40% off in August
When choosing a hotel for your stay in Paris, air conditioning is not the only issue that should guide your choice. Although it is still an exception in France, most hotels now have air conditioning. The French don't really believe in AC, but they do understand that most visitors expect it so it is becoming more common.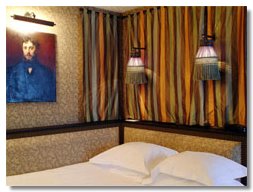 ........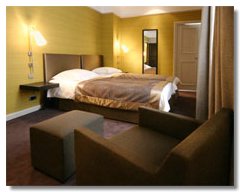 In the Marais district alone there are about one hundred hotels. But you should be aware that there are hotels that have the word «Marais» in their name, but are located outside the area. Before you book, be sure that the address of the hotel you have selected is in the 75003 or 75004 postal codes – anything else is not le Marais!
We love le Marais (can you tell?), but of course there are fabulous hotels in other districts. Parismarais.com will soon be featuring some of the best hotels in the areas around le Marais – stay tuned.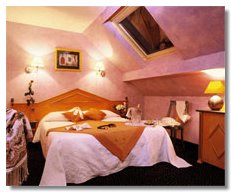 .......;.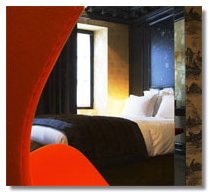 You want to be aware of the «star» ratings for hotels you find in guide books and on web sites. The French classification for hotels is very strict – maybe the most strict in the world – but it does not include categories for charm and style. You can easily have a 3-star hotel that receives this rating because it offers a certain amount of space, a separate, private bathroom and specific services, but it can be lacking in the classic Parisian atmosphere that will make your trip extra-special. These types of hotels are numerous and you'll usually find them on the big travel networks or reservation services.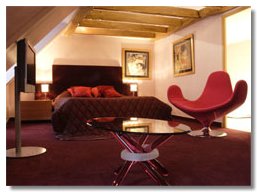 ........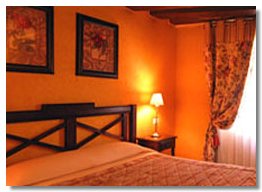 PARISMARAIS selected hotels are the best you can find in the district. We visit almost every room before we include them in our web guide, and only a limited number of hotels receive the Parismarais stamp of approval. This year we have welcomed 5 new hotels with ratings from 2- to 4-stars, including the wonderful Hotel du Petit Moulin**** designed by Christian Lacroix and the convenient, friendly and affordable Relais du Marais ** on rue de Turbigo.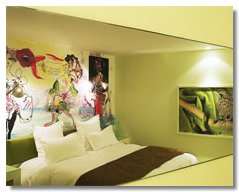 ........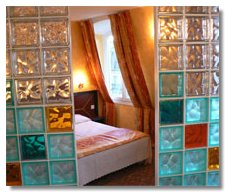 Size does matter when it comes to hotel rooms. Most 3-star hotel rooms are just 150 square feet and sometimes less. 4-star rooms must be at lest 200 square feet to receive this classification. Due to the small size of buildings in Paris' historic center, there are very few 4-star hotels because the rooms are just too small to get the standard classification. But some upscale 3-star hotels easily match the international classification for 4-stars.
When you book with any of the outstanding hotels featured in our web guide, please be sure to mention that you found them at Parismarais.com!
Air-conditioned Apartments
At last minute prices in August – from 30% to 50% off
Department Stores…
The best places to beat the heat while enjoying the hot summer sales at up to 50% off is in the major department stores. In le Marais, we are lucky to be close to the most fantastic store for decoration, design, arts and crafts, and DIY… BHV Rivoli (Bazar de l'Hotel de Ville) an institution in Paris. If you need to buy a converter for your electronic devices, this is the place go – the huge basement hardware store is a Paris must-see! Metro: Hotel de Ville. Visit: www.bhv.fr
Night clubs…
The Paris nightclub and dancing scene is not really centered in le Marais. An exception is one of the most notorious hot spots in Europe's dance club history, Les Bains Douches.

Les Bains Douches
Launched in 1978 as Paris' version of New York's Danceteria, Les Bain Douches exploded on the new wave scene featuring bands like The Psychedelic Furs. Enjoying exceptional popularity, Les Bains Douches has not missed a step since. Reincarnated later as a jet-setters heaven, it seemed that nothing could stop this club from filling its halls nightly with party animals. Part of the celebrity crowd was Philippe Stark who cut his interior design teeth in Paris and launched his own career.
When fads change and a club is past its glory days, the people usually move on. Fortunately, this is not the case with Les Bains Douches. Longevity seems to be in the French blood, especially when the policy is to encourage change. When house music became the latest craze, a whole new era began at Les Bains, which has always appealed to the gay scene and anyone who just loves to dance.
Now more than ever, Les Bains Douches turns to the gay circuit and the neighborhood that it calls home. It continues to be the coolest place to go in Paris with an exceptional sound system and an exciting nightlife experience. Owner Hubert Boukobza is now giving the club a new look with the collaboration of Queen's mastermind Thibaut Jardon.
The music is kick-ass with DJs coming from everywhere to fine-tune their craft. My policy is that when a club makes such an effort, then I should too. It's important to look good here, but it's even more important to shake your booty and that's what I really like about this place.
Les Bains Douches is open all year long including August. Plus, we're looking forward with anticipation to the new restaurant being built upstairs, due to open its doors in September.
Discover more Paris hot spots at:
http://www.parismarais.com/gay-clubbing-cruising-nightlife-le-marais-paris.htm
and http://www.parismarais.com/nightlife-in-le-marais.htm
Museums
Churches
| | |
| --- | --- |
| | Always cool inside and free to enter…you may even be lucky enough to enjoy a free classical concert in the afternoon. Just push open the doors – everyone is welcome. |
Spas…
This may be surprising, but to keep cool, men in the desert actually drink hot tea.

When the weather is hot in the city, spoil yourself with a cooling massage under water jets…or any skin care treatment is also a refreshing pleasure. New spa facilities are opening every day in le Marais, such as le Boudoir du Marais (http://www.leboudoirdumarais.fr) at number 9 rue du Perche, 75003.

For more refreshing spots, visit: http://www.parismarais.com/beauty-and-spas.htm
Ice cream…
Et voilà… for a sweet summer treat, visit the famous Berthillon ice cream shop on Ile Saint Louis. But if it's too hot to stand in a line for 30 minutes, go into the first PICARD shop you see, a chain of good quality frozen food stores located throughout Paris. Find their « glace au calisson », a taste of Provence in a cup. They even have individual cups to take away – not only is it cheap, it's absolute heaven! http://www.picard.fr
---
Parismarais Newsletter
Published each month by Pascal Fonquernie, Lynda Sydney and the ParisMarais Team.
http://www.parismarais.com
mailto:info@parismarais.com
To Subscribe:
http://www.parismarais.com/parismarais-newsletter.htm
To Cancel Your Subscription:
http://www.parismarais.com/unsubscribe.htm
To receive more news about Paris, subscribe to Parler Paris Newsletter and twice a week you will receive the latest news about the French capital, written by Adrian Leeds, our real estate specialist and a long time resident of Le Marais. Visit www.parlerparis.com
Copyright 2006, parismarais.com