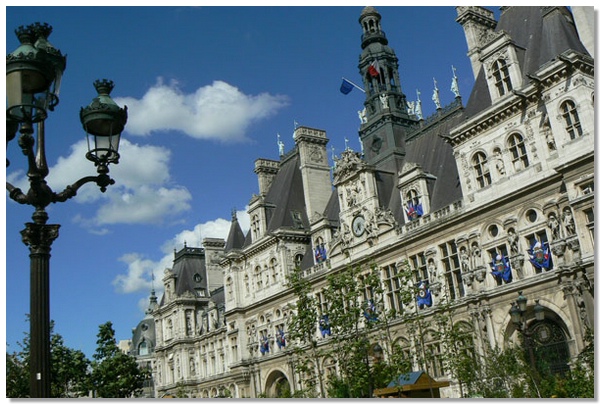 Paris, you're just too good to be true… Can't take my eyes out of you…
Parismarais Newsletter
Issue 43, July 2008
http://www.parismarais.com
---
Last minute holiday rentals at bargain prices from 500€ per week and fabulous hotels up to 60 % off .. it's not adream it 's we can can offer you now if you book online between 7 july and 25 august…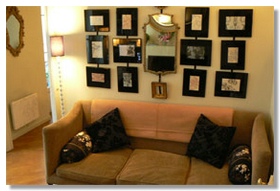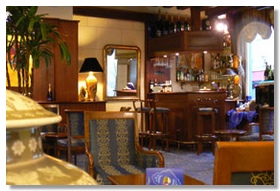 Apartments :
http://www.parismarais.com/rent-a-flat.htm
Luxury Paris Hotels :
http://www.parismarais.com/hotels.php?zone=Paris
---
WELCOME TO DREAM CITY
Bonjour Parismarais readers,
Just think about it. Imagine a city dedicated to the art of living, a city that offers cultural attraction and history… a city that can please art lovers, fashion victims, gourmets, senior citizens, children, families, gay couples, libertines, Africans, Asians, Brits, Italians, Americans… a city that could even make the French happy and enthusiastic. Imagine an island of tolerance and freedom where you could say anything you wanted, create art at every street corner, let your imagination run wild, enjoy freedom of speech and no moralistic or religious judgment… a city where you can almost wear anything you want anytime and anywhere… a city where you can eat out and drink bubbly virtually all day long while some Spanish cities wait for boats to bring them mineral water to survive… A city where military men open their doors all night long to dance with you and offer you some strip shows, a city where hotel prices are cut in half during the summer to make it even more attractive… A city that shuts down its highways to create sandy beaches instead, and set up deckchairs just for your relaxation… Would you trust anyone who thinks such a city exists? You shouldn't, it could be a city of sin… it would be too good to be true.

Well, this city does exist! It's called Paris. And at its heart, where it's all happening is the Marais. But don't tell too many people. Let's keep it our little secret … you wouldn't want crowds joining us for the Bastille day celebrations, would you?
Here's what you'll find in this issue:
Hotel deals for July and August 2008
Last minute holiday rentals at bargain prices
Classic restaurants you'll want to rediscover
Shopping you can enjoy at 50% off in most of the Marais boutiques
Reports on events we enjoyed last month
Le Bal des Pompiers (The Firemen's Ball) and Bastille day celebrations
La Vie de Château where you can learn French in south of France
Paris escapes for the day where you can discover a fabulous spa
The Hotel de Ville History

The weather and events are heating up!
Join us. Last-minute prices have never been so cool in Paris!

Pascal Fonquernie

Editor, Parismarais.com
(Tom of Finland version...)
---
HOTEL DEALS IN SUMMERTIME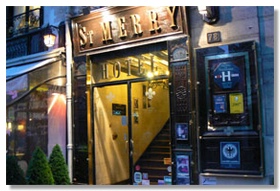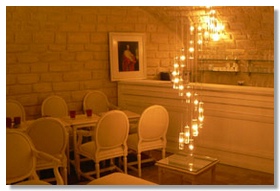 The high value of the Euro is not really helping the tourist industry in the Eurozone. That's why all PARISMARAIS selected hotels are offering fabulous deals you won't believe!
For each hotel, check out the special summer rate on the right side of their presentation page.
3 star category:
http://www.parismarais.com/3-star-hotels-in-le-marais-paris.htm
4 star category:
http://www.parismarais.com/4-star-hotels-paris-marais.htm
Budget category :
http://www.parismarais.com/hotels-paris-le-marais.htm
---
WHAT'S UP NEXT IN LE MARAIS?
This monthly newsletter is available in English, but we have so much to tell you it just keeps getting longer and longer! Don't wait for the next issue to discover what's new in le Marais. Almost every day we'll add a new report or article about le Marais and Paris, plus many tips about travel and entertainment in Paris. These articles will be available in English, French, Italian, Dutch, German, Swedish, Danish, Spanish and Russian. We are building strong relationships with many international medias to promote le Marais around the world, and we'll publish some of their articles in our blog. If you want to write about le Marais, we'll be happy to add you to our list of our contributors and writers.
http://www.parismarais.fr/blog/
---
FAVORITE RESTAURANTS with air conditioning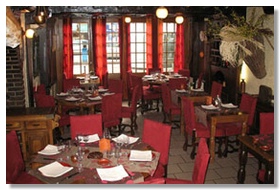 The Ambassade d'Auvergne is one of Paris' top gastronomic institutions. Francis and Françoise Petrucci welcome you like old friends and share their passion of their region of France, happily explaining the secrets of their wonderful cuisine. Among the many house specialties, we recommend the chilled lentil salad, cochonnailles de la Châtaignerie (assorted charcuterie), stewed pork with braised cabbage, Parlan sausages and aligot (mashed potatoes with garlic and Cantal cheese). For dessert, try their chocolate mousse unlike any you've had before, the triple-flavored creme, or the cold rhubarb soup with fresh mint. Great selection of wines ranging from the affordable (16€ per bottle) regional wines like Saint-Pourçain or Madargues to the most prestigious Burgundy wines: Gevrey-Chambertin, Clos Vougeot, or Morey Saint-Denis… Great regional menu : starter + main course + dessert at only 30€
22 rue du Grenier Saint-Lazare - 75003 Paris
Tel 01 42 72 31 22
http://www.ambassade-auvergne.com
Service everyday, from Noon to 2 am. Orders taken from 7:30 pm to 22:30 pm. Closed on Sundays from July 20 to August 20
GREAT RESTAURANTS SELECTED BY LE MIAM GASTRONOMIC GUIDE
Chez Janou
A charming Provençal style Parisian bistro with just the right touch of a Southern interior cleverly avoiding all the usual clichés. Old Pagnol film posters, ceramics, an impressive display of pastis bottles and large sunny terraces. In short, step into an authentic Provençal interior and leave the chilly Marais outside. In the kitchen no effort is spared and the characteristic touch of traditional aromatic flavours is de rigeur. Crème brûlée with thyme, duck with rosemary. Diners will derive a certain pleasure in discovering these richly flavoursome rather than typically Provençal dishes.
2, rue Roger Verlomme, Paris 3
Around 25 € for 2 dishes
Le Fin Gourmet
Stone walls, vaulted cellars and exposed beams. We're in the heart of the Ile St Louis. A true gourmand's find. An informal and relaxed atmosphere, no culinary surprises but beautifully conceived dishes. As proof, tender veal medallion with scallions and melt in your mouth apples, delicious Morello cherry chocolates savoured with a sweet full-bodied Domaine Pasqua wine.
42, rue Saint Louis en l'Ile. Paris 4th. Tel. : 01 43 26 79 27.
Menus : 27€ and 35 € (glass of wine and coffee included in the price).
A la carte : 42,80 € to 50 €.
Fo other selected restaurants, please check: http://www.lemiam.fr/
---
DOUBLE YOUR SHOPPING CART FOR THE SAME PRICE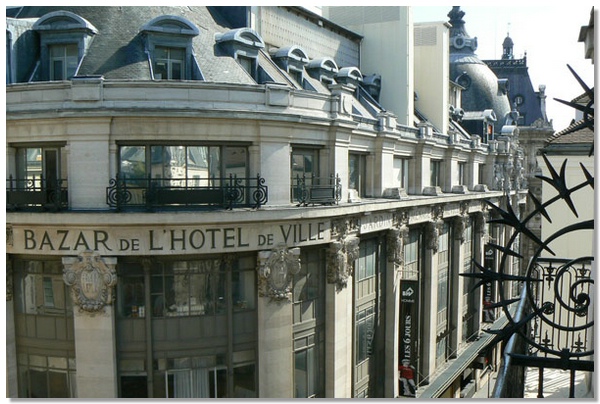 The BHV, Bazaar de l'Hôtel de Ville, is the unique department store located in le Marais, but surprisingly it is not so well-known. Shopping for home decoration and design at BHV is truly an experience. For the first time, BHV is opening the sale season with prices that drop down to 30 and 50% on most clothing and home design selected pieces…
Be sure to shop at BHV, the number one department store in le Marais… Check
www.bhv.fr
---
EVENTS WE ENJOYED AND WE WOULD LIKE TO SHARE WITH YOU
NUIT DU FEU WITH PARIS FIRE BRIGADE SPORT TEAM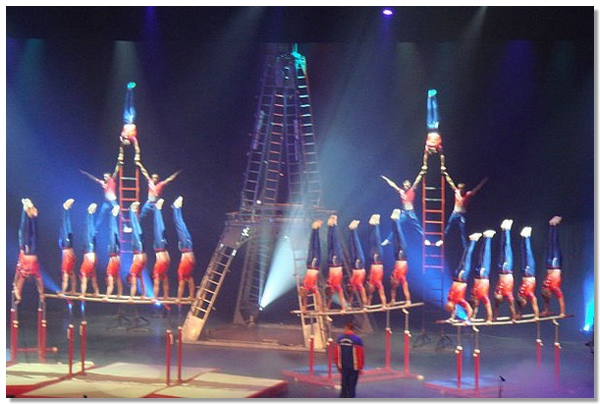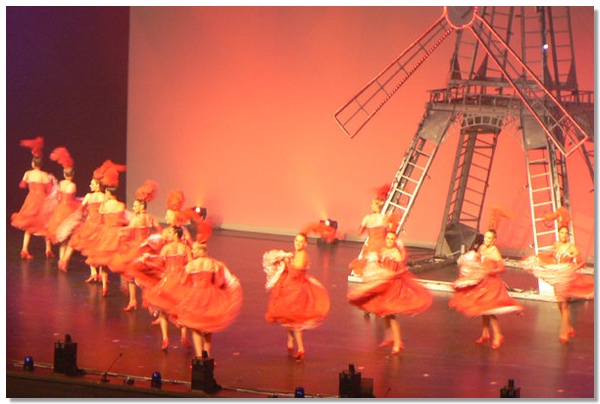 On June 27 at Paris Congress Hall, came an event that is unique in France and probably in the entire world, featuring the Moulin Rouge girls and Paris Fire Brigade guys.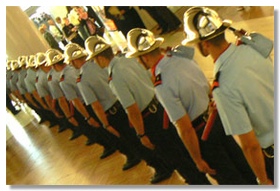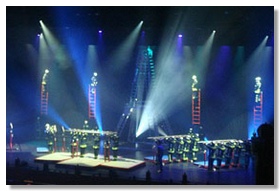 The full price of the tickets went to a foundation to help the children and families of Paris firefighters who have died in the line of duty. Enjoy these pictures and do not miss it next year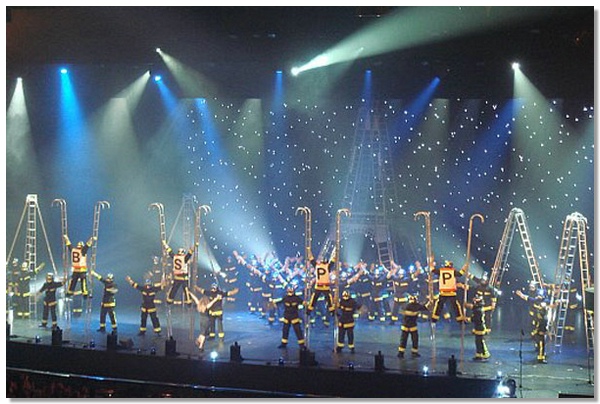 DO NOT MISS THE ANNUAL PARTIES at every paris fire station on 13 and 14 july … from 9 pm to 4 am. For those who think the Eiffel tower is Paris' number one attraction, think twice and come to meet Paris' Firemen…There is only one tower but over 8000 firefighters to die for…
Check http://www.pompiersparis.fr/accueil.htm
PARIS GAY PRIDE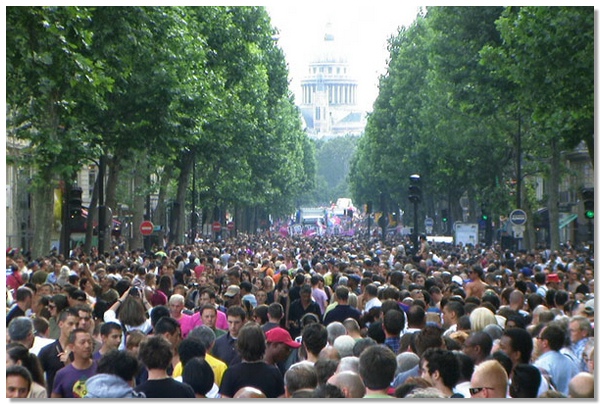 Last week, more than 700 000 people took part in this event.
Colorful floats, costumes and characters mingle with supporters who have come to cheer on their actions or parade their own identity.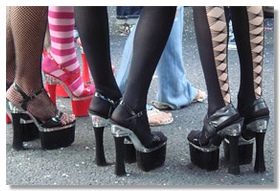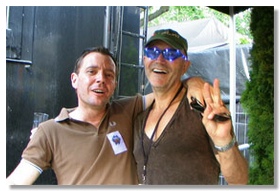 The floats file past a crowd of bystanders and locals, who are at first surprised and then won over by the stream of dancing, singing and rhetoric, always conveying the same warmth and conviction.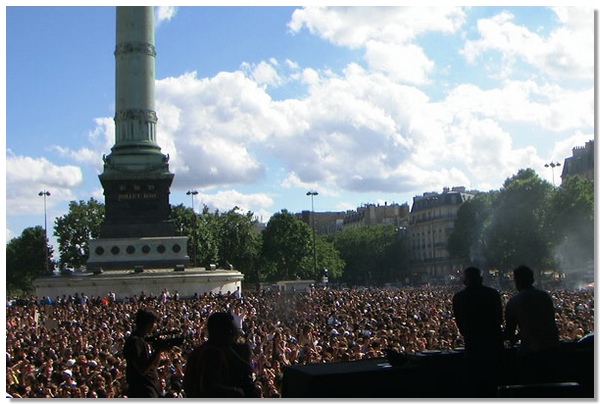 See the wonderful video made by Sensitif, the chic free monthltly gay magazine in Paris.
http://www.sensitif.fr
TOM OF FINLAND PERFUME VIP PARTY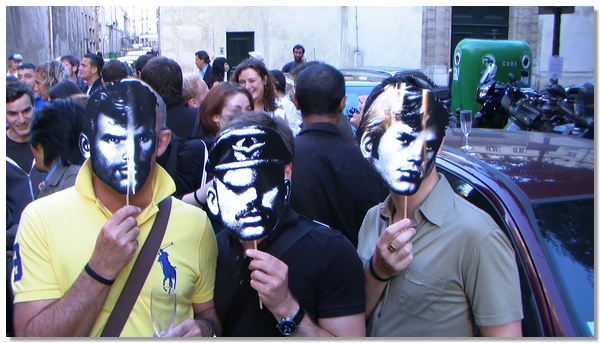 Outrageous and glamourous, the street party was a blast… No need to say Tom's perfume will be the new unconventional fragance to wear…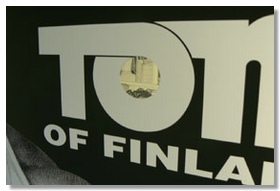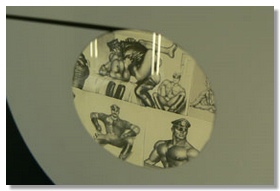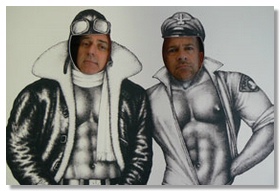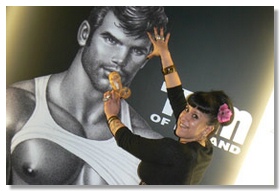 Check wwww.etatlibredorange.com to order your own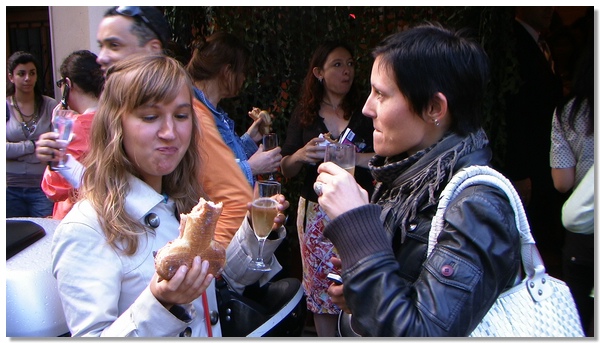 CARNAVALET MUSEUM PRIVATE GARDEN PARTY
ORGANISED BY IESA INSTITUT SUPERIEUR DES ARTS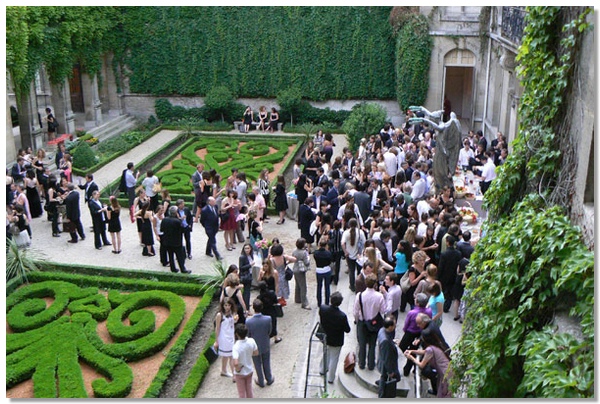 One of the top art schools in Paris was celebrating its annual party in the wonderful Carnavalet Museum gardens. Jean-Marc Léri, the museum curator, and many of the school teachers, including Pierre-Jean Chalençon, welcomed us for a fabulous party.

Champagne flowed, gourmet buffets were set up both in the gardens and in the historical rooms where King Francis I, Catherine de Medici and the Sun King's portraits were watching us jealousy… Indeed, it was reminding them of the golden age of the Marais when all the royalty called it their home.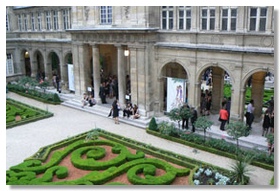 PIERRE TALAMON COLLECTION SUMMER 2009 FASHION SHOW AT L' HOTEL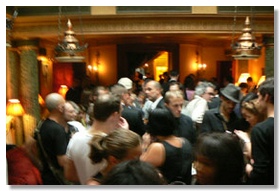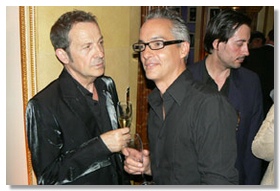 Inspired by mangas, the new collection is amazing, we're happy to promote a local designer who is doing fabulous men's collections as well as made to measure and have it all made in France.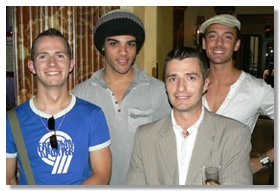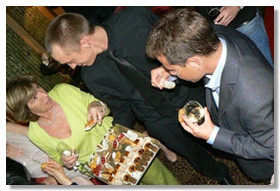 Visit Pierre Talamon Shop at 15 rue du Temple 75004 Paris. Keep his name in mind he will for sure soon be in the Paris' Top 10 ! www.pierretalamon.com
---
DISCOVER THE FRENCH REGIONS WITH PARISMARAIS.COM
A trip to France would not be complete without spending at least a couple of nights in provence or french riviera.. It's now high season there, but if you book now your stay for october and november, you'll be surprised to realise you can afford hotels you would not even think about. When booking any south of France hotel through Parismarais.com, you can benefit from great prices and often get upgrades upon availability… A charming 4 star baroque palace at less than 200€ per night… what do you think? Definitely worth extending your stay after Paris!
Please visit: http://www.parismarais.com/hotels-europe.htm
---
AND HOW ABOUT IMPROVING YOUR FRENCH
ON THE COTE D'AZUR ?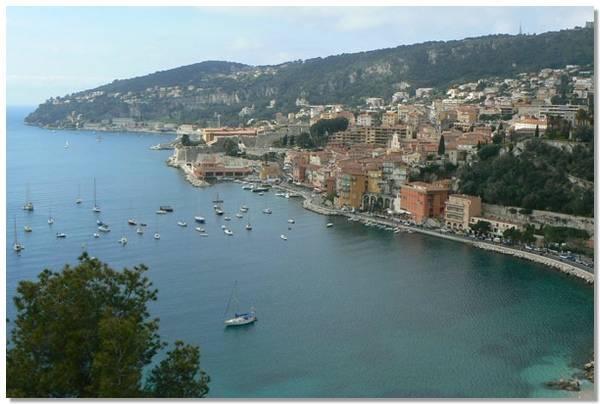 Take the unique opportunity offered by the Institut de Français in Villefranche-sur-mer, next to Nice. A renowned school set in a breathtaking setting on the French Riviera, which runs an intensive program of 8½ hours a day, with 2 on-site meals, 5 days a week, all year round. The results are impressive: first, because the teaching standard is top notch, secondly, the program is extremely varied, ranging from audio-visual classes, language lab, discussion-lunch with a teacher to practice sessions, linguistic games, songs, role playing in everyday situations, commenting on newscasts, commercials, a demonstration of crepe making, a presentation and tasting of cheeses, etc. Add to that, the organized evening activities, most accompanied by teachers: cinema showings, going to the theater after having studied the play, meals at a restaurant, a full-day excursion in the hinterland, to renowned villages like St Paul-de-Vence, Grasse, the perfume center of France, etc. All this makes for a truly fulfilling, unforgettable experience! Find out more and read about it: http://www.parismarais.com/education-language-schools.htm
And to find the perfect apartment there while you study, do not miss to contact Shelley Benton, our riviera correspondant who rent fabulous flats and house in Villefranche:
check http://www.rivieraexperience.com
---
REAL ESTATE IN LE MARAIS
3 bedrooms fabulous space loft type 1500 square feet 1.6 M€ fully furnished ready to live and ready to be rented with high income prospective, just in the heart of the north marais, 2 minutes walk to Picasso Museum.
Want to know more about it ? write to info@parismarais.com and we ll pass your details to the agency in charge of promoting it.
---
RELAX FOR A DAY OUT IN A FABULOUS SPA …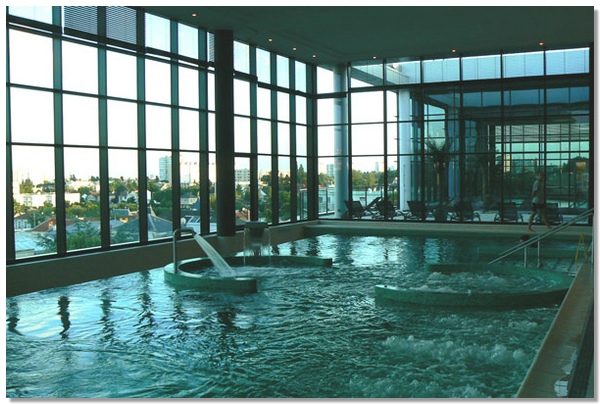 Discover ENGHIEN LES BAINS and enjoy a fabulous spa, overlooking a lake, just 15 minutes away from central Paris. Take a train from gare du Nord, in 15 minutes, you are in the chic city of Enghien that host France's number one Casino and one of the best spa I've ever visited. A daily treat is just 50€.
Check http://www.spark-enghien.com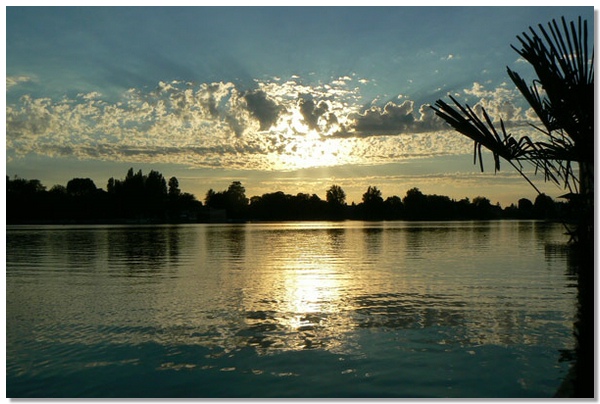 ---
… OR JUST ENJOY PARIS PLAGE

Each summer, the banks of the Seine turn into an urban beach bash. Floating nightclubs, outdoor music festivals, sand castle building and activities such as roller skating, a climbing wall and trampoline attract sun worshipers, sports enthusiasts, picnickers and partyers alike.

Just sit back in your beach chair, close your eyes and you can almost hear the gentle surf, rather than the din of busy Parisian streets.

You can grab your sunscreen and catch some rays between July 21 and August 21, daily from 7 a.m. to midnight.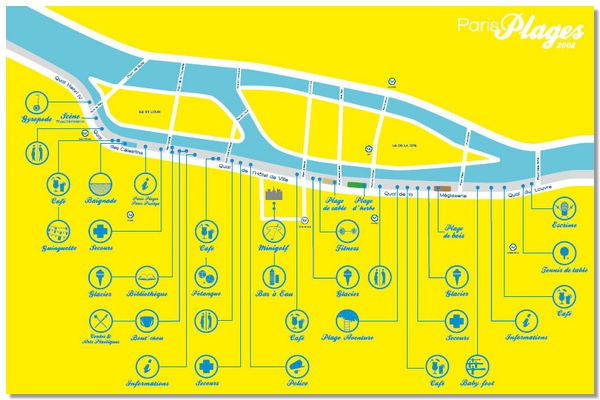 ---
DISCOVER PARIS HOTEL DE VILLE WITH THIRZA VALLOIS
It is beautiful. It is grand. It is even more flamboyantly glamorous at night. It is also the city's oldest secular institution to have remained in the same location, close to 700 years. The public hardly came here until recently, but now that popular exhibitions are held here throughout the year, offering free admission, visitors are coming over in ever greater numbers, both locals and tourists. The young and energetic throng to the Place de l'Hôtel de Ville, to the ice rink in particular come winter, and to the giant screen come summer, when special events are on offer (eg Roland Garros tennis open just recently).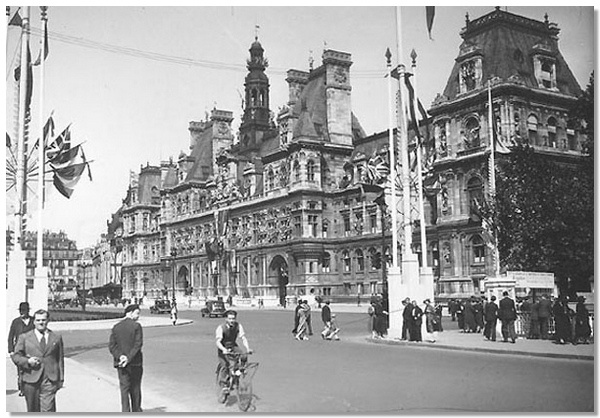 It all began in the 12th century. The new Paris that grew out of the ashes of the Viking devastation, sprang up on the right bank because its strand (grève in French, hence Place de Grève, or La Grève, now Place de l'Hôtel-de-Ville) was an invaluable asset to the corporation of water merchants (les marchands de l'eau) who were the backbone of the new city's economy. Having bought the strand from Louis VII, they made it their new harbour and moved their headquarters to the natural plateau that rose above the strand, the only site on the right bank that escaped the flooding of the Seine. From then on medieval Paris was made up of three entities: the right bank, its economic sinew, called La Ville; the left bank, its intellectual mind — l'Université, and the island, its original city, La Cité. (The little island lying to its east was covered with meadows, reeds and willows and totally uninhabited. Today this is l'Ile Saint-Louis).

Philip Augustus, the son of Louis VII, was the natural ally of the water merchants,whose prosperity ensured his own. Before leaving on the Third Crusade, he decided to have the right bank belted by a rampart but, being a seasoned businessman, he made the merchants finance it themselves: after all, they could afford to pay and he in return he was offering them protection, which seemed a fair deal.
With economic growth there was soon need for an administrative structure and by the next century a kind of corporation or tribunal of commerce was set up on Place de Grève, la Maison de la Marchandise, later known as le Parloir aux Bourgeois. This was the embryo of the municipality of Paris, as is illustrated by the fact that the city's aldermen were elected among its members and the provost of Paris was the head of the corporation. Likewise, the municipality adopted the corporation' seal, the same one used by their Celtic ancestors to speak, the Nautea Parisiaci, a thousand years earlier: with only minor changes, this remains the coat of arms of Paris to this day.

The provostship lasted until the French Revolution, although by then it had long lost its independence and played an insignificant role. In the early days, when its members represneted the prosperous merchants of Paris, it could be as much of a threat to the throne as were its princely subjects, as in the case of the bloody revolt led by the provost Etienne Marcel in the 14th century. As the throne consolidated its authority, it learnt to keep them under check by abolishing the free election of members and appointing them to their posts instead. Etienne Marcel was the first provost to settle in a town hall on Place de Grève, a two-storeyed house he had bought from the king on behalf of the city in 1357. It was known as La Maison des Piliers because it stood on a row of arcades. A magnificent Renaissance building replaced it in the 16th century, begun at the time of Francis I and completed during the reign of Louis XIII. At a time of commercial expansion, Franciis I encouraged the prosperity of the bourgeoisie and therefore entrusted the famous Italian architect, Boccador, with the prestigious project. The festive neo-Renaissance Hôtel de Ville now stands as a reminder that the 4th arrondissement is the birthplace of the Paris we know, the stronghold of the city's authorities since its beginning, the home of the only governing institution in Paris still on its original site. Even during the Revolution it was left in peace, for being a bourgeois instituion it was not contested. The anti-bourgeois proletarian Commune, on the other hand, burnt it down in 1871, but the victorious bourgeois government of the Third Republic rebuilt it at once on the same site and in its old style, so as to brush off this unfortunated incident and demonstate that its lineage and possession were irrevocable.

The Place de Grève was also a focal site in the life of the city, where people would gather in the early morning in search of work, faire la grève, an expression that has since seen its meaning twisted to 'going on strike' ! The square in front of the monument was the city's only open space prior to the opening of Place Royale (today Vosges) in 1612. It was therefore used for festivities, in particular the fête de la Saint-Jean on 24 June, when a 10-metre-high bonfire celebrated the birth of John the Baptist, occasionally in the presence of the King. But above all, the Grève is remembered as the main place of public executions and the gallows were a permanent fixture. Not that all the victims were hanged: some were dispatched by the sword or the axe, others were quartered, others still — mainly witches and heretics — were burnt at the stake. Even criminal books were burnt here on occasion, namely cartloads of Jewish Talmuds during the Middle Ages. The type of crime and the social rank of the victim also determined the category of punishment: decapitation for a nobleman, hanging for a menial... Many notorious criminals were executed here, among them Cartouche, the terror of Paris in the early 18th century, Ravaillac, the assassin of Henri IV in 1611, and the mass poisoner the Marquise de Brinvilliers in 1676, who, being a noble woman, was first decapitated:

"At last, it is all over, the Brinvilliers is in the air: her poor little body was thrown after the execution into a very big fire, and the ashes to the wind..", reported Madame de Sévigné.

These occasions provided entertainment to Parisians of all social ranks who thronged into the square and crammed on to rooftops. A fee was sometimes charged for places at the windows.

The French Revolution did not retain Place de Grève for its executions, other than for the guillotining of the odd common criminal. On the other hand it was at the Grève that the remains of Géneviève, the patron saint of Paris, were burnt by an ideologically confused populace, indifferent to the fact that she had dedicated her life to the welfare of the people. Public executions continued here until the advent of Louis-Philippe in 1830, who ruled them out because "the generous citizens had so gloriously spilled their blood (at the Grève) for the national cause". This was during the 1830 July Revolution, the three "glorious" days —les trois glorieuses — that brought him to the throne. In 1832 he had the guillotine removed to the remote Place Saint-Jacques in the 13th arrondissement.

The magnificent reception halls of the Hôtel de Ville and the main staircase, Rodin's bust of the Republic, the painted scenes of Paris life by Willette and the murals by Puvis de Chavannes, the Third Republic's official painter, all testify to the determination of the new bourgeois regime to demonstate its victory over the proletarian Commune that had burnt down Francis I's Renaissance town hall.

Opposite the Hôtel de Ville the BHV (Bazar de l'Hôtel de Ville ) department store is the Paris stronghold of DIY (do-it-yourself or bricolage in French). On Saturday afternnon in particular it becomes a bedlam. In the last decade or two, it has also been taken over by the internet community and is said to be a good place for a pick-up. It all started during the Second Empire, when Xavier Ruel, a small shopkeeper, opened up a shop here, which he named Bazaar Napolêon. Ruel was the first to launch what today would be termed as market survey: before choosing the site, he scattered pedlars in different areas of Paris, supplying them with screws, nails and other such trifles to sell, and watched to see where they would be most successful. It turned out that screws and nails sold best at the corner of rue des Archives and rue de Rivoli. When Napoleon III fell, the shop became the Bazar de l'Hôtel de Ville, shortened to BHV in more recent years by a generation pressed for time.
Thirza has lived in Paris for more than 40 years, holds several post-graduate degrees from the Sorbonne, including the most prestigious agrégation (French doctoral-level teaching qualification), and is an expert on all things Parisian.

Thirza lectures worldwide on Paris and France and contributes her comments to television, radio and the printed press. She has appeared on BBC, PBS, the Travel Channel, CNN, and many more…
---
ADVERTISE AND SELL ANYTHING YOU WANT
AT PARISMARAIS.COM
Did you know that Parismarais.com is a great market place where you can make new contacts and buy and sell practically anything you can imagine?

Furniture, holidays, clothing, vintage design, kitchen tools and more… you may even find the love of your life. Post a small ad online for only a couple of euros and have it promoted on Parismarais.com and 20 other Anglophone web sites reaching thousands of readers every day. As good as Craig's List, but more Europe oriented, which is important when you want to see what you are going to buy. Great isn't it? Start advertising now – it's fast and easy!
---
Don't Miss PARISMARAIS NEWSLETTER AND SPECIAL OFFERS
AOL blocks many major European ISPs, so we cannot guarantee that our mail to AOL addresses will arrive. Please use another email provider or "White List" our email address or add "info@parismarais.com" and to your contact list.
Parismarais Newsletter, July 2008 issue
http://www.parismarais.com
mailto:info@parismarais.com
To Subscribe:
http://www.parismarais.com/parismarais-newsletter.htm
To Cancel Your Subscription:
http://www.parismarais.com/unsubscribe.htm
PARISMARAIS NEWSLETTER JULY 2008
Special thanks to all our contributors and media partners all over the world.
http://www.parismarais.com/worldwide-links.htm
http://www.parismarais.com/gay-links.htm
Should you wish to promote us and create profitable reciprocal links with us to your web site, please write to advertising@parismarais.com.

---

Copyright 2008, parismarais.com