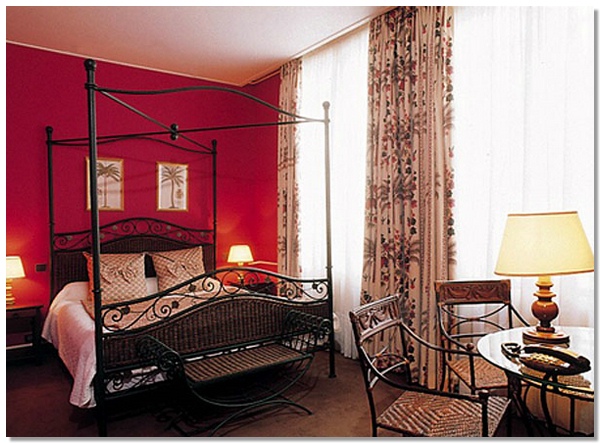 A great new 3 star hotel is joining the Parismarais Hotel Network : Hotel de la Bretonnerie***

Parismarais Newsletter
Issue 55 June 2009
http://www.parismarais.com
---
SO MANY THINGS TO DO, SO LITTLE TIME …
Bonjour Parismarais readers,
June is the busiest month in Paris with many cultural events for you to enjoy! Here's the list of our favorites – you won't want to miss them.
This month, Parisians will be practically living outside with all of the street events and open air festivals. There are few cities in the world that can compete with the diversity of cultural and social events organized by the city or private planners.
From the music festival to the Paris Gay Pride Parade, the streets in le Marais streets will be hopping, offering you tons of memorable activities to enjoy.
To make the most of your stay in Paris, we have selected some great deals for you, in hotels, restaurants, clubs and more. We encourage you to check out the addresses we have listed throughout the newsletter.


The weather and events are heating up!
We invite you to enjoy summertime in le Marais.

Pascal Fonquernie
Editor, Parismarais.com
---
STAY IN FABULOUS HOTELS IN EUROPE
When planning your trip to Paris, why not extend your stay by visiting other fabulous French and European cities? After a week in Paris, you may want to consider the prestigious resorts we have selected for you in the Loire Valley, the French Riviera and Monaco, as well as London, Berlin, Vienna, Prague, Rome, Venice, Florence...

Make your stay in Europe your most memorable ever!

Book now on Parismarais.com: http://www.parismarais.com/hotels-europe.htm
---
HOTEL DEALS IN SUMMERTIME

The high value of the Euro and the Financial crisis are not really helping the tourist industry in the Eurozone. That's why many hotels in le Marais are offering great deals you won't believe! Prices of most hotels are dropping down, especially in august. From 500 per week, you ll be able to rent luxury studios and from 100 euros per night find great centraly located hotels in le Marais.
Here is our selection. For each hotel, check out the special summer rate on the right side of their presentation page.
Hotels in Le Marais :
Luxury category : http://www.parismarais.com/5-star-hotels-in-le-marais-paris.htm
3 star category: http://www.parismarais.com/3-star-hotels-in-le-marais-paris.htm
4 star category: http://www.parismarais.com/4-star-hotels-paris-marais.htm
budget hotels: http://www.parismarais.com/hotels-paris-le-marais.htm
studios and private apartments : http://www.parismarais.com/rent-a-flat.htm
---
DISCOVER FABULOUS 4 STAR HOTELS AROUND LE MARAIS
There are very few luxury hotels in the Marais district, and they are often fully booked because they are among the most popular with visitors to Paris! You'll want to book well in advance, unless you are planning your trip in August, the low season in Paris.
To make sure you find the best hotels at the best rates, we have selected 20 fabulous luxury hotels in central Paris, just for you. Most are located close to the Marais district, and less than 15 minutes from the historical center of Paris.
Book your hotel online at the best possible rates with Parismarais.com, and you will deal directly with the hotel reception. You'll be guaranteed the best rate depending on your dates. Book now…
http://www.parismarais.com/hotels.php?zone=Paris
---
FAVORITE RESTAURANTS
Le Pamphlet is still one of the best value gastronomic option in le Marais, it welcomes you with a fresh market menu that offers unbeatable prices – enjoy an appetizer, main dish and dessert for just 35€. You'll be won over by the surprises, amuses bouches, and the mignardises.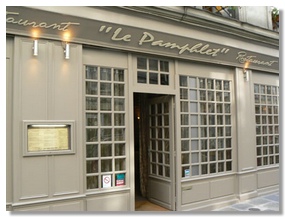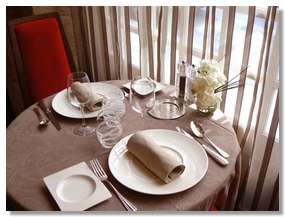 The Pamphlet's menu changes weekly, but the classics are a constant. Start with a Camembert salad with smoked anchovy filets or shredded crab in an asparagus and citron vinaigrette followed by chopped duck breast topped with a fried egg, green beans and new potatoes. Or perhaps a Salers filet of beef prepared a la Rossini with pomme grenaille and mushrooms. Finish off with a red-fruit millefeuille.
To discover the best menu on offer at Le Pamphlet, opt for the surprise dégustation at 65€ for the entire table, a gastronomic journey though regional French cooking revisited by chef Alain Carrère.
The wines will enchant you as well. Try Chardonnay du Languedoc at 28€, Chablis 2005 at 45€, Crozes-Hermitage 2006 at 40€, Saint-Estèphe Château de Pez 2003 at 85€. Start your perfect meal with a glass of Roederer Rosé Champagne at only15€.
Le Pamphlet
38, rue Debelleyme, 75003 Paris
Tel: 01 42 72 39 24
Métro: Filles du Calvaire, République
Le Trésor
Discover the cosy and warm atmosphere of the Tresor where you are surrounded by gold accented mirrors and colorful velvet sofas. The Tresor is neo-baroque and divine. Creative French and italian cuisine at affordable prices.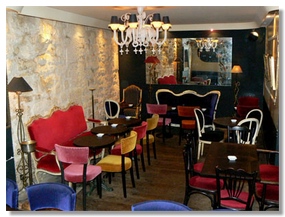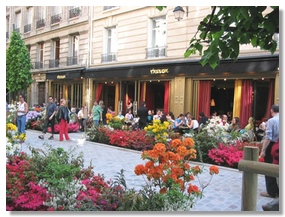 Try the croustillant de saumon au saté et purée maison – The gigantic burger du trésor – for lunch, gigantic salads, including The Cesar Salad. To finish, don't miss the tiramisu, it means « take me to heaven in italian », it's true ! There are very few restaurants where you can eat out in such a beautiful decor for around 35 euros, so don't hesitate to discover the Trésor, a treasure for the palate and the eyes.
Le Trésor
7 rue du Trésor – 75004 PARIS
01 42 71 35 17
Des gars dans la cuisine
Not enough superlatives exist to express the creativity of this new, stylish restaurant with an inventive and surprising menu. The dishes are sophisticated and original reflecting the fine cuisine offered up: the salmon tartar is copious and scented with ginger and citronella. You can relish the chicken flecked with tiny gray shrimp and coriander as well. The desserts, in particular, the homemade sorbet enchant the palate. All this for only 40 euros: more than reasonable considering the fresh quality of the products.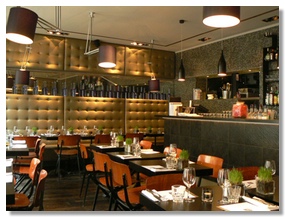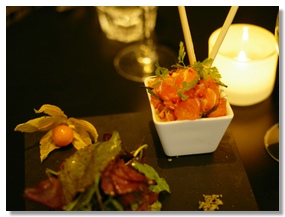 "Des Gars" literally means two guys and is a play on words meaning "damage". "The guys" would be the chefs, Jean-Jacques Delaval and Gil Rosinha. But there's no damage here, instead their sure hands will win over your taste buds, and the waiters' warm smiles will make you feel welcome. Go for the lunch formula: 2 dishes for 14 euros. Unbeatable! Sunday Brunch runs from 22 to 24 euros, with a health food choice that is guilt-free. Top wines at reasonable prices like Le Mercurey AOC Bouchard, Le Marquis St Estephe, le Petit Chablis AOC domaine Louis Moreau are also on the menu... all for only about 30€.
Des gars dans la cuisine
72 rue vieille du Temple
75003 Paris
Tel.: 01 42 74 88 26
Metro: Rambuteau, Temple or Hotel de Ville
www.desgarsdanslacuisine.com/
More restaurants: http://www.parismarais.com/selected-restaurants.htm
---
DON'T SAY YUMMM, SAY MIAM!
When food is delicious the French say "Miam." That's why one of the top gastronomic magazines is also called Miam.

Published in French and English, Le Miam Magazine is available for free at most wine shops and gastronomic restaurants in Paris, and is probably one of the most reliable guides to these top establishments.

To discover what Miam has selected for you in le Marais, visit: http://www.lemiam.fr/index-anglais.htm
---
EVENTS NOT TO MISS
FETE DE LA MUSIQUE
On June 21, the streets of Paris will be filled with the sounds of music. This day of musical celebration was created by Jack Lang, the French Minister of Culture under François Mitterand's presidency. It is now a world event, but special in Paris and is very exclusive in le Marais, where many of the beautiful hôtels particuliers and mansions open their gardens for classical music concerts.
Find out more about locations and times at www.fetedelamusique.culture.fr.

I plan to be enjoying the music all day long, from morning to midnight. Here's a tip: buy Le Parisien newspaper that day for a special edition that will list where to go and what to see in each district.
FESTIVAL DES SOIRS D'ETE AT PARIS DISTRICT 3 CITY HALL
Thanks to Mr. Pierre Aidenbaum, our local Mayor, this festival brings free culture and entertainment to all residents and tourists during June and July. Every night, from 21 june to 14 july, enjoy a new show or film in the open air courtyard facing the Temple Garden, at the spot where 200 years ago the Temple Tower Prison stood, Queen Marie Antoinette's last residence.

It is now a peaceful place where you won't lose your head…

Check out the program details on the Paris district 3 web site: http://www.mairie3.paris.fr
"THE GUSTAVE EIFFEL EXHIBITION" at Paris City Hall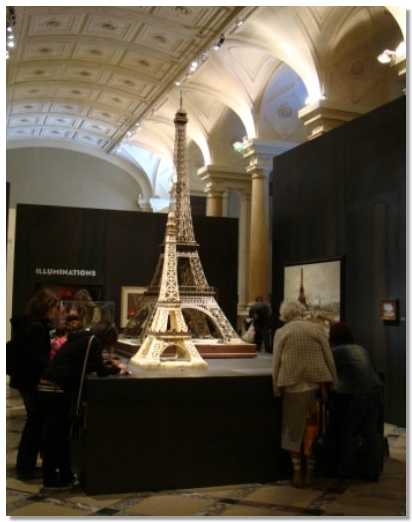 "Gustave Eiffel: Le Magicien du Fer," a new exhibition at Paris's Hôtel de Ville celebrating the iconic tower's 120th anniversary, has something for everyone. Engineers and architects can marvel at the inventiveness and technical prowess exhibited in beautifully rendered plans for bridges and other structures, including some that were never built, such as an "underwater bridge" under the English Channel. Art lovers can admire a plethora of paintings, drawings, prints and photographs of the tower by renowned artists, among them Robert Delaunay, Raoul Dufy, Fernand Léger and Man Ray, as well as documentary images of its construction. History and trivia buffs can revel in many curious facts about the tower and biographical info on the man himself.
And, just when you thought you knew everything there was to know about what must be the world's most potent symbol of a city, you learn something new. The other designs entered into the competition for a tower for the Exposition Universelle of 1889, for example, were strikingly similar to Eiffel's, not surprising since the guidelines for the competition called for "an iron tower with a square base… and a height of 300 meters." And it turns out that Eiffel didn't actually design the tower himself but bought the patent for it from two of the engineers working for his own firm, Maurice Kœchlin and Émile Nouguier, who had designed it in 1884.
Then there are the wonderful drawings for a competition held for the Paris Exposition Universelle of 1900. Entrants were told they could either replace the tower, save it or transform it. They came up with some fanciful (to say the least) ideas for dressing up the tower for the new century: adding an elaborate metal skirt around its lower levels, turning it into a mountain (complete with roads, trees, villages, viaducts and a waterfall flowing into the Seine, which could have been very interesting), building a sort of temple adorned with huge statues around it, transforming it into a pyramid, prettifying it with flags and other decorations, and so on.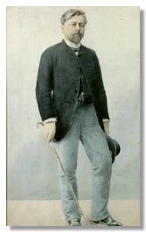 We also learn that Eiffel pioneered a number of innovative bridge-building techniques and was an expert in prefabrication, and that he designed the inner structure of the Statue of Liberty for sculptor Frédéric-Auguste Bartholdi. After his retirement, he devoted the last three decades of his life to research, conducting aerodynamic and aeronautic experiments and inventing, among other things, wind tunnels to test his theories (one, in Auteuil, still functions) and a high-speed fighter plane.
Thankfully, in spite of the fact that the "odious" tower, described by Joris-Karl Huysmans as a "solitary suppository riddled with holes" was detested by much of the public in the early days (the exhibition includes a petition against it signed by dozens of luminaries of the day, including Charles Garnier [architect of the Paris opera house] and Guy de Maupassant), none of the abovementioned plans was adopted, and Eiffel's tower was saved in all its beautiful starkness, mainly because a telegraph antenna was installed on top of the 300-meter-high tower in 1905, making it an essential structure rather than just a curiosity.
The funny thing about Eiffel, as the exhibition points up, is that while his tower and other designs may have been avant-garde and even revolutionary, there was nothing the least Guevara-like about the man himself, who scorned modern art and lived in a seriously bourgeois town house stuffed with plush, ornate furniture like all good burghers during the Belle Epoque.
Another exhibition with similar themes, "L'Epopée de la Tour Eiffel," is being held on the first floor of the tower itself through December 21. And this year's Bastille Day fireworks, to be set off from the tower, should be quite a spectacle.
Heidi Ellison
Hôtel de Ville: Salle Saint Jean, 5, rue de Lobau, 75004 Paris. Métro: Hôtel de Ville. Monday-Saturday, 10 a.m.-7 p.m. Closed on Sunday and public holidays. Admission: free. Through August 29.
| | |
| --- | --- |
| | Read more on Paris' exhibitions on Heidi Ellison great web site : paris-update.com |
PARIS FIRE BRIGADE SPORT SHOW
On June 28 at The military fort of Villeneuve Saint Georges
comes an event in Paris that is unique in France and probably in the entire world!

Featuring Paris Fire Brigade sport team, it's hot, sexy and amazing. you ve been to Disneyland, ok, but have you been to Firemenland ? this is the day, only once a year, do not miss it.

Check one of their performance on french TV: http://www.youtube.com/watch?v=_Vob9GQDXi4&feature=related

(20 minutes south of Paris by train from gare de Lyon)
PARIS GAY PRIDE - Mark your calendar – June 27, 2009!
In a procession of color, gaiety and fun along the streets of the capital, the now legendary "Marche des fiertés lesbiennes, gaies, bi & trans" proclaims its protest message against all forms of discrimination, and in favor of equality and putting an end to homophobia.
Each year, more than half a million people take part in this event. As usual, the parade will have a theme, which is always treated with thought and humor, and which may be a reflection of society, a subject of debate, or a sensitive topic.

Since 2001, colorful floats, costumes and characters mingle with supporters who have come to cheer on their actions or parade their own identity. The floats file past a crowd of bystanders and locals, who are at first surprised and then won over by the stream of dancing, singing and rhetoric, always conveying the same warmth and conviction.
The parade is a rare event, mind-blowing and unforgettable. It starts at Paris Montparnasse and reaches Bastille plaza at 5 p.m. The best place to sit and watch the parade is for sure the CAFE FRANÇAIS on place de la bastille : check http://www.parismarais.com/cafes-brasseries.htm
Check out the parade route and plan to join in the fun! And dress as flirty as possible! http://marche.inter-lgbt.org/spip.php?article117
Open Café, for Lunch and Champagne Happy Hour!
Open Café is the ideal meeting place to begin your discovery of gay Paris. Every day, enjoy great salad-lunch such as « la cote ouest » with salmon grapefruits and curry sauce as well as the royal club sandwiches from 7,50€. The Open Café is one of the best spots to grab a bite and meet the international gay crowd…not to mention the adorable bartenders!

HAPPY HOUR CHAMPAGNE AT OPEN CAFE is only 5,80 €…
Check interview of its manager Bernard Bousset in the film dedicated to rue des Archives :
http://www.parismarais.com/videos.htm
Open café - 17 rue des Archives, 75004 Paris
Tel: 01 42 72 26 18
http://www.opencafe.fr
Open daily from 11 a.m. to 2 a.m., and weekends until 4 a.m.
Le Tango, is one of our favorite disco clubs newly redecorated and now 100% no smoking, thanks to the new anti-smoking law. you're also welcome to discover some new places in Gay Paree such as L'enchanteur, a place to sing (chanter in french) and to be enchanted. As well as the Eagle, a dance club dedicated to a more Butch crowd... Entrance is 10€ on weekends and free during the week.
Check: http://www.parismarais.com/gay-clubbing.htm
New parties at Raidd Bar
Our favorite is disco with the Glamourous Tonya every Tuesday, but do not miss also the new latino party every Wednesday
Raidd Bar
23 rue du Temple 75004 Paris
Tel.: 01 42 77 04 88
http://www.raiddbar.com/siteraiddbase.html
---
DISCOVER THE FRENCH REGIONS WITH PARISMARAIS.COM
A trip to France would not be complete without spending at least a couple of nights in the Loire Valley. For three or four nights you can afford to stay in the very best hotels…there are at least 10 luxury hotels and châteaux ready to offer you their services. When booking any Loire Valley hotel through Parismarais.com, you can benefit from great prices and often get upgrades upon availability. Book at great rates with Parismarais.com. A château for around 130€ per night…what do you think? Definitely worth extending your stay after Paris!
http://www.parismarais.com/hotels-europe.php?zone=FRCe
---
WHAT'S UP NEXT IN LE MARAIS?
Our newsletter is available in English once a month, but we have so much to tell you it just keeps getting longer and longer! Don't wait for the next issue to discover what's new in le Marais.
Almost every day we'll add a new report or article about le Marais and Paris, plus many tips about real estate, travel and entertainment in Paris. These articles will be available in English, French, Italian, Dutch, German, Swedish, Danish, Spanish and Russian. We are building strong relationships with many international media agencies to promote le Marais around the world, and we'll publish some of their articles in our blog. If you want to write about le Marais, send us your comments about hotels, restaurants, shops and more in Paris. If we publish it, we'll be happy to add you to the list of our contributors and writers.
http://www.parismarais.fr/blog/
---
ADVERTISE YOUR PROPERTIES AND SELL YOUR GOODS
AT PARISMARAIS.COM
Did you know that Parismarais.com is a great marketplace where you can make new contacts and buy and sell practically anything you can imagine? Furniture, holidays, clothing, vintage design, kitchen tools and more…you may even find the love of your life. Post a small ad online for only a couple of euros and have it promoted on Parismarais.com and 20 other Anglophone web sites reaching thousands of readers every day. As good as Craig's List, but more Europe oriented, which is important when you want to see what you are going to buy. Great isn't it? Start advertising now – it's fast and easy!
http://www.parismarais.com/buy-and-sell-your-goods.htm
---
Don't Miss PARISMARAIS NEWSLETTER AND SPECIAL OFFERS
AOL blocks many major European ISPs, so we cannot guarantee that our mail to AOL addresses will arrive. Please use another email provider or "White List" our email address or add "info@parismarais.com" and to your contact list.
Parismarais Newsletter, June 2009
http://www.parismarais.com
mailto:info@parismarais.com
To Subscribe:
http://www.parismarais.com/parismarais-newsletter.htm
To Cancel Your Subscription:
http://www.parismarais.com/unsubscribe.htm
Special thanks to all our contributors and media partners for their help. Check our link pages http://www.parismarais.com/worldwide-links.htm and http://www.parismarais.com/gay-links.htm
Should you wish to promote us and create profitable reciprocal links with us to your web site, please write to advertising@parismarais.com.
PARISMARAIS.Com is a Media Partner of Paris Tourist Office and France Guide / Maison de la France.
---

Copyright 2009, parismarais.com