Paris Gay Pride participants walking over the bridge from Ile Saint Louis to le Marais.
Nearly one million people are expected this year!
Parismarais Newsletter
Issue 26, June 2007
http://www.parismarais.com
So many things to do, so little time!
Bonjour Parismarais Readers,
June is the busiest month of the year for tourist attractions in Paris, and specifically in le Marais. You would have to take at least thirty days of vacation to be able to enjoy all that Paris has to offer! Let's take a quick tour of the many places and events you can discover this month.
To start, we made a list of great places to drink, eat and meet new Parisian friends in le Marais. These are some of our favourite spots for an afternoon cocktail, a delicious meal or dancing all night!
June is also party time in Paris and le Marais, with many fabulous festivities planned.
A popular event with both Parisians and visitors alike is the « Fête de la Musique » on Thursday, June 21. Held each year on the Summer Solstice, this is the special night when all of Paris is alive with the sound of music – and some of the best spots to listen and enjoy are in le Marais.
Sunday, June 24 is the Fire Brigade Show. Although not in le Marais, it's just a short train ride away, and makes a perfect day trip out of Paris. The athletic demonstrations are truly incredible – and so are the fire fighters! It's an event we never miss.
Of course, the highlight of the June calendar is the Gay Pride Parade, Saturday, June 30. This year promises to be the most exciting parade ever, filled with fun floats, fantastic costumes and lots of surprises!
Scroll down to see photos and get more details about all of these events. Then plan your Paris getaway in June…we look forward to seeing you in le Marais!

A bientôt!

Pascal Fonquernie
Editor Parismarais.com
---
TOP PLACES FOR FUN IN LE MARAIS
Raidd bar
For happy hour in le Marais, try Raidd Bar or Open Café. Raidd Bar has been recently revamped and now offers a terrace, perfect for hot summer days and steamy summer nights. Raidd also offers a very special deal – enjoy a glass of MUMM Champagne for only 9€ and get another one free! For more details visit: raiddbar.com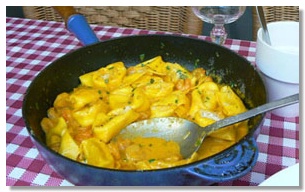 Innamorati Restaurant
A victory for good food and traditional taste! Innamorati means falling in love…and you are sure to fall for Salvatore's cuisine. The chef started cooking when he was only 13 years old and won many gastronomic competitions in Italy before opening his new Marais restaurant. Every dish is served in a "cocotte" that holds enough food for four, but it's all for you!
Try the wonderful Pasta Nera with Shrimps, the Antipasti Cocktail with Dried Tomatoes, Parma Ham and Artichokes to start, and to finish, homemade Tiramisu, Lemon Tart or Black Forest Cake with Amaretto. The three-course menu and half bottle of good Chianti wine is only 30€ per person, making this one of the best spots for good taste and value in Le Marais. The special lunch menu is even more affordable: one main course with coffee and drinks for just 15€, and all main dishes are only 10€ each to take away. You can also buy a great selection of Italian wines and specialities to take home. Viva Salvatore and his friendly team for bringing a taste of Italy to rue Charlot!
Innamorati Restaurant : 57, rue Charlot 75003
Parismarais Selected Restaurants: http://www.parismarais.com/selected-restaurants.htm
Le Scarron Club Salon
At Le Scarron you'll enjoy a cosy atmosphere featuring neo-baroque chic with vaulted ceilings, stone walls and contemporary glass enclosed chandeliers – it's truly a 21st century salon. Jean Louis Garnier and his team are ready to welcome you to one of the most elegant spots to see and be seen in the heart of le Marais. The clientele is a fun mix – gay, artists, writers and other creative people, all drawn together by their love of life. Sink into the soft and comfortable sofas and treat yourself to cocktails, wine, champagne and good conversation. You'll meet people here you would not meet in other clubs in le Marais – come to seduce and be seduced. Visit alone or with friends… entry is free and drinks start at only 8,50€.
3, rue Geoffroy l'Angevin, 75004 Paris
Tel: 01.42.77.44.05
http://www.lescarron.com
Wednesday to Sunday, 10 p.m. to 6 a.m.
2 drinks for the price of 1 between 10 p.m. and midnight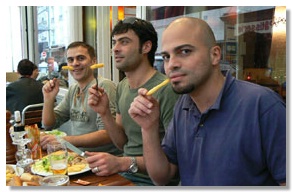 Kofi du Marais
At last, a gay restaurant where the food is good, the crowd is friendly and the prices are decent. This place is worth checking out, if only for the names on the menu and the two sexy managers. Each dish has a special name with a double meaning…your French has to be good to catch it, but if you can, it's hilarious! A double hamburger, for example, is called a "gros caliber." No need to say that the portions are BIG, the service quick and efficient, and you can easily eat and drink for less than 20€…unbeatable and oh-so friendly! Burgers at 8,90€, salads from 9,20€, Kir at 3,40€, you can order untill 1:30 a.m. !
Kofi du Marais : 54, rue Sainte Croix de Bretonnerie 75003 Paris
Parismarais Gay Restaurants: http://www.parismarais.com/gay-restaurants-in-le-marais-paris.htm
Le Tango – La Boite à Frissons
Le Tango Dance Hall plays its part in the very convivial mood of the nights at La Boîte à Frissons. This ballroom has kept the old-fashioned charm of the popular dance halls of yesterday: a wooden dance floor surrounded by tables and seats, with decorations from the fifties, subdued lighting and a sound system cleverly designed so that you can enjoy the music and still hear your neighbour clearly.
The evening starts at 10:30 p.m. with couples dancing. This is undoubtedly the most surprising moment at La Boîte à Frissons, and probably a world exclusive! Couples of boys and girls enjoy the Waltz, Tango, Paso Doble, Polka, Rock 'n' Roll and Cha Cha dances. Around 12:30 a.m. comes the fetish moment for regular customers, a sort of ritual at La Boîte à Frissons: The Madison Dance Program. This line dance packs everyone on the dance floor and marks the beginning of the second part of the night. That's when the disco music begins, along with a variety of other music, and dancing until 5 a.m. So Parisian and so unique!
Check www.tangoparis.com
Every weekend from 10:30 p.m. until you're kicked out!
Shows at 1:00 a.m. special evenings.
---
JUNE EVENTS NOT TO MISS
From June 1 : DALIDA EXHIBITION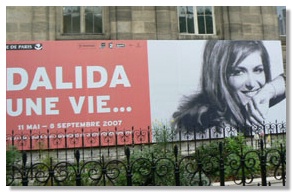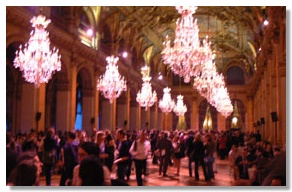 At Parismarais, we were recently invited to several VIP events, and one of the most magnificent was the opening of the Dalida Exhibition at Paris City Hall. Dalida, who died 20 years ago, was the most famous French singer worldwide for 30 years, selling hundreds of millions of records. She was awarded a diamond record for her career spanning all continents. Bertrand Delanoë was a close friend of hers, and to honour her memory, decided to launch a huge two month exhibition dedicated to the singer.
All of the most popular Paris celebrities gathered in the Paris City Hall ballroom for the opening. Guests included the mayor himself and his brother Orlando. Actress Arielle Dombasle, jazz singer and manager of the VIP club l'Etoile Tony Gomez, and Amanda Lear, singer, TV presenter and the last love of Salvador Dali, were there among the hundreds of celebs. The champagne was flowing and Dalida's songs were playing all night. Dalida is still a star, even today, for the new generations. If you're in Paris in June, the Dalida Exhibition in le Marais is definitely a must-see.
For more information, click here.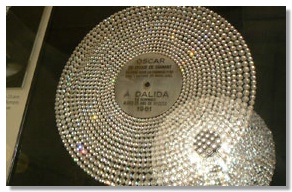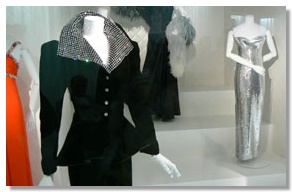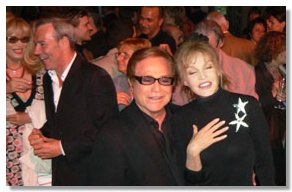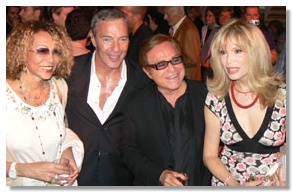 June 14 : Celebration of Perfume and Creativity at Etat Libre d'Orange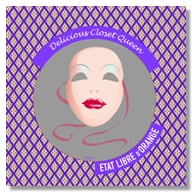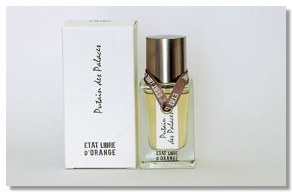 On June 14, a special street party has been organised to celebrate the 15 perfumes created and made in le Marais under the management of Etienne de Swardt. He is the same creator who launched the famous perfume « Oh my Dog » worldwide. The names of these perfumes are totally crazy and inventive, and are breaking the rules of the cosmetic industry: Putain des Palaces, Delicious Closet Queen, Rien, Jasmin et Cigarettes… fantastic and unique.
Rendez-vous at 69 rue des Archives 75003 from 7 p.m.
Dress Scandalous, Feel Fabulous!
Tel: 01.42.78.30.09
http://www.etatlibredorange.com/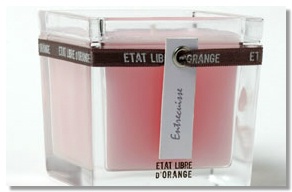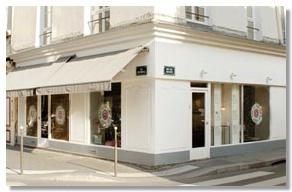 From June 20: Festival des Soirs d'Été at Paris City Hall of the Third Arrondissement
For the tenth time, the Paris City Hall of the third arrondissement is organising a great festival of events including shows, gatherings, concerts, and open air cinema in the local city hall courtyard.
Check out the programs here – there is a different event every day to enjoy the night of le Marais !
More details (in French) at: http://www.mairie3.paris.fr/mairie3/jsp/site/Portal.jsp
June 21: Music Festival
An annual Paris event ! On this glorious night in June, Paris is filled with music from hundreds of free concerts throughout the city. In le Marais, the most beautiful mansions and gardens open their doors and gates to the public – everything from classical to jazz, new age music and more.
See the official web site for a complete listing of events in Paris: click here.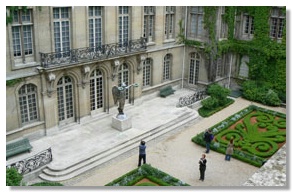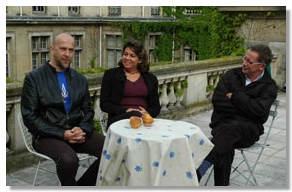 June 24: Paris Fire Brigade - Open Doors and Sport Show
Once a year, in their military fort and training center, the Paris Fire Brigade welcomes you for the most astonishing sport show you've ever seen! Imagine trucks, equipment and uniforms…200 sexy guys in shorts climbing ladders…10,000 clapping spectators in an outside arena. A great day of entertainment where you and your friends can meet the sexiest Parisians, but also learn basic safety tips, how to save lives, and discover more about about the heroes of the fire brigade.
Join us – Parismarais will be there to film the show with Paris Cap Television!
Getting there: From Gare de Lyon, take the train to Villeneuve Saint Georges, about a 20 minute train ride. This is a day we never miss, even if it is outside of le Marais! For more details visit: http://www.pompiersparis.fr/portes%20ouvertes/01.htm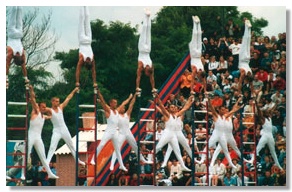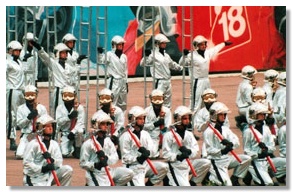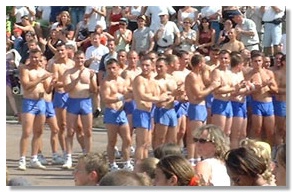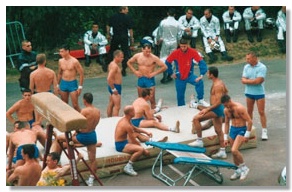 June 30: Paris Gay Pride Parade
This year, due to the recent election of Nicolas Sarkozy as president, gay marriage will have no chance of being adopted. But Sarkozy has promised equal rights for gay people in France in terms of taxes, inheritance and many other social rights. This means the gay community will have more new rights with a right wing government than they ever had with a socialist one. Times are changing, and the French right is becoming more open and progressive regarding alternative lifestyles.
We expect Gay Pride 2007 to be a gigantic parade full of bright colours and outrageous costumes, with up to a million people expected to take to the streets of Paris! It is certainly the largest, livliest parade of the year in the City of Light!
Check out our past Gay Pride Reports: http://www.parismarais.com/paris-gay-pride-2005.htm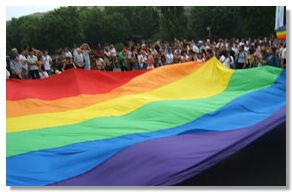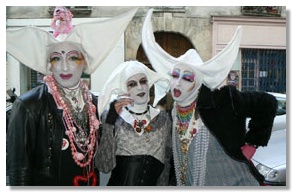 ---
SUMMER SPECIALS FOR YOUR HOLIDAY APARTMENTS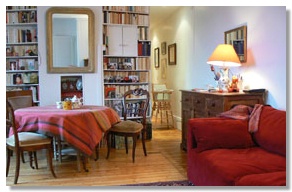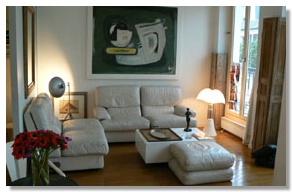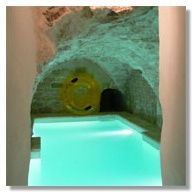 Imagine your ideal holiday apartment…
Perhaps a duplex with a glass stairwell ? Or a loft for 6 with a private swimming pool hidden in a 16th century vaulted cellar? Maybe a suite dating back to 1612, upgraded with today's most modern comforts?
Parismarais has selected only the very top apartments just for you. When you rent a flat with us, you know you'll always be treated like royalty and benefit from friendly service and exceptional spaces.
Please visit: http://www.parismarais.com/visit-our-flats.htm We still have some apartments available in June and July… plus receive up to 30% off bookings in August.
Summer specials from July 18 to August 30 – you can now get 30% off on a minimum one week stay! Ask us for details… http://www.parismarais.com/visit-our-flats.htm
---
HOTEL DEALS
Many people don't realise that August is low season in Paris…and this means that it is also bargain season when you can visit the French capital for less.
First you'll enjoy the summer sales and shopping, with prices up to 50% off. You'll once again have the chance to relax and unwind at Paris Plage, with a real sand beach, palm trees, shows, open air restaurants and tons of fun things to do, all by the Seine. Plan your Paris visit in August when you can treat yourself to a 4 star hotel at 2 star prices.
Check out these great options for 20% to 40% off in August:
http://www.parismarais.com/4-star-hotels-in-le-marais-paris.htm
Here are some terrific choices in the 3 star category, from only 90€ in August: http://www.parismarais.com/3-star-hotels-in-le-marais-paris.htm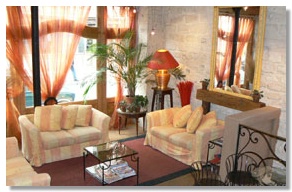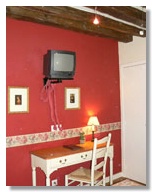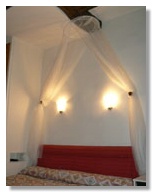 ---
LE MARAIS ON TV WITH PARISCAP

Parismarais has started a partnership with PARIS CAP, the new Parisian TV channel. We'll be doing several short films per month on le Marais featuring the best addresses, streets, museums, shops, restaurants and the many treasures not to be missed when you visit le Marais.
Our first short film was on the popular rue Charlot. Stay tuned as the next films will feature rue de Poitou, rue des Archives, rue du Temple and many more fascinating places, museums restaurants and hotels… Check: http://www.parismarais.com/rue-charlot.htm and http://www.pariscap.com/
---
FREE WIFI IN LE MARAIS
Thanks to a new Paris City Hall policy, all of Paris will be soon have free WiFi access.
Paris district 3, le Marais, was the first district in Paris to offer free WiFi access to local residents. http://www.paris.fr/portail/Economie/Portal.lut?page_id=7799
---
FABULOUS DAY TRIP OUT OF LE MARAIS : VAUX LE VICOMTE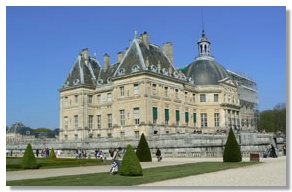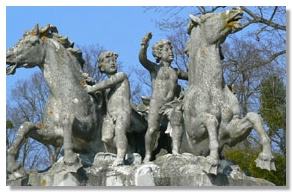 Vaux was the tragic setting for the downfall of Fouquet, a faithful minister of King Louis XIV who paid the price of life imprisonment, because of an embezzlement he did not commit, just because of the jealousy of others… Just 50 kms away from Paris, a dream castle that was used as a decor for Moonraker, the James Bond Movie with Roger Moore.

Summertime is the perfect time to spend a day out of Paris and still feel le Marais spirit with the same baroque and grandiose architecture.

Visit: http://www.vaux-le-vicomte.com/
---
Parismarais Newsletter
Parismarais Newsletter, June 2007 issue
Thank you to the following people for their contributions: Pamela Grant, Marianne Ström, Pierre-Jean Chalençon, Jean-Marc Léri, Lili Quint, Cara Scouten, Lynda Sydney and the ParisMarais Team.
http://www.parismarais.com
mailto:info@parismarais.com
To Subscribe:
http://www.parismarais.com/parismarais-newsletter.htm
To Cancel Your Subscription:
http://www.parismarais.com/unsubscribe.htm
To receive more news about Paris, subscribe to Parler Paris Newsletter and twice a week you will receive the latest information, events, tips, and details about what's new in the French capital, written by Adrian Leeds, long time resident of Le Marais, Visit www.parlerparis.com
Copyright 2007, parismarais.com