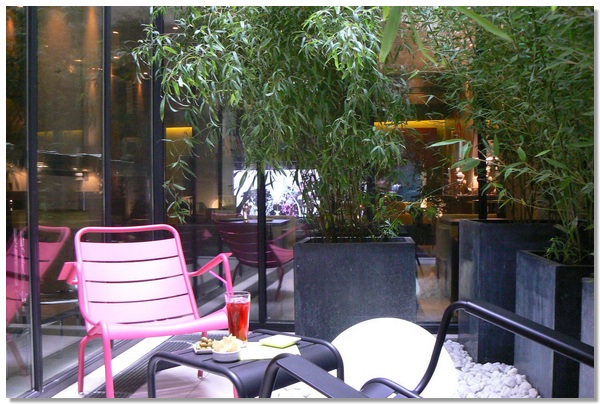 New Cocktail Bar at Hotel Duo… A chic alternative to the Parisian café.
Parismarais Newsletter
Issue 25, May 2007
http://www.parismarais.com
A Perfect Day in May
Bonjour Parismarais Readers,
Summer is already here, Paris is packed with tourists, and for visitors from around the world, le Marais is becoming THE place to be to enjoy real Parisian village life.
While we are waiting to find out if our future will be « Royal » or not, we had the opportunity to visit the Musée Grevin, the Paris equivalent of Madame Tussaud's famous museum. Here we met Charles de Gaulle, the gay King Henri III, Napoleon and many more of our past dictators – all in wax, of course. This was a great reminder of France's long history through many challenging times … and that whoever wins the election, life in France is sure to be better than what we've had in the past.
In le Marais, we enjoy daily life in such a cool and dynamic atmosphere that it really becomes difficult to choose from all the exciting things to do and places to see in Paris' favourite district.
This month, there is so much to discover that we've decided to give you a sample of a perfect day dedicated to pleasure in le Marais.
Imagine for a moment that you have an unlimited budget and plenty of time. Now let's begin…
A bientôt!

Pascal Fonquernie
Editor Parismarais.com
(and Claude François, author of «My Way» at Musée Grevin)
---
9 AM – Start Your Day with SHOPPING THERAPY
What better way to start your ideal day in le Marais than by shopping! From gourmet food to fabulous clothing to stylish décor for furnishing your home, it's all here.
Be sure to visit these three sections of our web site before you start spending!
http://www.parismarais.com/shopping-guide.htm
http://www.parismarais.com/gastronomic-treasures.htm
http://www.parismarais.com/mens-wear.htm
---
12 AM - HAVE LUNCH in the Oldest House in Paris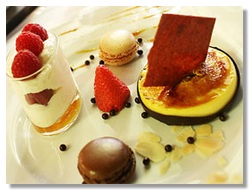 ........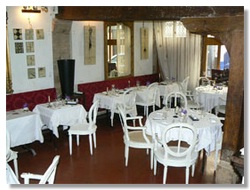 L'Auberge Nicolas Flamel, built in 1407, is the oldest house of Paris. And now with the arrival of chef Allan Geam and his team, it's also one of the top gastronomic addresses. The lunch menu is only 18,50€ for 2 courses, with evening menus for 31,50€ and 45€. Make your reservation now and be sure to mention the Parismarais restaurant guide.
http://www.auberge-nicolas-flamel.fr
See also: http://www.parismarais.com/selected-restaurants.htm
---
2 PM - Fitness and Beauty Time
Spa culture is everywhere in le Marais. Treat yourself to a massage … relax in a jacuzzi … or maybe you'd prefer a workout. Check out these pages to see which activity suits you best:
http://www.parismarais.com/beauty-and-spas.htm
http://www.parismarais.com/gay-saunas-fitness-cruising-le-marais-paris.htm
---
4 PM - I scream, you scream, we all scream for ICE CREAM..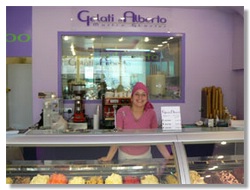 ........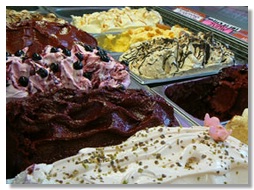 Berthillon is still an institution in Paris. But if you don't want to line up for 30 minutes just for a scoop, why not try something new and tasty … discover Gelati d'Alberto! Homemade in le Marais, this is the perfect high-quality treat on a hot day. Try the exquisite rose petal flavor, pain d'epice, tarte au citron or cranberry … you'll think you're in heaven!
12 rue des Lombards, 75004 Paris - Tel : 01.77.11.44.55 - http://www.gelatidalberto.com
---
5 PM Tea-time or Cocktail at PM Café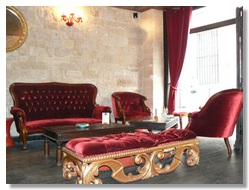 ........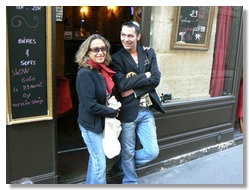 PM Café is a new concept bar. «P M» stands for Paris Marais … «P M» stands for afternoon...
but «P M» actually means La Pause du Marais. Whatever it stands for, just be sure to check it out – it offers a great location with a beautiful red and gold baroque décor. PM Café is open every day from 11 a.m. to 2 p.m., so come for a « pause » or break to escape the stress of your day. Enjoy a snack at lunch, tea-time in the afternoon or a cocktail in the evening. Try their creative cocktails from only 8,50€… «Cointropolitan» with Cointreau, lemon juice, cranberry and crushed ice…«Mojito Strawberry» with Havana, lemon juice, cane sugar, strawberry juice and Perrier… Plus, they offer Champagne Demoiselle, a grand cru of champagne for only 80€ per bottle or 9€ per glass. Ludo, Lionel and Laurent greet you with friendly smiles and this winning team also organises events, VIP parties and GoGo shows. The clientele is mixed and gay … everyone is welcome at PM Café!
---
6 PM - Happy Hour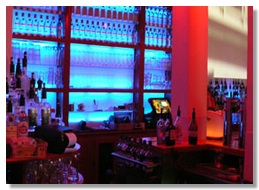 ........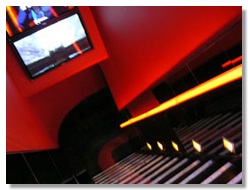 For happy hour in le Marais, try Raidd Bar or Open Café. Raidd Bar has been recently revamped and now offers a terrace, perfect for hot summer afternoons and warm summer nights. Raidd also offers a very special deal – enjoy a glass of MUMM Champagne for only 9€ and get another one free! For more details visit: http://www.parismarais.com/leather-bars-cruising-dating-le-marais-paris.htm
---
7 PM - Cocktail or Champagne at Hotel Duo Lounge Bar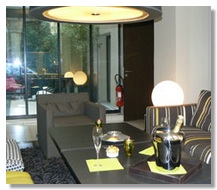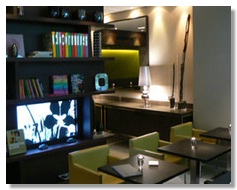 The Hotel DUO Lounge Bar is the ultimate place to meet for a drink in le Marais. Very few luxury hotels allow you to enter the serenity of their private world...Hotel Duo welcomes you every evening from 6 p.m. to midnight to enjoy champagne and fabulous cocktails. The elegant architectural décor combined with modern colors, space and materials work together to give the hotel a cosy and contemporary atmosphere. Air conditioning, great lounge music and comfortable armchairs make this the perfect spot to relax after a day of shopping and before a night of dining and clubbing.
http://www.parismarais.com/selected-bars.htm
---
8 PM - Dinner: Hunting for Antiques and a Delicious Meal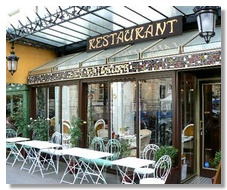 ........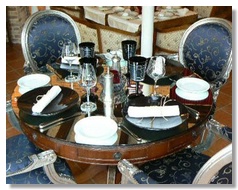 Les Chineurs offers refined yet unpretentious dining at affordable prices. Here you can sample dishes created by Chef Gilbert Luszezinski and made from only the freshest ingredients: Small rabbit stuffed with mushrooms, tuna and swordfish skewers with vanilla sauce, fresh fruit pastry with mint sherbet. To accompany your meal, enjoy homemade bread and a selection of 150 fantastic French wines.
«Les Chineurs» means antique hunters, so expect an eclectic dining room décor with each table designed in its own unique style. On warm nights, you can choose to dine on the lively terrace overlooking the Square du Temple. With a new menu every two weeks, a visit to Les Chineurs is an entirely new experience every time. Lunch menu for 22€, three-course dinner menu for 28€, and à la carte main courses from 20€.
http://www.parismarais.com/selected-restaurants.htm
---
10 PM Cabaret every Tuesday and Dinner at Le Gai Moulin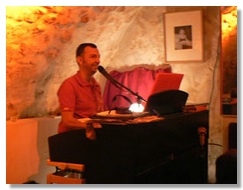 ........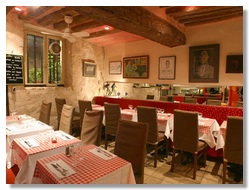 Just steps from the Pompidou Center, Le Gai Moulin is an institution in Le Marais, and has been a great success since it opened in 1981. Christophe Moulin invites you to choose from his three delightful restaurant rooms, including an enchanting vaulted cellar that is also used for Cabaret Night every Tuesday. Christophe and his team welcome you every day from 7 p.m. to midnight and offer great traditional French cuisine at affordable prices in a friendly, campy ambiance that is fun for everyone – even the straight customers! The food is delicious and the price is right – only 20€ for a 3 course menu featuring dishes such as scrambled eggs with foie gras to start, cod with mashed potatoes prepared in a "Nimes" recipe, and crême brulée or red fruit mousse for dessert. Champagne by the bottle is only 29€ or try one of the best bottles of Burgundy at less than 30€. Be sure to visit Le Gai Moulin at least once during your stay in Paris.
---
12 PM - Le Scarron Welcomes You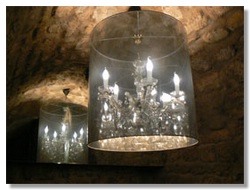 ........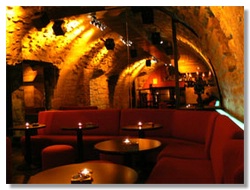 At last, there is something new and exciting on the club scene in le Marais! Le Scarron is the fabulous new club created by Jean Louis Garnier, a good friend and former manager of Regine. In fact, Regine just celebrated her birthday at le Scarron. There is no cover charge and drinks start at only 7€. You'll also enjoy the splendid décor, piano bar, cool music, and sophisticated but unpretentious clientele. At le Scarron they love to welcome everyone.
Visit http://www.lescarron.com
For more clubbing and late night ideas, visit:
http://www.parismarais.com/nightlife-in-le-marais.htm
http://www.parismarais.com/gay-clubbing-cruising-nightlife-le-marais-paris.htm
---
AFTER MIDNIGHT : LUXURY HOTEL SUITES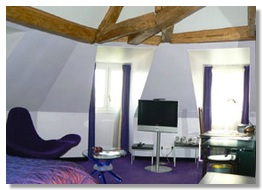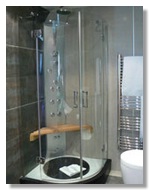 A Hotel Duo Suite with private terrace and jacuzzi can be yours for around 400€ per night. The luxury top floor suites at Hotel Des Archives with hydrojet shower and jacuzzi are around 320€. Now you can experience 5 star standards in 3 star hotels with friendly, helpful staff, where you can relax and just be yourself.
Most Parismarais selected hotels offer you the option of a late check out on Sundays (based on availability) … be sure to ask.
---
SUMMER SPECIALS FOR YOUR HOLIDAY APARTMENTS
Imagine your ideal holiday apartment…
Perhaps a duplex with a glass stairwell ? Or a loft for 6 with a private swimming pool hidden in a 16th century vaulted cellar? Maybe a suite dating back to 1612, upgraded with today's most modern comforts?
Parismarais has selected only the very top apartments just for you. When you rent a flat with us, you know you'll always be treated like royalty and benefit from friendly service and exceptional spaces.
Please visit: http://www.parismarais.com/visit-our-flats.htm
We still have some apartments available in May, June and July… but book quickly as they're going fast!
Summer specials from July 18 to August 30 – you can now get 30% off on a minimum one week stay! Ask us for details…
http://www.parismarais.com/visit-our-flats.htm
---
VIP'S
We've recently been invited to several VIP events. Here's a sneak peek…
Regine, celebrating her birthday with Jean Louis Garnier
at Le Scarron, the new upscale night club in le Marais
| | |
| --- | --- |
| | Pierre Jean Chalençon, who is promoting Napoleonic arts with his private collection worldwide and Jean Marc Léri, head office of Carnavalet Museum, talking politics (Will Sarkozy become Napoleon IV?) |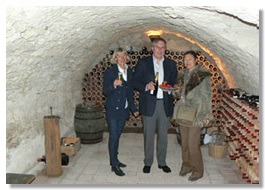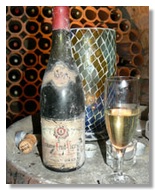 Marianne Strom, the famous Swedish photographer who has edited a great book on le Marais with Carla Vizzi, from Le Boudoir baroque boutique, tasting some vintage wines in her 15th century private cellar on rue des Archives. You can find Marianne's photos at Carnavalet Museum shop and also at le Boudoir 18 rue Charlot, 75003 Paris – check http://www.parismarais.com/decoration-and-design.htm
Tony Gomez, Marylin Monroe and Magloire
at Musée Grevin for Michael Youn's entry
into the museum
Lili Quint, Parismarais PR manager and Christophe Hirondel, Marketing manager of Champagne Deutz
at Musée Grévin
---
LE MARAIS ON TV with PARIS CAP
Parismarais is proud to be the correspondant for many great tourist organisations and media to talk about and promote our beloved area. We are partners with the Paris Tourist Office for Le Marais Pages. We are also the correspondant for Gay.com USA to provide them with an updated local guide. We have already started our partnership with PARIS CAP, the new Parisian TV channel. We'll be doing two short films per month on le Marais featuring the best addresses, streets, museums, shops, restaurants and the many treasures not to be missed when you visit le Marais.
Our first short film was on the popular rue Charlot. Stay tuned as the next films will feature rue de Poitou, rue des Archives, rue du Temple and many more fascinating places….
Check: http://www.parismarais.com/rue-charlot.htm
---
THE PERFECT WAY TO COME TO LE MARAIS
Once you arrive in Paris, we make it easy to get to le Marais. Here is a selection of companies we recommend:
AIRPORT / HOTEL PICK-UP SERVICE
Jean-Luc Service Transport is a people-friendly company comprised of courteous tourism transportation experts with high standards of service.
Offering car and mini-van transport at competitive prices with only the best quality models such as Peugeot 607, Volkswagen Sharan, and Mercedes Classe S. From all Paris airports, as well as Beauvais, the center of Paris to any airport and all tourist sites near Paris, Jean-Luc Service Transport employs only the most competent multi-lingual drivers with more than 10 years of experience.
BOOK YOUR CAB ONLINE :http://www.parismarais.com/visit-paris-travel-in-paris-le-marais.htm
LIMOUSINE SERVICE
To ride in luxury style from the airport to your hotel or apartment, Crystal Limousine service offers you upscale, reliable service in exclusive top-range models such as the new Mercedes S-class or the Peugeot 607.
From any Paris train station to your destination, prices start at 90€. From all Paris airports, from 145€. You can also hire a car by the hour starting at 50€.
Crystal Limousine also offers day trips to Versailles, Giverny, Deauville, the Loire Valley or the beaches of Normandy with packages starting from 240€.
Our bilingual drivers offer you professional and courteous service as well as complete privacy and discretion for your personal or business travel.
BOOK YOUR LIMO ONLINE :http://www.parismarais.com/visit-paris-travel-in-paris-le-marais.htm
Metro and RER:
Download a Paris metro map at http://www.parismarais.com/medias/cartes/metro.pdf
---
As of May 1, 2007, an incredible 1,170,150 readers have already enjoyed Parismarais.com. Thank you to everyone who has visited our website!
Parismarais Newsletter
Parismarais Newsletter, May 2007 issue
Thank you to the following people for their contributions: Pamela Grant, Lili Quint, Pierre-Jean Chalençon, Jean-Marc Léri, Lynda Sydney and the ParisMarais Team.
http://www.parismarais.com
mailto:info@parismarais.com
To Subscribe:
http://www.parismarais.com/parismarais-newsletter.htm
To Cancel Your Subscription:
http://www.parismarais.com/unsubscribe.htm
To receive more news about Paris, subscribe to Parler Paris Newsletter and twice a week you will receive the latest information, events, tips, and details about what's new in the French capital, written by Adrian Leeds, long time resident of Le Marais, Visit www.parlerparis.com
Copyright 2007, parismarais.com