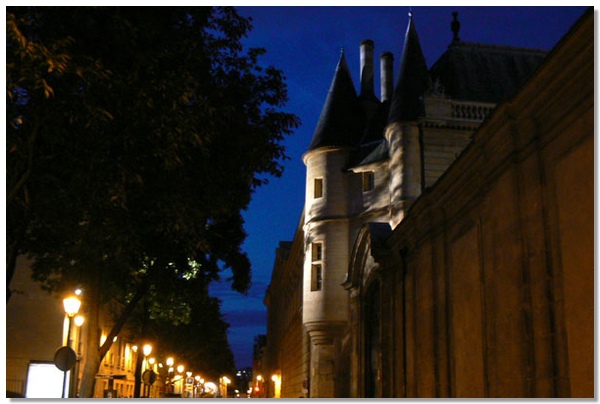 Hotel de Guise Towers, part of the Archives Nationales on rue des Archives

Parismarais Newsletter
Issue 33, December 2007
http://www.parismarais.com
UNEXPECTED THINGS TO DO ON COLD DAYS...
Bonjour Parismarais Readers,
The media all around the world are reporting on where to shop, what to wear, and what to eat for Christmas and New Year's. You are already making your holiday list, checking it twice, and are finalizing your plans for this special time of year. That's why this month, we've decided to give you ideas for new and unexpected things to do in December.
How about:
Giving to charity for world AIDS day…
Spending money on your own well-being…
Indulging in treats and pleasures like there was no tomorrow…
Daring to be a completely different "you" for one day…
Choosing smaller brands and great products instead of big brands with no personality…
Deciding to boycott foie gras forever…
Investing in real estate now before prices go any higher…
Boycotting products from China and buying real French, "Made in le Marais" men's wear…
Here is a selection of fun and unconventional ideas to make you feel like a real "Bobo." What is a Bobo you ask? It means "Bohemian Bourgeois," a kind of rich and creative artist who votes Social-Democrat, eats bio, rides a bike instead of driving a car…and naturally lives in one of the beautiful houses in le Marais. (Come to think of it, it could be me!) That's why le Marais district is often called "Boboland" by many sociologists. I'm just glad to be one of the 50,000 residents who are happy and fortunate to be living in Paris' most beautiful and sought-after district…
We hope to welcome you soon to Boboland!
Pascal Fonquernie

Editor, Parismarais (wearing tattoos as all Bobo's do… to get these fantastic fake tattoos, check out Mademoiselle Vegas' shop at 48 rue Charlot, 75003 Paris).



---
WORLD AIDS DAY: A WORD FROM JEAN- LUC ROMERO
When will China wake up?
Last September, China reintroduced a document requiring the serological status of people who enter the country. While the board meeting of the World Fund against AIDS, tuberculosis and malaria was taking place, I intervened to protest against that meeting being held in a country that closes its borders to foreigners who are HIV infected. Nevertheless, the meeting was held in China.

Bernard Kouchner, Foreign Minister and Michel Kazatchkine, Director of the World Fund, just answered to tell me that thanks to their protests, China decided to re-open their borders to HIV infected people.
"According to the present evaluation of the way the AIDS virus is transmitted and the real dangers infected people represent, we will change the restrictions to their entering the country," declared Mao Qun'an, government speaker.
He did not specify when the new rules would be implemented or whether the ban was to be entirely lifted. Although this announcement is positive, it might only be due to the fact that the World Fund is meeting in China, and that it is the only source of income for the Chinese who are infected and their associations.
Moreover, I had written an open letter to the President of the United States of America last year, asking him to lift the ban. On December 1, 2006, in a message published on the White House website, George W. Bush announced that he would ask Congress to lift the ban. A year later the promise still has not been upheld.

Let us hope that the Chinese government does not take their promise as lightly as the President of the United States of America.

Jean-Luc Romero
Président of the Association of French Politicians Against AIDS
See the TV campaign about not discriminating against HIV positive people in France made by the AIDES associative project: http://www.youtube.com/watch?v=tuXgPZqqE78
Discover all of our latest films on le Marais, co-produced by PARISMARAIS TV PROD, BONAVENTURE PRODUCTION AND PARIS CAP TELEVISION. If you would like your business, real estate agency, shop, restaurant or hotel to be featured in the next program, just contact Alexandre Antoine or Pascal at PARISMARAIS TV PROD, info@parismarais.com + 33 (0)1.77.12.12.40
To see our films now, click here: http://www.parismarais.com/videos.htm
Now let's do a quick tour of the events we enjoyed last month and all of the not-to-be-missed happenings coming up in December.
PARTIES we enjoyed and where you should go next
FOLLIVORES PARTY
Les Follivores Party is the most hysterical dance party in the north Marais, held at Le Bataclan. Twice each month, thousands of French music addicts gather to dance to the sound of classic French dance hits including songs from famous icons like Dalida, Mylene Farmer, Claude François, France Gall, Julie Pietrie, Rose Laurens and many more singers from the 70's up to the present. Celebrating their 10th anniversary, Les Follivores was even crazier and Le Bataclan was absolutely packed! Don't miss La Nuit des Follivores, twice each month on Saturdays at Le Bataclan – the next party is December 8!
Come early for dinner at Les Carnivores Café, run by the same management.
Visit http://follivore.free.fr/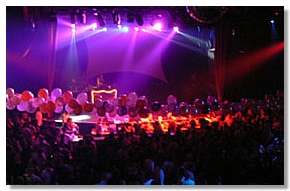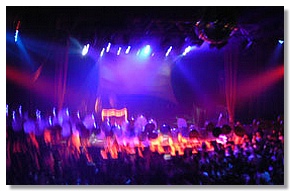 GOODBYE NANA
Nana Mouskouri, the great Greek singer, is on her farewell tour, ending her incredible 50 year career. She played her final concert in Paris at the Opera last Saturday night, November 24.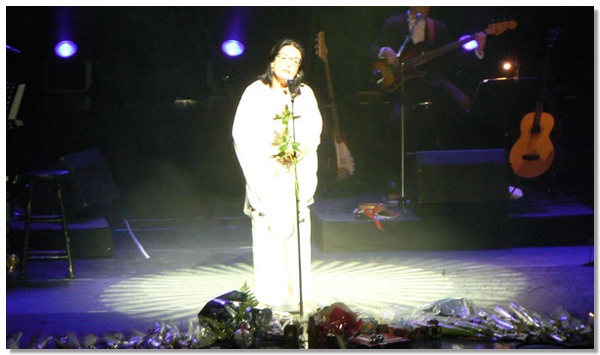 Just next to me was Mrs. Bernadette Chirac, wife of former French president Jacques Chirac, who is in charge of a great foundation for hospitalized children in France… (http://www.fondationhopitaux.fr/fondation/fondation_mission.php). Seats ranged from 30 to 180 euros and all proceeds of the event were donated to Mrs. Chirac's Foundation.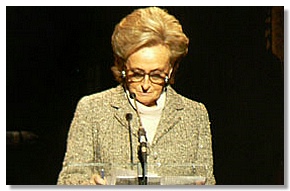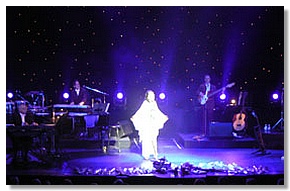 It was a great and emotional moment to see this musical icon on the Paris Opera stage. The entire opera was packed with over 2000 fans, and the spectacular evening ended with an enthusiastic standing ovation.
See http://www.nanamouskouri.net/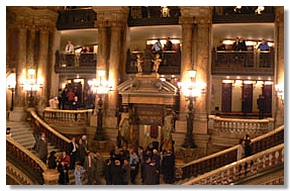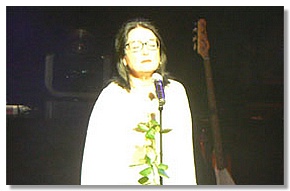 ---
MUST-SEE AT CARNAVALET MUSEUM
BENJAMIN FRANKLIN EXHIBIT 1776 - 1785
A tribute to the American writer, physician and diplomat who was in Paris in the late 18th-century, before the French Revolution.
December 5 to March 9, 2008
Closed on Mondays.
---
CHRISTMAS SHOPPING Baroque style
Carla of Le Boudoir et Sa Philosophie works with manufacturers and craftsmen who specialize in making copies of 18th-century art, and sells both antiques and recreations of classical necessities. Carla is also creating a complete series of trays, frames and other products featuring the photographs of Marianne Ström, a photographer who lives in le Marais.
Buy online : http://www.leboudoiretsaphilosophie.fr/1.aspx
---
GREAT RESTAURANTS
Here is a selection of restaurants in le Marais that offer delicious food and a warm atmosphere on those chilly winter nights.
Auberge Nicolas Flamel
Click here to see the video
http://www.parismarais.com/selected-restaurants.htm
Les Bains Douches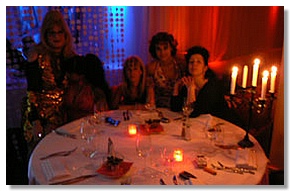 The decoration by Géraldine Blé brings a sensual and feminine touch to Les Bain Douche: the white stone floor and white lace curtains draw you into a warm and soothing atmosphere. Gourmets will be delighted as much by the decoration as by the dishes…

Starters: Millefeuille tomate et aubergine sur chèvre chaud, Salade de roquette et parmesan, foie gras with Chivas
Main dishes: Penne aubergine & jambon de parme, Tartare de saumon Balik, Filet de bœuf normand au poivre, Brochette de St Jacques, Filet de bar poêlé sauce gingembre.
Deserts: Tarte au citron, Crumble aux framboises, Duplex abricot et crème brûlée, Moelleux au chocolat avec se fiole de pinacolata
Starter + main dish + desert = 39 euros

Les Bains Douches
7 rue du Bourg l'Abbé, 75003 Paris
Tel: 01.48.87.01.80
www.lesbainsdouches.net
From 8:00 p.m. to 5:00 a.m.
Métro: Etienne Marcel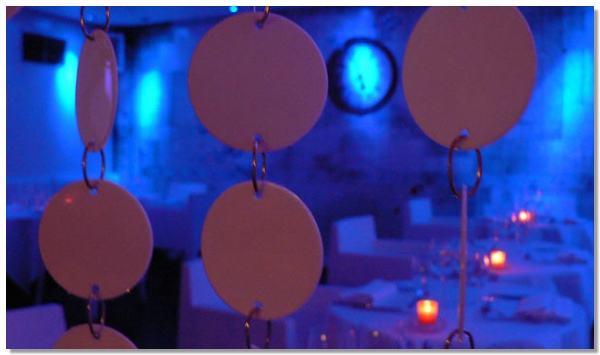 Pain Vin Fromage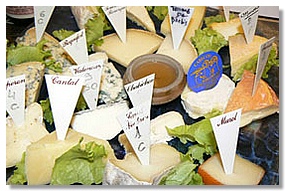 Pain Vin Fromage is the type of restaurant you'll never find anywhere else – it's all about cheese! Did you know that France has over 400 different kinds of cheese to choose from? At Pain Vin Fromage, you'll be able to try from 5 to 20 of them, depending upon your appetite. Simply select a region and discover the cheese – they offer a wide selection starting at 17€. Taste fresh Burgundy wine and indulge in fondue from the Savoy or Burgundy regions for only 16€. Enjoy the taste of nature and tradition without thinking about your waistline -- cheese is full of protein and calcium, just go easy on the bread! Pain Vin Fromage let's you really savor French traditions, especially those that will most please your senses.
Pain Vin Fromage
3 Rue Geoffroy L'Angevin, 75004 Paris
Tel: 01.42.74.07.52
Fax: 01.42.74.53.52
Every night from 7 p.m. to 11:30 p.m. ( last order)
---
ENJOY A BAGUETTE MAGIQUE!
Bread is good for you, especially when it is as fun as a "baguette magique," the dildo shaped bread created by Richard Legay for his famous boulangerie Legay Choc. Funny to be called Mister Legay (even if he's not!) and to sell such great bread in rue Sainte Croix de Bretonnerie, located in the heart of the gay village, the street that is the Paris equivalent of New York's Christopher Street or London's Compton Street.
Visit http://www.parismarais.com/gastronomic-treasures.htm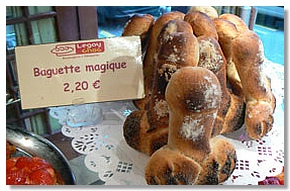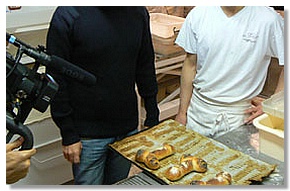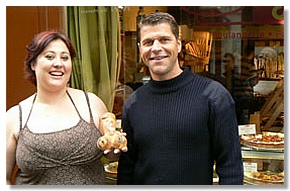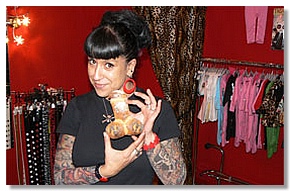 ---
HAVE A GLOG!
| | |
| --- | --- |
| | A glog is the Danish version of English mulled wine. Be sure to give it a try while discovering some beautiful paintings and Scandinavian tableware at Anders Hus Gallery. The perfect idea for a cold winter day! |
---
TAKE A NAKED SHOWER FOR X-MAS AT RAIDD BAR
Raidd Bar, the sexiest place in le Marais, offers you the chance to win many special presents on Xmas day…a day that will put the "X" in Xmas! Make your wishes now…and come to Raidd Bar on December 25!
More fun and sexy than ever!
Happy hour champagne until midnight!
Two DJ's, live music, hot gogo boys and shower boys to entertain you until dawn!
Subscribe online to their newsletter to find out about regular parties and hot events!
www.raiddbar.com
See videos on http://www.parismarais.com/gay-bars-paris-marais.htm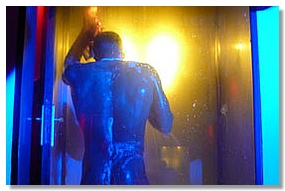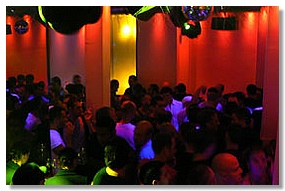 ---
CHRISTMAS ILLUMINATIONS
The City of Lights certainly deserves its name at this time of year! From November 26 to January 18, enjoy the Champs Elysées all lit up for the holiday season. If you're in le Marais, the Paris district 3 city hall is also spectacular.
---
ADVERTISE YOUR PROPERTIES AND SELL YOUR GOODS
AT PARISMARAIS.COM
Did you know that Parismarais.com is a great place to make new contacts and to buy and sell practically anything you can imagine? Our partnership with Franglo.com allows you to post a small ad online for only a couple of euros and have it promoted on 20 other Anglophone web sites. Great isn't it? Start advertising now – it's fast and easy!
http://www.parismarais.com/buy-and-sell-your-goods.htm
---
REAL ESTATE
Why spend time looking through all the newspapers when you can find the best property search firms and agencies we trust on Parismarais.com? Plus, see our classifieds section where you can advertise your properties for sale direct by owner for just a couple of euros.
If you have not visited these sections of our site, bookmark them now:
http://www.parismarais.com/real-estate-paris.htm
http://www.parismarais.com/real-estate-agencies.htm
http://www.parismarais.com/paris-marais-free-classifieds.htm
---
LOW-SEASON DEALS
GET 30% OFF HOLIDAY APARTMENTS IN JANUARY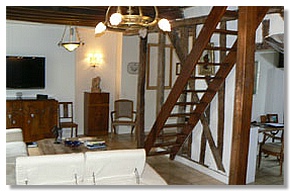 Looking for somewhere unique to stay for your next Paris holiday? Parismarais selects only the best of the best in each apartment category, just for you. You know that when you rent a flat with the owners and companies we select, you'll be welcomed like a friend, benefit from great service and enjoy exceptional accommodations.
Open now for 2008 bookings… plus we have many discounted apartments for early December 2007!
BOOK ONLINE NOW WITH SPECIAL PROMOTION CODE «PM» FOR A ONE WEEK RENTAL
AT 30% OFF!
http://www.parismarais.com/book-a-flat-le-marais-paris-france.htm
---
Parismarais Newsletter
Parismarais Newsletter, December 2007 issue
Thanks for their contribution to Lynda Sydney, Mademoiselle Vegas, Marianne Ström, Carla Vizzi.
http://www.parismarais.com
mailto:info@parismarais.com
To Subscribe:
http://www.parismarais.com/parismarais-newsletter.htm
To Cancel Your Subscription:
http://www.parismarais.com/unsubscribe.htm
To receive more news about Paris, subscribe to Parler Paris Newsletter and twice a week you will receive the latest information, events, tips, and details about what's new in the French capital, written by Adrian Leeds, long time resident of Le Marais, visit www.parlerparis.com
Copyright 2007, parismarais.com