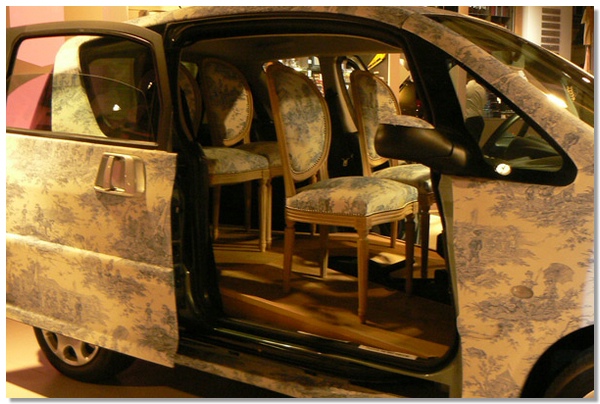 Parismarais Newsletter
Issue 47, October 2008
http://www.parismarais.com
---
DISCOVER EUROPE'S BEST HOTELS
AT THE BEST PRICES

STAY IN PARIS' BEST HOTELS IN LE MARAIS AND AROUND LE MARAIS DISTRICT…

Extend your stay in Europe by visiting the prestigious resorts we have selected for you in the Loire Valley, on the French Riviera, French Alps or Switzerland. Or how about Rome, Venice, Vienna, Berlin or London?
---
TAKE A SEAT TO LE MARAIS' BEST ADDRESSES
Bonjour Parismarais readers,
October in Paris…there is so much happening, where do we begin? Paris is buzzing this month with trade shows, fashion shows, and the World Car Show. We even found the perfect baroque car, ideal for the Marais streets – it's a unique prototype of the "1007" model by Peugeot with Louis XVI seats and gorgeous "toile de jouy" paint. Marie Antoinette would have loved it!
As much fun as it would be to drive the Peugeot, the best way to enjoy le Marais is to walk or use the Velib system, with bikes you can pick up and return almost anywhere in the city for only a couple of euros. To find out how to use the Velibs, visit http://www.en.velib.paris.fr/comment_ca_marche
And don't miss the annual Nuit Blanche on October 4 featuring tons of cultural events and happenings all around the city. This is the ideal chance to see many fabulous mansion courtyards that are normally not opened to public.
To discover all the details about the events (in French) you are also welcome to visit the Parismarais Blog for the complete listing, just click here.
As the weather is getting a bit colder we thought you would enjoy warming up after a day of cultural sightseeing with a selection of the best value restaurants in Le Marais we have visited and reviewed for you. From 22€ to over 100€…read on for our best picks to keep in your pocket!


But don't complain if you put on a few kilos…you have no excuse since you can easily lose them by riding around the streets of le Marais on your velib!

A bientôt!

Pascal Fonquernie
Editor, Parismarais.com
---
TOP SELECTED RESTAURANTS
Des Gars dans la Cuisine
There are not enough superlatives to express the creativity of this new, stylish restaurant with an inventive and surprising menu. The dishes are sophisticated and original, reflecting the fine cuisine. The salmon tartar is copious and scented with ginger and citronella. You can relish the chicken flecked with tiny gray shrimp and coriander as well. The desserts – in particular the homemade sorbet – enchant the palate. All this for only 40€, more than reasonable considering the fresh quality of the products.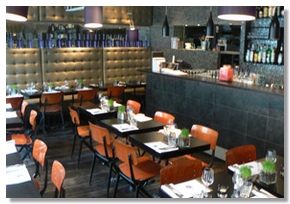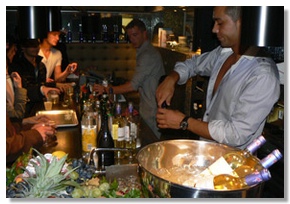 "Des Gars" literally means two guys and is a play on words meaning "damage." "The guys" would be the chefs, Jean-Jacques Delaval and Gil Rosinha. But there's no damage here…instead, their sure hands will win over your taste buds, and the waiters' warm smiles will make you feel welcome.
Go for the lunch formula: two dishes for 14€ – unbeatable! Sunday brunch runs from 22€ to 24€, with a health food choice that is guilt-free. Top wines are available at reasonable prices like Le Mercurey AOC Bouchard, Le Marquis Saint-Estèphe, le Petit Chablis AOC Domaine Louis Moreau are also on the menu... all for only about 30€.
Des Gars dans la Cuisine
72 rue Vieille du Temple, 75003 Paris
Tel: 01 42 74 88 26
Ambassade d'Auvergne
The Ambassade d'Auvergne is one of Paris' top gastronomic institutions. Francis and Françoise Petrucci welcome you like old friends and share their passion for their region of France, happily explaining the secrets of their wonderful cuisine.
Among the many house specialties, we recommend the chilled lentil salad, cochonnailles de la Châtaignerie (assorted charcuterie), stewed pork with braised cabbage, Parlan sausages and aligot (mashed potatoes with garlic and Cantal cheese).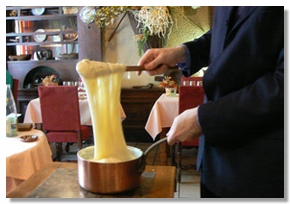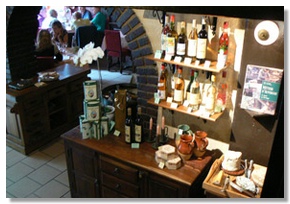 For dessert, try the chocolate mousse (unlike any you've had before!), the triple-flavored crème, or the cold rhubarb soup with fresh mint. A great selection of wines ranging from the affordable (16€ per bottle), regional wines like Saint-Pourçain or Madargues, to the most prestigious Burgundy wines, Gevrey-Chambertin, Clos Vougeot, or Morey Saint-Denis. For weddings and other celebrations, you can even reserve a private room for up to 35 people.
Great lunch menu: starter + main course + glass of French regional wine for 20€.
Auvergne and Aveyron regional menu: starter + main course + dessert for 28€.
Ambassade d'Auvergne
22 rue du Grenier, Saint-Lazare, 75003 Paris
Tel: 01 42 72 31 22
http://www.ambassade-auvergne.com
Le Gueridon
Le Gueridon has set up shop on rue Picardie with an inventive aesthetic cuisine, cultivating the French cooking values we've come to appreciate. A modernist setting with dimmed lighting combined with lounge and jazz music sets the mood. Philippo, the chef, gives everyone a warm welcome.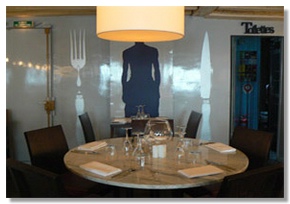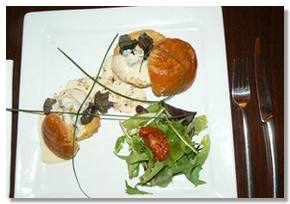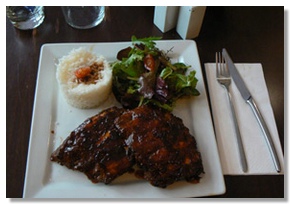 The menu has a playful quality, mixing a diversity of styles, genres and recipes. It's all pleasing to the palate and not hard on your wallet.
Snails in a flaky pastry crust with hazelnut for 11€, warmed scallops emincé for 14€, veal cutlet in a creamy Saint-Marcelin 18€, red mullet in a buttery vanilla sauce 17€, Maison Jouanault cheese platter 8,50€, iced nougat with raspberry sauce or a choco-mint dream dessert 9€.
From the cellars: Menetou Salon 24€, Pouilly Fumé 34€, Medoc Château Bellegrave 2005 at 18€ and for a big celebration, Aloxe Corton 2004 at 83€. Go for a delicious and inspiring meal! The evening four course menu "degustation" is only 32€, and an exceptional lunch menu at 18,50€.
Le Gueridon
19 rue de Picardie, 75003 Paris
Tel: 01 42 71 31 71
http://www.legayridon.com
Bel Canto
For those with an appreciation of Southern French cooking with a touch of Italian and a love of opera music, Bel Canto brings you an unusual dining concept. You can enjoy your meal while listening to the music of such classical composers as Verdi, Rossini, Mozart, and Puccini, performed by the talented young opera singers from the conservatory of the Paris Opera.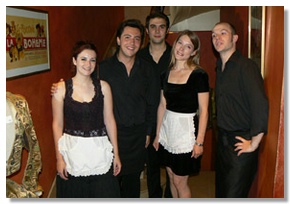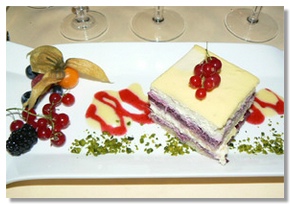 The menu includes marinated salmon with fresh dill, homemade cannelloni with pancetta and fresh spinach, strips of duck with foie gras, or filet of sea bream with raspberry butter, all served to you by the same performers who will delight you with operatic interludes every 15 minutes, accompanied by a pianist who plays throughout your meal.
Located along the Seine near the Hôtel de Ville, with two-level dining areas decorated with ochre walls and diffused lighting, as well as a beautiful terrace overlooking Notre Dame and the Ile Saint-Louis, Bel Canto is the perfect place for a special evening for small or large groups.
Dinner with performance around 75€.
Bel Canto
72, quai de l'Hôtel de Ville, 75004 Paris
Tel: 01 42 78 30 18
Fax: 01 48 78 30 28
http://www.lebelcanto.com
infos@lebelcanto.com
Food & Beverage… Paris and now also in Cahors.
Four friends, Gérald, Martial, Fabien and Stéphane, combine their talents and passions to offer you the ultimate gastronomic experience in a warm, contemporary design space. Gérald formerly worked at the Trianon Palace at Versailles. Stéphane, the chef, comes from the Train Bleu and Philippe Starck's Bon. Martial is a connoisseur of fine wines.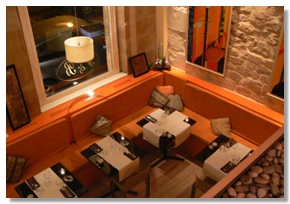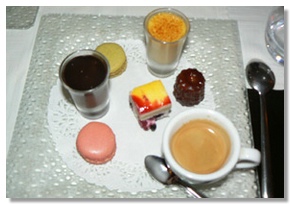 Start with the divine artichoke, crab, and avocado millefeuille, or the foie gras duo with fresh figs and coffee-balsamic vinegar. For the main course, try the royal ribsteak (1 kg) with Pont-Neuf potatoes or the unconventional rabbit and eggplant tarte tatin. For dessert, sample the warm double chocolate cake or the fried brioche (French toast) with caramel sauce and ginger ice cream.
An excellent wine list includes: Bordeaux, Château Margaux and Lynch-Bages (69€), Château Giscours (49€), Condrieu from the Côtes du Rhône, and Pommard from Burgundy. The three-course dinner costs approximately 32€. A great deal for lunchtime…three courses for 19€ or two courses for 15€.
F & B Restaurant
14, rue Charlot, 75003 Paris
Tel: 01 42 78 02 31
http://www.foodandbeverage.fr
Le Pamphlet
After a complete renovation at the end of 2007, Le Pamphlet welcomes you with a fresh market menu that offers unbeatable prices: appetizer, main dish and dessert for just 35€. You'll be won over by the surprise amuses bouches and the mignardises…Le Pamphlet's menu changes weekly, but the classics are a constant.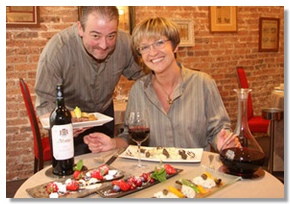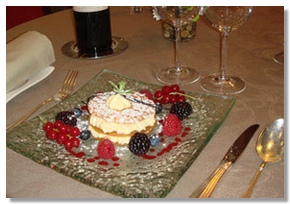 Start with a Camembert salad with smoked anchovy filets or shredded crab in an asparagus and citron vinaigrette followed by chopped duck breast topped with a fried egg, green beans and new potatoes, or perhaps a Salers filet of beef prepared à la Rossini with pomme grenaille and mushrooms. Finish off with a red-fruit millefeuille.
To discover the best menu at Le Pamphlet, opt for the surprise dégustation at 65€ for the entire table: a gastronomic journey though regional French cooking revisited by chef Alain Carrère.
As for the wines, you'll be enchanted as well. Chardonnay du Languedoc at 28€, Chablis 2005 at 45€, Crozes-Hermitage 2006 at 40€, Saint-Estèphe Château de Pez 2003 at 85€. To start, enjoy a glass of Roederer Rosé Champagne, only 15€.
Le Pamphlet
38, rue Debelleyme, 75003 Paris
Tel: 01 42 72 39 24
Les Bains Restaurant
The decoration by Géraldine Blé brings a sensual and feminine touch…its white stone floor and white lace curtains transport you to an intimate and soothing atmosphere. Gourmets will be delighted as much by the decoration as by the dishes.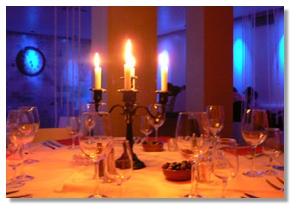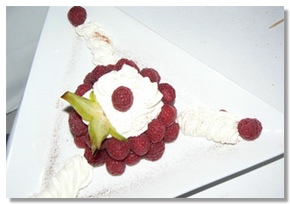 To start, try King Crab Thaï, foie gras trio (+6€) l'ardoise de salaison de la "Maison Douzeau." Main dishes include chicken supreme with mango chutney, salmon tartare "Balik," gigantic beef chop (400gr), red tuna with orange sauce, 1/2 grilled lobster...and much more to choose "à la carte" including a fabulous caviar selection.
For desserts to tempt your sweet tooth try tiramisu "Mamma Italia," cocoa rich cake with vanilla cream, sablé cake with raspberries, black chocolate fruit dip fondue...
Starter + main dish + desert = 39€
Starter + main dish or main dish + dessert = 32€
So far, this is one the best values for the money we have found in the design restaurant category.
Dinner includes free entrance to the club for the restaurant's clients - open Wednesday to Sunday only.
http://www.lesbainsdouches.net
Ze Resto
Ze Resto next to Ze Bar is a tiny new place with a charming Provençal decor and an adorable team. The cuisine is sophisticated and creative, prices are delightful – definitely one of ze best values, only 22€ for a three course menu, even for dinner.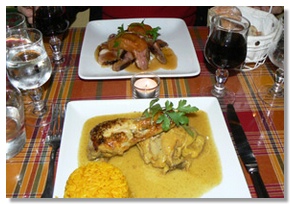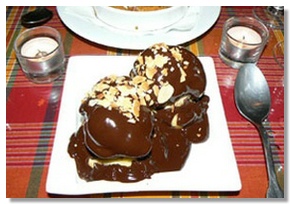 Reserve your table as ze place is not very large. If you want to taste a good value restaurant wizout spending too much, do go quickly to Ze Resto (zat iz next to Ze Bar where you'll find ze cheapest drinks in ze city: 2,50€ for any soft drink! Ziz iz incredible izn't it?)
Ze Resto
41, rue des Blancs Manteaux, 75004 Paris
Monjul
Every detail of every meal looks like a work of art. Foie gras mousse served on a black tile, bœuf Bourguignon that looks like chocolate cake, salmon and beef together, chocolate and pistachio delirium…every single meal is an experiment! The food is delicious, the staff is wonderful, the decor is great… and it's only 29€ for three courses. An even better deal is lunch – three courses for only 18€ and two courses for 14€.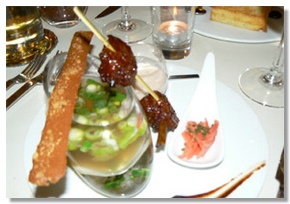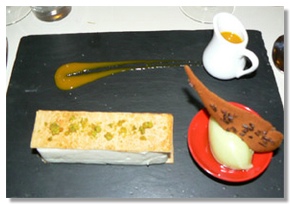 Monjul opened in May 2007 and it's already one of the Marais' Top 10 Restaurants. Talented Chef Julien Agobert and his team will surprise you like no one has before. Be sure you book ahead to get a table!
Monjul
28, rue des Blancs Manteaux, 75004 Paris
Tel: 01 42 74 40 15
Discover more on our selected restaurant pages…
http://www.parismarais.com/selected-restaurants.htm
---
DISCOVER PARIS BY NIGHT FOR "LA NUIT BLANCHE"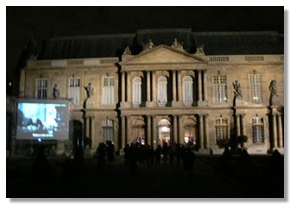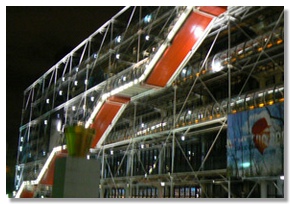 LA NUIT BLANCHE – October 4
Every year on the first weekend in October, Paris stays open all night to celebrate art and culture with events, parties, and discoveries through the entire city. It's called "La Nuit Blanche" and naturally le Marais will be one of the top spots to have fun! See the Paris City Hall web site for all the details.
---
REDISCOVER LES MISERABLES
Of course you know the musical, the films, but how about the book written by Victor Hugo?
It's time to rediscover this classic with two great exhibits. One is about the book itself and is located at Victor Hugo's house on Place des Vosges. The second is at Carnavalet Museum.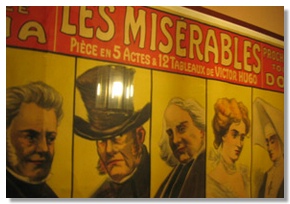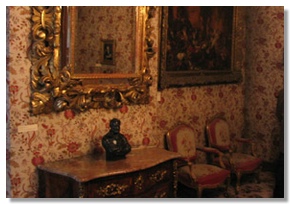 Dedicated to Paris at the time of Les Misérables, you will realize that at that time, the Marais streets were rather scary and dangerous, with poverty a harsh contrast to the opulence found under the government of Napoleon III.
Read more about Victor Hugo's House: http://www.parismarais.com/le-marais-museum-guide.htm
Click here to find out more about the exhibits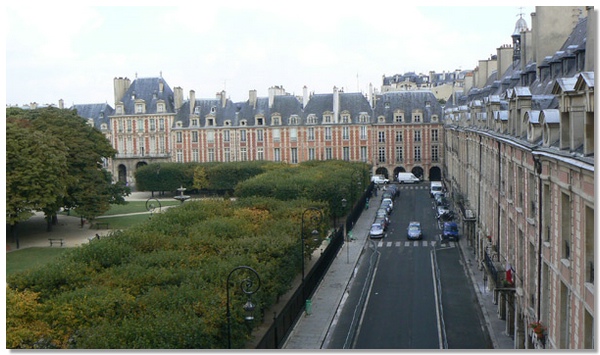 Place des Vosges' view from Victor Hugo's House
---
SPECIAL HOTEL DEAL IN OCTOBER!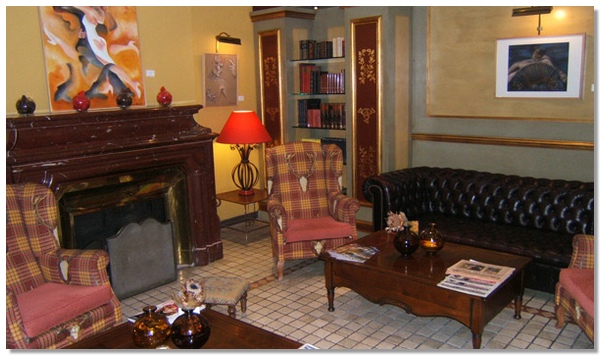 You can enjoy a fabulous 4 star hotel at 3 star prices! Villa Beaumarchais will offer you a great deal if you book online with Parismarais.com right now – only 177€ for a double or twin room.
---
A UNIQUE FRENCH IMMERSION PROGRAM
IN THE SOUTH OF FRANCE
Instead of idling away your time lying on a beach or sitting in a café, why not live the intellectually invigorating adventure of learning to speak French together with fascinating people from all over the world?
This unique opportunity is offered by the Institut de Français in Villefranche-sur-mer, (the town next to Nice) a renowned school set in a breathtaking location on the French Riviera, which runs an intensive program of 8½ hours a day, with 2 on-site meals, 5 days a week, all year round.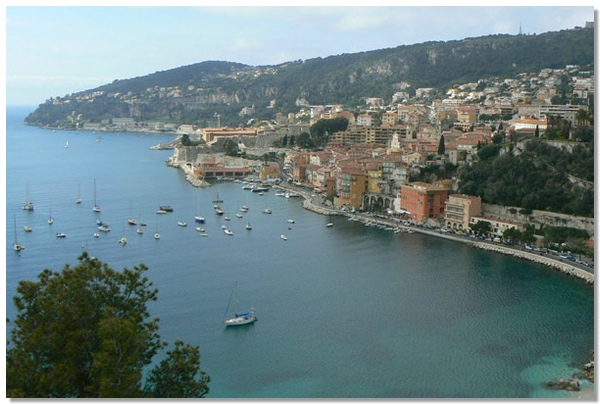 The results are impressive: first, because the teaching standard is top notch, secondly, the program is extremely varied, ranging from audio-visual classes, language lab, discussion-lunch (with a teacher) to practice sessions, linguistic games, songs, role playing in everyday situations, commenting on newscasts, commercials, a demonstration of crêpe making, a presentation and tasting of cheeses, etc.
Add to that the organized evening activities, most accompanied by teachers: cinema showings, going to the theater after having studied the play, meals at a restaurant, a full-day excursion in the hinterland, to renowned villages like St Paul-de-Vence, Grasse, the perfume center of France, etc. All this makes for a truly fulfilling, unforgettable experience!
Find out more and read about it in German too:
http://www.parismarais.com/education-language-schools.htm
---
ADVERTISE AND SELL ANYTHING YOU WANT
AT PARISMARAIS.COM
Did you know that Parismarais.com is a great place to make new contacts and to buy and sell practically anything you can imagine? Post a small ad online for only a couple of euros and have it promoted on 20 other Anglophone web sites. Great isn't it? Start advertising now – it's fast and easy!
http://www.parismarais.com/buy-and-sell-your-goods.htm
---
WHAT'S UP NEXT IN LE MARAIS?
Our English language newsletter comes to you only once a month, but we have so much to tell you it just keeps getting longer and longer! You don't have to wait for the next issue to check out what's new in le Marais. Almost every day we will add a new report or article about le Marais and Paris to our blog, plus many tips about real estate, travel and entertainment. If you want to write about le Marais, send us your comments about hotels, restaurants, shops and more in Paris. If we publish it, we'll be happy to add you to our list of contributors and writers.
http://www.parismarais.fr/blog
---
Don't Miss PARISMARAIS NEWSLETTER AND SPECIAL OFFERS
AOL blocks many major European ISPs, so we cannot guarantee that our mail to AOL addresses will arrive. Please use another email provider or "White List" our email address or add "info@parismarais.com" and to your contact list.
Parismarais Newsletter, October 2008 issue
http://www.parismarais.com
mailto:info@parismarais.com
To Subscribe:
http://www.parismarais.com/parismarais-newsletter.htm
To Cancel Your Subscription:
http://www.parismarais.com/unsubscribe.htm
Special thanks to all our contributors and media partners all over the world.
http://www.parismarais.com/worldwide-links.htm
http://www.parismarais.com/gay-links.htm
Should you wish to promote us and create profitable reciprocal links with us to your web site, please write to advertising@parismarais.com.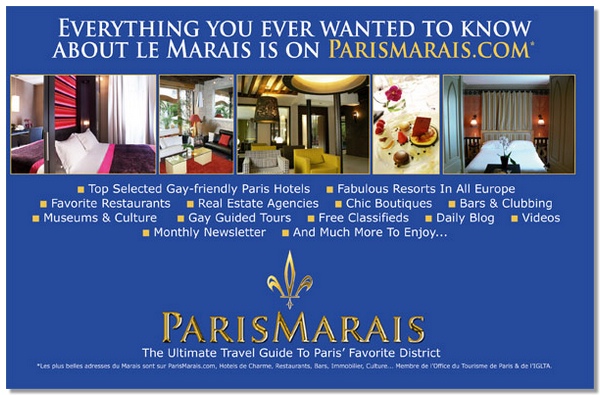 ---

Copyright 2008, parismarais.com