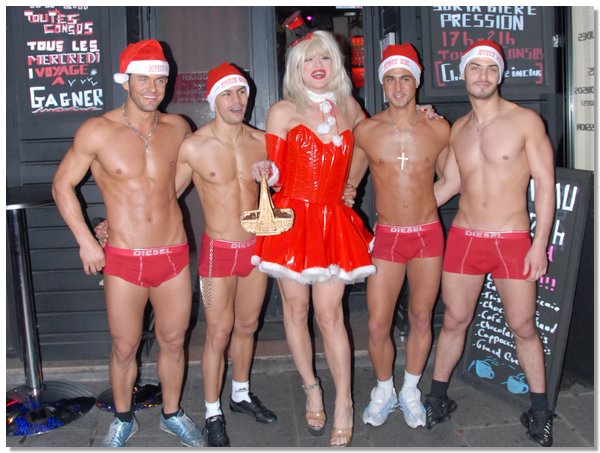 Tonia, as "La Mère Noel" and her boys at Raidd Bar,
one of the many unconventional ways to enjoy Xmas in Paris.

Parismarais Newsletter
Christmas Edition, December 2008
http://www.parismarais.com
---
NOTHING COMPARES TO XMAS IN PARIS
Bonjour Parismarais readers,
C'est la crise! So what? Will you stop living and enjoying life? 2009 may be shaping up to be a bad year in the financial markets, but there are still many things you can do to have fun at decent prices, if not in December, then in January for sure. So instead of investing in the stock market, we have a much better idea: invest in pleasure and in your own well-being, by creating good memories you'll keep for a lifetime and that will give you happiness forever. If you don't trust your bankers anymore, trust Parisians to keep you happy—and have the best Xmas ever!
The exchange rate is very good right now for many visitors from outside the Euro zone. That's one more reason to visit us now. We have selected some of our favorite great value picks for shopping, eating and staying in the Marais district this December.
You can also save when you book now for your trip to Paris next month to shop for spectacular bargains at the Winter Sales, starting January 5, 2009.

Here are our best choices for a luxurious, stylish and still affordable Christmas in Paris' favorite district.

Happy holidays!

Pascal Fonquernie
Editor, Parismarais.com
---
BUY THE BEST AGENDA YOU CAN FIND
DISCOVER THE "I A D" - International Art Diary
This could be the most upscale and useful agenda you'll ever find! Launched in 2007 by Stephanie Pioda and Fabien Bouglé, it was a huge success in the art world and is becoming the must-have business tool for 2009. It comes in English and French, and includes art exhibitions worldwide for the entire year, plus maps and gallery listings. If you travel the world and love art and culture, this agenda is for you!
---
TAKE A MAKE-UP CLASS TO LOOK FABULOUS FOR XMAS
Gloss Up
Personalized, professional make-up advice, 45 minutes: 45€
Small group classes 1h30:
1 person - 90€
2 people - 70€ per person
3 or more - 55€ per person

Gloss Up
58 rue Charlot, 75003 Paris
Tel: 01 43 55 43 54
http://www.viseart.com
---
ENJOY A HAMMAM or MASSAGE IN A BEAUTIFUL SPA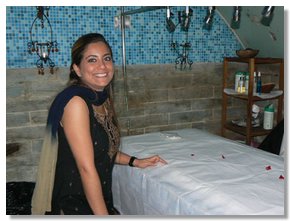 India Spa
Step through the doors of India Spa and you enter a completely new world of well-being, inspired by ancestral traditions from Mauritius, India and North Africa.
Hammam and body-scrubs, ayurvedic massages, a flower bath with ylang ylang from Mauritius, warm spice herb applications from Thailand, sweet massages from Bali, underwater massages, plus the famous chocolate flavored massage to delight your body and soul.
The world's most precious spa rituals have found their home in a relaxing, timeless Indian décor, on the northern side of Le Marais. Experience a new level of total relaxation at India Spa.

India Spa
76 rue Charlot, 75003 Paris
Tel: (33) 1 42 77 82 10
Metro/Parking: République
www.india-spa.com
By appointment only. Open 7 days a week, Monday to Saturday 11 a.m. to 9 p.m., Sunday 11 a.m. to 7 p.m.
---
TATTOO YOU WITH A PARISIAN TOUCH
Abraxas
Print your love forever on your body at Abraxas, the most famous tattoo shop in le Marais.

You can also buy their outrageously sexy calendar featuring Mademoiselle Vegas, the French Amy Winehouse, with all profits donated to a charity for AIDS.

Abraxas
5 rue Saint Merry, 75004 Paris
http://www.abraxas.fr/
---
TURN YOUR BATHROOM INTO A "WELL-BEING BOUDOIR"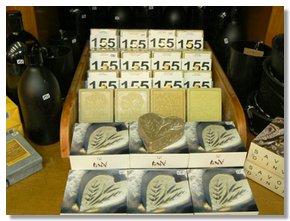 Bains Plus
Bathing is part of the French art of living, and Bains Plus is the one and only shop completely dedicated to the pleasure of bath time. Preparation for, enjoyment of and pampering after the bath are the raisons d'être at Bains Plus.
You'll find everything you need to relax, take care of yourself, and look and feel beautiful – traditional vintage perfumes from Creeds, barber shop tools, body creams, towels, designer robes and pajamas, scented candles and mineral salts.
Visit Bains Plus today…and take the first step to rediscovering your personal well-being and the caring traditions of yesterday.
Bains Plus
51 rue des Francs-Bourgeois, 75004 Paris (corner rue Vieille du Temple)
Tel: 01 48 87 83 07
Fax: 01 48 87 19 12
Metro: Saint-Paul or Hôtel de Ville
Tuesday to Saturday 11 a.m. to 7:30 p.m., Monday and Sunday 2 p.m. to 7 p.m.
---
MAKE YOUR HOME LOOK LIKE PARADISE
Moia
Across from the Hotel Soubise, the impressive 17th century mansion devoted to the national archives, you'll find one of the most innovative, inventive design stores in the Marais: Moia. Little daily bric-à-brac, tailor-made creations, tableware, contemporary furniture, vases, and lighting fixtures adaptable to your tastes are in abundance.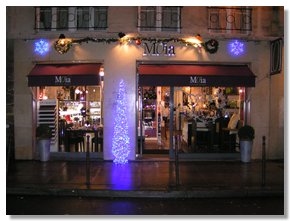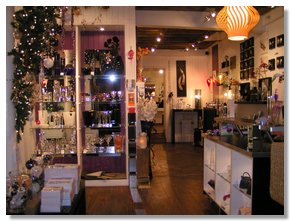 Design has never been so affordable and so in line with your daily needs. New collections and creations appear on a monthly basis which means you'll have to stop by often. It is really such a pleasure for your eyes and your heart to beautify your home!

Moia
59, rue des Francs- Bourgeois 75004 Paris
Tel/ Fax: 01 44 78 03 52
http://www.moia.fr
Metro: Rambuteau
---
GO BACK TO 18TH CENTURY
Le Boudoir et Sa Philosophie
Carla Vizzi invites you to discover the first Boutique Museum of Living History. The Boudoir Philosophy is to allow you to rediscover the Art of Living in the 18th century around the daily activities of the Boudoir.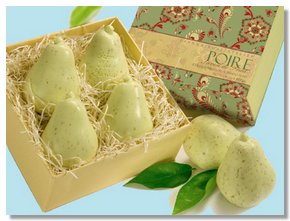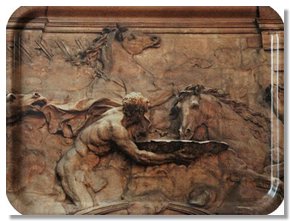 Carla works with manufacturers and craftsmen who make copies of 18th century art, and sells both antiques and re-creations of classical necessities. Made to order paintings and portraits of your favorite dog, in an 18th century spirit, are but one of the many possibilities of artwork she can create for you. Open the door and step into a baroque exploration of intimate Parisian life.
Le Boudoir et Sa Philosophie
18 rue Charlot 75003
Tel: 01 48 04 89 79
http://www.leboudoiretsaphilosophie.fr/
Tuesday to Saturday from 4 p.m. to 7.30 p.m.
---
BECOME QUEEN OF FRANCE FOR FIVE MINUTES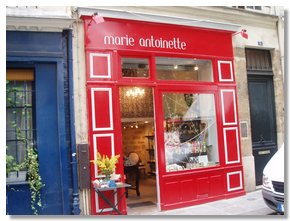 Marie Antoinette
For those who love small, intimate shops hiding a treasure trove within their walls, Marie Antoinette is the place for you. With all the refinement of the former queen of France, this bijou space is quite simply charming.
There is no better place better for candles, soaps and other cosmetics.
You can visit the exquisite Marie Antoinette at 5, Rue d'Ormesson, opposite the picturesque Place du Marché Sainte Catherine in the 4th Arrondissement of Paris. Antonio will be there to greet you and show you the secrets that his shop has to offer.
Marie Antoinette
5 rue d'Ormesson, 75004 Paris
Tuesday to Sunday 11 am to 7 pm
---
ENJOY THE SEXIEST XMAS YOU' VE EVER HAD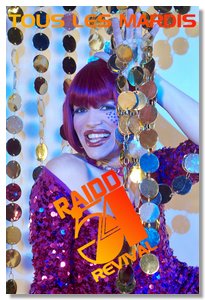 Raidd Bar is unique for its style, ambiance and crowd. Each day, from 5 p.m. on, it offers the most friendly open air terrace you'll find in le Marais, with all drinks at happy hour prices. How about treating yourself to a glass of champagne...and getting a second glass for free! The bartenders are probably the sexiest in Paris—they have dream bodies and great attitudes...a winning combination!
Starting at 11 p.m. there is lots of action, including shows under the shower—everyone is welcome to watch and dream. You can even bring your girlfriends if they dare to pass through the doors.
Downstairs in the lounge bar the atmosphere is more cozy with its red velvet decor and comfy sofas, the perfect place to chat with Mister Right or Mister Sexy.
In all of Paris, there is truly nothing quite like Raidd. Once you've been here, you'll love it! For daily details about who the live DJ is and who is under the shower, visit the web site. For Xmas eve, Tonia, queen of Parisian nights will be Mother Xmas and entertain you. Plus, there will be a lottery and many great prizes to win.
---
ENJOY GOURMET RESTAURANTS FOR LESS THAN 50€
MOST ARE OPEN FOR XMAS AND NEW YEAR'S, FEATURING SPECIAL HOLIDAY MENUS. TAKE YOUR PICK AND MAKE YOUR RESERVATIONS NOW!
Auberge Nicolas Flamel
Since Alain Geaam has taken over, guests are continually dazzled by the Nicolas Flamel Inn, dating from 1407. Awe-inspiring presentations are coupled with a surprising wine cellar boasting more than 150 vintages. The menu gourmand at 31€ and the menu prestige at 46€ are a treat and the lunch menu which includes two dishes, coffee and a drink at 18.50€ is an unbeatable price.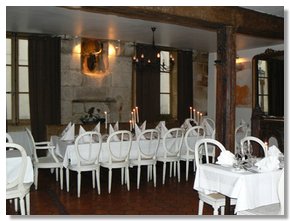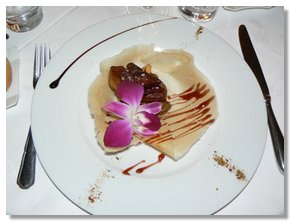 For a gastronomic detour, try the tasting menu with five different dishes paired with the appropriate wines. Some of our favorite dishes are spice duck foie gras on upside-down crusty potatoes, filet of beef with wild mushrooms and gratin dauphinois. For the piece de la résistance try the flourless chocolate heart-shaped cake explosion in a mini cocotte with violet sorbet or a farandole of selected desserts. Just reading the menu is a pleasure for the senses. And the menu changes with the seasons.
Auberge Nicolas Flamel
51 rue de Montmorency, 75003 Paris
Tel: 01 42 71 77 78
Fax: 01 42 77 12 78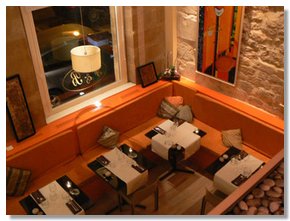 Food & Beverage
Four friends, Gérald, Martial, Fabien and Stéphane, combine their talents and passions to offer you the ultimate gastronomic experience in a warm contemporary design space. Gérald formerly worked at the Trianon Palace at Versailles. Stéphane, the chef, comes from the Train Bleu and Philippe Starck's Bon. Martial is a connoisseur of fine wines. Start with the divine artichoke, crab, and avocado millefeuille, or the foie gras duo with fresh figs and coffee-balsamic vinaigrette. For the main course, try the royal ribsteak (1 kg) with Pont-Neuf potatoes or the unconventional rabbit and eggplant Tarte Tatin. For dessert, sample the warm double chocolate cake or the fried brioche (French toast) with caramel sauce and ginger ice cream. An excellent wine list includes: Bordeaux, Château Margaux and Lynch-Bages (69€), Château Giscours (49€), Condrieu from the Côtes du Rhône, and Pommard from Burgundy. The three-course dinner costs approximately 32€. A great deal for lunchtime…three-courses for 19€ or two-courses for 15€.
F & B Restaurant
14 rue Charlot, 75003 Paris
Tel: 01 42 78 02 31
www.foodandbeverage.fr
Metro: Filles du Calvaire
Manager: Gérald Toulliou
Chef: Stéphane Smargiassi
Le Pamphlet
Le Pamphlet welcomes you with a fresh market menu that offers unbeatable prices: appetizer, main dish and dessert for just 35€. You'll be won over by the surprises…amuses bouches and the mignardises. Le Pamphlet's menu changes weekly, but the classics are a constant.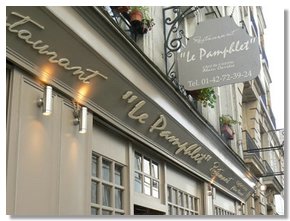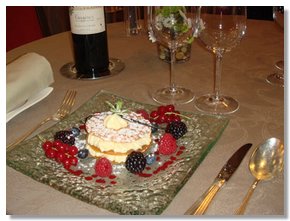 Start with a Camembert salad with smoked anchovy filets or shredded crab in an asparagus and citron vinaigrette followed by chopped duck breast topped with a fried egg, green beans and new potatoes, or perhaps a Salers filet of beef prepared a la Rossini with pomme grenaille and mushrooms. Finish off with a red-fruit millefeuille. To discover the best menu on offer at Le Pamphlet, opt for the surprise dégustation at 65€ for the entire table: a gastronomic journey though regional French cooking revisited by chef Alain Carrère. As for the wines, you'll be enchanted as well. Chardonnay du Languedoc at 28€, Chablis 2005 at 45€, Crozes-Hermitage 2006 at 40€, Saint-Estèphe Château de Pez 2003 at 85€… Start off with a glass of Roederer Rosé Champagne at only15€.
Le Pamphlet
38 rue Debelleyme, 75003 Paris
Tel: 01 42 72 39 24
Café Charlot
A new chic café and restaurant has replaced the old boulangerie at the corner of rue Bretagne and rue Charlot. Rather overpriced in the evening, it is affordable for lunch. Try the "plat du jour" from 13€, selected house wines and good coffee from 7 a.m. to 2 a.m. for only 2€. This is the ideal place for breakfast before you visit the Picasso Museum or when you are waiting to check-in at the Hotel du Vieux Saule, Hotel Molay or Hotel des Archives, all close by. If you rent an apartment with us, we may meet you there to give you the keys as it is the only place in the area that stays open late and opens so early…a very good thing to know!
Café Charlot
38 rue Charlot, 75003 Paris
Tel: 01 44 54 03 30
Des Gars dans la Cuisine...
Not enough superlatives exist to express the creativity of this new, stylish restaurant with an inventive and surprising menu. The dishes are sophisticated and original reflecting the fine cuisine offered: the salmon tartar is copious and scented with ginger and citronella, or you can relish the chicken flecked with tiny gray shrimp and coriander as well. The desserts, in particular, the homemade sorbet, enchant the palate. All this for only 40€, more than reasonable considering the fresh quality of the products.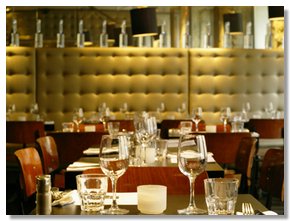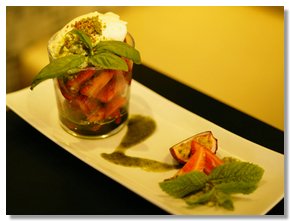 "Des Gars" literally means two guys and is a play on words meaning "damage." The guys would be the chefs, Jean-Jacques Delaval and Gil Rosinha. But there's no damage here; instead their sure hands will win over your taste buds, and the waiters' warm smiles will make you feel welcome. Go for the lunch formula: two dishes for 14€. Unbeatable! Sunday Brunch runs from 22€ to 24€, with a health food choice that is guilt-free. Top wines at reasonable prices like Le Mercurey AOC Bouchard, Le Marquis Saint-Estèphe, le Petit Chablis AOC Domaine Louis Moreau are also on the menu... all for only about 30€.
Des Gars dans la Cuisine
72 rue Vieille du Temple, 75003 Paris
Tel: 01 42 74 88 26
Le Gayridon
While most gay restaurants are overpriced, totally infamous and make you risk your life by food poisoning, (they are numerous on the rue Saint Merry and rue Sainte Croix de Bretonnerie, avoid most of them…) The Gayridon has set up shop on rue de Picardie with an inventive aesthetic cuisine, cultivating the French cooking values we've come to appreciate. A modernist décor with low lighting, and lounge and jazz music that sets the mood.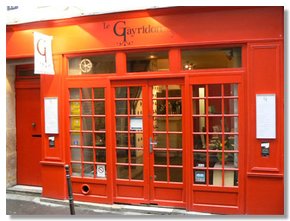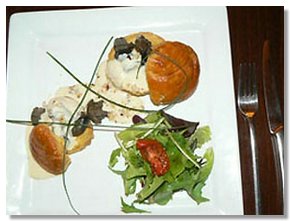 Philippo, the chef, gives everyone a warm welcome. The menu's playful quality mixes a diversity of styles, genres and recipes. It's all pleasing to the palate and not hard on your wallet. Snails in a flaky pastry crust with hazelnut 11€, Warmed Scallops Emincé14€, Veal Cutlet in a creamy Saint-Marcelin 18€, Red Mullet in a buttery vanilla sauce 17€, Maison Jouanault cheese platter 8,50€, Iced Nougat with raspberry sauce or a choco-mint dream dessert 9€. From the cellars: Menetou Salon 24€, Pouilly Fumé 34€, Medoc Château Bellegrave 2005 at 18€ and for a big celebration, Aloxe Corton 2004 at 83€. Go for an inspirational and enjoyable meal! Evening gastronomic menu with four courses at 35€, exceptional lunch menu at 15,90€.
Le Gayridon
19 rue de Picardie, 75003 Paris
Tel: 01 42 71 31 71
www.Legayridon.com
---
LAST MINUTE HOTEL DEALS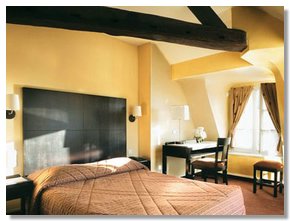 Still haven't planned your January sales week in Paris? Now is the perfect time to book and enjoy low season prices.
You can get 20% off the regular prices for most hotel and apartment rentals until December 28, and up to 30% off in January. Don't wait—book now and ask for your discount at our selected hotels.
Hotel Bastille Speria*** offers you exceptional prices for weekend stays this month, until December 28.
Single rooms for 100€ - Double or Twin for 120€
Most of the Parismarais selected hotels offer special deals for Christmas, so treat yourself this holiday season.
Best Hotels in Le Marais
3 star category
http://www.parismarais.com/3-star-hotels-in-le-marais-paris.htm
4 star category
http://www.parismarais.com/4-star-hotels-in-le-marais-paris.htm
5 star category
http://www.parismarais.com/5-star-hotels-in-le-marais-paris.htm
Centrally located luxury hotels at discounted prices around le Marais
http://www.parismarais.com/hotels.php?zone=Paris
---
SELECTED PRIVATE SHORT TERM RENTALS FROM 500€ PER WEEK
Visit http://www.parismarais.com/visit-our-flats.htm
What a great deal! You can now rent a luxurious 4 star standard studio located in the north Marais…at only 500€ per week in January and February (based upon availability)
Book now and save on the exchange rate!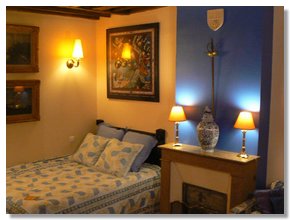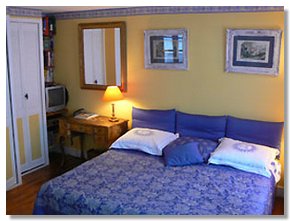 ---
FORGET THE METRO, AT LEAST FOR A DAY
Ride in luxury and style from the airport to your hotel or apartment. AAmerican Limousine service offers you upscale, reliable service in exclusive top-range car models such as the Hummer Limousine that I've tried myself…amazing!
From any Paris train station to your destination, their bilingual drivers offer you professional and courteous service, as well as complete privacy and discretion for your personal or business travel. 24 hours a day, 7 days a week.
---
REAL ESTATE
Buy or sell your property in le Marais!
Most economic forecasts are calling for a bad year in 2009 for business investments, insurance, real estate, and a recession in Euroland. It is likely that the prices of real estate as well as interest rates will decrease globally. If you plan to buy real estate, now is still a good time, and if you plan to sell you'll definitely make a big profit when changing your euros to dollars or any other currency. Do take the time to negotiate and consult with our property specialists.

Right now, OCE agency is selling a great fully furnished studio-loft that could be easily turned into a one bedroom flat for 300,000 euros. Fully furnished and ready to live in or to be rented with expected income of 2000/3000 euros per month, enough to cover your mortgage.

Contact Corinne Azoulay at OCE, 29 bis rue Monge, 75003 Paris, phone 06 17 01 00 56 – and do mention the Marais apartment located on rue Charlot.

But before you purchase your own pied-à-terre in le Marais, why not join us last-minute at one of our apartments or hotels for the most wonderful Christmas ever!
---
REDISCOVER VICTOR HUGO WiTH THIRZA VALLOIS
Jeanne Calment, France's senoir citizen, who died in 1997 aged 122, remembered Victor Hugo's funeral as a major landmark of her youth. The writer had died on May 22nd, 1885 providing the authorities with a golden opportunity to cash in on the immense popularity of their staunch supporter and turned this into the greatest funerary pageant ever staged in Paris, greater than Voltaire's, greater even than Napoleon's. On the days leading up to the funeral Victor Hugo's coffin was placed beneath his beloved Arc de Triomphe, converted for the occasion into a colossal catafalque, dramatically draped in black. On June 1st, all of Paris accompanied the great man on his last journey, two million Parisians forming two silent "hedgerows" all the way between the Arc de Triomphe and the Panthéon, along the Champs-ElysÈes, Place and Pont de la Concorde, the Boulevards St Germain and St Michel, and finally up rue Soufflot to the Panthéon, where thousands of wreaths had been laid. Imagine the humble hearse (le corbillard des pauvres), according to Hugo's wishes, drawn slowly by three horses past all of Paris to the sound of Chopin's Funeral March and the accompanying stomping of hooves on the pavings.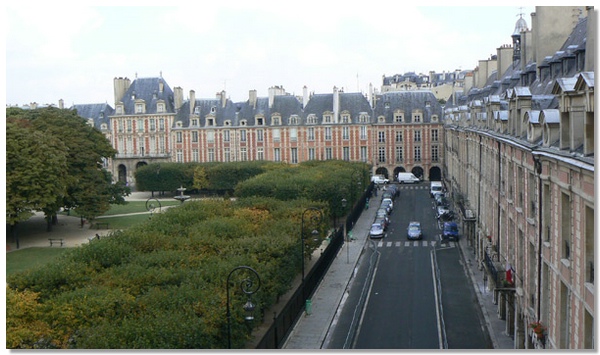 Although the Panthéon was built at the time of Louis XV as the new abbey church of Saint Geneviève, it was turned into a national mausoleum during the French Revolution. During the shaky 19th century, it kept swinging between these two functions according to the regime in place, mirroring the ongoing struggle between church and state in post-revolutionary France. When it was finally reinstated as a Panthéon, the authorities chose to leave the cross atop its dome, in all likelihood for the sake of national appeasement.Victor Hugo's timely death came as a godsend to the new Republic, who was in need of an emblematic tenant for the Panthéon's reinauguration. Faithful to his ideals, the writer bequeathed 40,000 francs to the poor and refused a religious service, although he did insist that he believed in God.

The Republic had already cashed in on Victor Hugo's birthday on February 26th 1881. A makeshift Triumphal Arch had been erected in front of his house, on the nearby Avenue d'Eylau (now the site of 124 Avenue Victor Hugo), where 600,000 Parisians had gathered, throwing flowers to the old man who thanked them from his balcony. The schools were instructed to abolish all punishments on the day and, soon after, the avenue was renamed after the writer, an honour seldom bestowed upon a living figure.
Victor Hugo did not enjoy the same popularity in 1848. Resented for his early allegiance to Louis-Philippe, the crowds tried to set fire to his home on Place des Vosges (now his museum), which he cautiously left, never to return. In December 1851 it was his life that was in danger, having voiced his hostility to Napoleon III's self-proclaimed Second Empire. This time round he had to go into exile, most of which he spent on the Channel Island of Guernsey, where he wrote Les Misérables, a gigantic fresco of an ailing and beloved Paris between the years 1815 and 1833, a Paris he knew stone by stone, inch by inch, and with which he was in osmosis. Sprinkled with autobiographical reminiscenses - his childhood at the Feuillantines by the Luxembourg Gardens, his daughter's wedding at the church of St-Paul in the Marais, as painful to his heart as Cosette's wedding is to Valjean - Les Misérables can also be read as a record of pre-Haussmannian Paris, somewhat like the photos of Old Paris by his contemporary Charles Marville. The novel can even be used as a walking guidebook through that slice of history. Should you choose to do so, and venture into the 13th arrondissement, head for the one-time Cabaret de la Mère Grégoire, now the wonderful Basque restaurant l'Auberge Etchegorry, where little has changed since the days when Victor Hugo frequented it on Sundays with his friends. Above all, Les Misérables can be read as Hugo's love affair with Paris, the true hero of the novel, the Paris he yearned after during his 19-year exile.
An activist on all fronts, Victor Hugo was opposed to Napoléon III on political grounds and likewise to Haussmann's urban project. His poem Les Années Funestes (The Fateful Years), sent out from his exile in Brussels, was a protest against the destruction of the medieval city and the broad, functional arteries that replaced it. Similarly, The Hunchback of Notre Dame was written in 1832 to secure the preservation of the threatened cathedral. However, Hugo was not always in good faith: The rue de Rivoli, which he damned in an expression he coined, "It's stupid like the rue de Rivoli", was in fact laid out by the first Napoléon, the one he admired. Napoléon III, whom Hugo disparaged in a pamphlet as "Napoléon le Petit" , only completed the artery.
Haussmann's urban renewal did not stop with the Empire's demise, to which bear witness the dates of construction carved on many of the city's façades. Towards the end of his life, Victor Hugo became the Chairman of the Society for the Preservation of Old Paris, pursuing the struggle he had started at the time of Haussmann. Although he failed to save his childhood's "chères et tendres" Feuillantines, the one-time leafy convent in the Latin Quarter, he did rescue what had survived of the Roman amphitheatre, now known as Les ArËnes de Lutèce, also in the 5th arrondissement. On 27 July 1883, only two years before his death, he sent out the following open letter:
"Mr President, it is not possible that Paris, the city of the future, should renounce the living proof that it was the city of the past. The past leads on to the future. The arena is the ancient mark of a great city. It is a unique monument. The municipal authorities that would destroy it would destroy themselves."
Spare a thought for Victor Hugo as you stroll through this delightful nook of Paris.
Read more in Thirza Vallois's Around and About Paris series - (volume 1 - From the Dawn of Times to thee Eiffel Tower).
Around and About Paris, (volume 1, 2 and 3) is published by Iliad Books, UK - Romantic Paris is published by Interlink, US and Arris Books, UK.
For more information and to order Thirza Vallois's Around and About Paris and Romantic Paris, go to www.thirzavallois.com
---
THE MARAIS' BEST ADDRESSES ELECTION
Last month our readers voted for the best addresses in le Marais, and we received a huge response! Many of the addresses you elected were also some of our favorites. So here's the list of the most nominated in each category.
Restaurants
Auberge Nicolas Flamel, Chez Camille, Le Pamphlet, Monjul, L'Ambassade d'Auvergne, Georges, F&B, Chez Benoit, L'Ambroisie, L'Ami Louis, Joe Allen
Hotels
Hotel du Petit Moulin, Le Bourg-Tibourg, Le Pavillon de La Reine, Villa Beaumarchais, Hotel Duo, Hotel Saint Merry, Hotel Molay, Saint Jame
Bars and Clubs
Raidd Bar, Open Café, FreeDJ Café, Café Beaubourg, Café Baci, The Queen, L'Etoile, Season Lounge at Printemps, Madam Club
Decoration and Design Shops
Moia, Autour du Monde, Bazar de l'Hôtel de Ville (BHV), 13 à Table, Habitat
Gourmet Shops and Wine Dealers
Marriage Frères, Damane Tea House, Le Repaire de Bacchus, Goumanyat, La Fougasse
Museums
Musée Piccaso, Musée Cognacq-Jay, Musée Carnavalet
Real Estate Agencies
OCE Marais, Home Like Home, Villaret, Cour Pavée, Cinq, Agence du Cap
Guided Tours and Sightseeing
Paris Tourist Office, Eye Prefer Paris, Paris Gai Village, Paris Perspective, Cityrama, Les Yachts de Paris
The PARISMARAIS team wishes you a fabulous Christmas!
---
Don't Miss PARISMARAIS NEWSLETTER AND SPECIAL OFFERS
AOL blocks many major European ISPs, so we cannot guarantee that our mail to AOL addresses will arrive. Please use another email provider or "White List" our email address or add "info@parismarais.com" and to your contact list.
Parismarais Newsletter, December - Christmas Edition 2008
http://www.parismarais.com
mailto:info@parismarais.com
To Subscribe:
http://www.parismarais.com/parismarais-newsletter.htm
To Cancel Your Subscription:
http://www.parismarais.com/unsubscribe.htm
Special thanks to all our contributors and media partners all over the world.
http://www.parismarais.com/worldwide-links.htm
http://www.parismarais.com/gay-links.htm
Should you wish to promote us and create profitable reciprocal links with us to your web site, please write to advertising@parismarais.com.
PARISMARAIS.Com is a Media Partner of Paris Tourist Office and France Guide / Maison de la France.
---

Copyright 2008, parismarais.com