MERVEILLEUSE ANNEE 2006 AU CŒUR DE PARIS !
HAPPY NEW YEAR 2006 !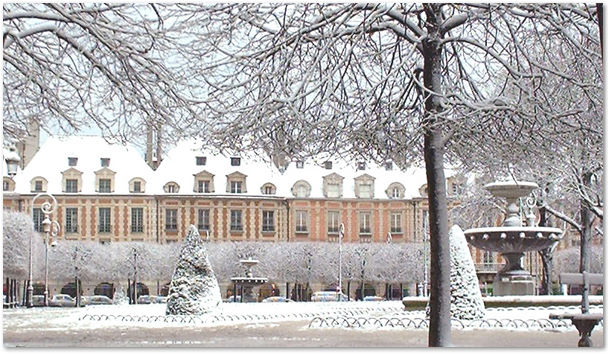 Place des Vosges under the snow december 30 th 2005. Photo by Pascal Fonquernie
.
PARISMARAIS souhaite une merveilleuse année 2006 aux 500 000 visiteurs qui ont parcouru notre site en 2005, et à tous ceux qui le découvriront en 2006, toujours plus complet, plus riche en informations précieuses et en bonnes adresses...
Que 2006 soit placé pour vous sous le signe de la paix, de la joie et de l'art de vivre dans toutes ses dimensions, au cœur de Paris et partout dans le Monde.
PARISMARAIS wishes a marvelous new year to it's 500,000 visitors in 2005 and to those who will discover our site in 2006, always updated with the best addresses for you to enjoy Paris favorite's district.
Hoping 2006 will be filled with happiness, discoveries, travels, peace, joy and the art of living whether you live in the heart of Paris or throughout the world.
The PARISMARAIS team and all of its contributors:
Pascal, Adrian, Nathalie, Dimitri, Julien, Florent, Schuyler, Lynda, Yolanda, Franck, Fabrice, Anne, Toni, Melissa, Murielle, Dana, Helena, Jessica…
Special Thanks to all the media, guides, journalists, and travel specialists who contributed to our success in 2005: Paris Tourist office, IGLTA, ParlerParis, French Property Insider, Forbes Magazine, Paris Update, Attitude Travels, Paris-gay.com, Lonely planet, and the hundreds of Travel guides who regularly mention PARISMARAIS in their pages.
---
LAST MINUTE BARGAINS: RENT A FLAT OR BOOK YOUR HOTEL
AT LOW SEASON RATES AND ENJOY PARIS WINTER SALE
IN LE MARAIS STARTING NOW!
CAN YOU RESIST TO 30%, 50% OR 70 % OFF?
---
Parismarais Newsletter
Published Monthly by Adrian Leeds, Pascal Fonquernie and the Parismarais Team.
http://www.parismarais.com
mailto:info@parismarais.com
To Subscribe:
http://www.parismarais.com/parismarais-newsletter.htm
To Cancel Your Subscription:
http://www.parismarais.com/unsubscribe.htm
Copyright 2005, parismarais.com