Bonjour from le Marais,
A new pop-up gallery has just opened in the north of the Marais next to the Picasso Museum. There are several reasons why this particular one is really special so we would like to help it flourish. Firstly, it's an ethical company, nestled in le Marais, with the original idea of producing one of the first locally made «charity perfumes». Something interesting enough to be mentioned and that certainly merits support.

Gerald Ghislain, the creator of "Histoires de Parfums" has already created hundreds of luxury perfumes, and wanted to create an opportunity to use his knowledge of the perfume industry to finance ethical projects.

So he created « Make Perfume Not War » a unisex Eau de Parfum. For each bottle sold, 38 euros will be donated to causes dedicated to helping children around the world. When you visit his new art gallery at 11 rue du roi Doré and purchase a bottle of «Make Perfume Not War», you can choose which cause to which you would like the 38 euros to be donated, so whilst you are enjoying a luxurious, unique and sensual fragrance, you will also be contributing to a worthy and benevolent cause helping children.

All funds raised through the sale of this perfume will go directly to the «Histoires de Parfums Make Perfume Not War» endowment fund, and they will be properly distributed to the organizations to which the company is pledging support.

We were at the opening of this new shop and want to share this fabulous and original project with our readers.

In the first room of this gallery-boutique, we saw weapons which were painted bright blue, (the color of the brand), as well as stones taken from the Parisian roads during the 1968 student revolution. In a second room 1,000 numbered editions of this special perfume were displayed.

We encourage you to discover Histoires de Parfums, this fleeting installation, an art in its own right and if you wish to take back something unique when you leave, this is the place to find it. Truly, one of the most surprising places we've ever known.

From now, and for 4 months only, this wonderfully creative space is well deserving of a visit whilst you are discovering the art galleries and museums in the north sector of le Marais; it's a place of art, a place dedicated to creativity and charisma... Be sure to visit 11 rue du roi Doré in the 3rd district. It's well worth it.
http://www.histoiresdeparfums.com
Pascal Fonquernie
Editor PARISMARAIS.COM
Please do not use AOL. It blocks many major European ISPs, so we cannot guarantee that our emails to AOL addresses will arrive. Please use another email provider. Also "White List" our email address, or add "paris-marais@paris-marais.eu" to your contact list so you are sure to receive our newsletter.
Parismarais Newsletter, 26 September 2013.
http://www.parismarais.com
info@parismarais.com

To subscribe or unsubscribe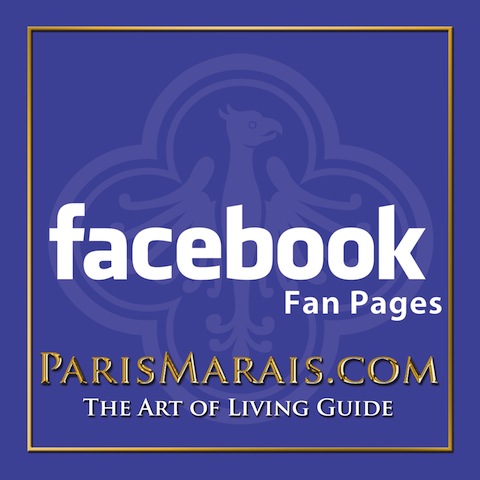 Follow us on facebook
Special thanks to our contributors and media partners all over the world.
http://www.parismarais.com/en/contact-us/worldwide-links.html
Should you wish to recommend us as well as create profitable reciprocal links with us to your web site, please write to : advertising@parismarais.com
PARISMARAIS.Com is a Media Partner of the Paris Tourism Office, Atout France, and IGLTA as well as correspondant of over 100 medias in the world.