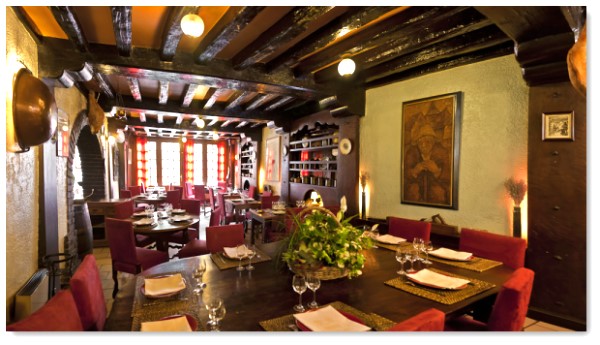 L' Ambassade d'Auvergne, The reference for south west cuisine in Le Marais.
Parismarais Newsletter
Issue 61 November 2010
http://www.parismarais.com
---
Snapshots of Paris in November
Bonjour Parismarais readers,
Paris is in the grip of photo fever this month during the biannual Mois de la Photo, with literally dozens of photography exhibitions being held all over the city. The fringe festival, Mois de la Photo Off, presents even more shows of work by emerging photographers. Check out their Web sites (www.mep-fr.org and www.moisdelaphoto-off.org) for the full programs and see the review of the marvelous André Kertész show at the Jeu de Paume below. Also taking place are two related events: the Paris Photo fair (www.parisphoto.fr) and the Salon de la Photo (www.lesalondelaphoto.com).
Speaking of photos, for some time now, people walking through the Marais have been stopping in their tracks and staring at a wall on the Rue Charlot just south of the Rue de Bretagne. What are they looking at? A series of fascinating outdoor photo shows exhibited on a wall, ranging from the amusing – the same person in many disguises – to the serious – a recent exhibition of photos of elderly people in the environments they have created for themselves in assisted-living facilities. The mastermind behind these entertaining shows is Fabien Breuvart, owner of "Vintage Photography" (www.parismarais.com/shopping-guide/a-chacun-son-image/index2.htm), the vintage photo shop located behind the wall. Breuvart is also know for his pranks and performances – last year he and his accomplices dumped piles of free vintage photos at the entrance to Paris Photo as the privileged few were arriving for the VIP opening of the fair.
This is a great time for photo buffs to visit Paris, but everyone can take advantage of the still-mild weather and the current low-season hotel and apartment - rental rates – up to 40% reductions on some rentals! - which will hold until just before Christmas. It's a beautiful time to be in Paris, with the leaves turning golden and russet colors.

See below for information on hotels, apartment rentals and exciting events in Paris.

Until the next time!

Pascal Fonquernie
Editor, Parismarais.com
---
Warm up in a cozy restaurant
Pain Vin Fromage
Have you ever tried fondue savoyarde or fondue bourguignone? Have you ever dined on cheese alone? If not, or if you are a confirmed cheese lover, book a table at the tiny, adorable restaurant called "Pain Vin Fromage," located on Rue Geoffroy L'Angevin in the Marais.
Pain Vin Fromage is the type of restaurant you'll never find anywhere else – it's all about cheese! Did you know that France has over 400 different kinds of cheese to choose from? At Pain Vin Fromage, you'll be able to try from 5 to 20 of them, depending upon your appetite. Simply select a region and discover the cheese – they offer a wide selection starting at €17. Taste fresh Burgundy wine and indulge in fondue from the Savoy or Burgundy regions for only €16. Enjoy the taste of nature and tradition without thinking about your waistline – cheese is full of protein and calcium, just go easy on the bread! Pain Vin Fromage lets you really savor French traditions, especially those that will most please your senses.
Pain Vin Fromage
3 Rue Geoffroy L'Angevin, 75004 Paris
Tel : 01 42 74 07 52 - Fax 01 42 74 53 52
www.painvinfromage.com
Open every night from 7 pm to 11:30 pm (last orders)

Côté Place: A taste of Burgundy on Place des Vosges
The Côté Place bistro and wine bar is owned by the Ma Bourgogne restaurant, on the opposite corner of Place des Vosges. It offers traditional Burgundian cuisine like snails, saucisson from Beaujolais, steak tartare and tripoux, as well as a great new T-bone veal steak, a delicious tarte Tatin and selected homemade desserts like fondant au chocolat. A three-course fixed-price menu costs €37. The atmosphere is relaxed and friendly, and there is an excellent selection of wine from Burgundy and other French regions, Côté Place is not to be missed, especially for an afternoon break when visiting the sights in Le Marais. At the Ma Bourgogne restaurant, by the way, you can eat at any time until midnight, a rarity in Paris.
If you are planning a long stay in Paris, why not rent a flat? We offer a small selection of upscale apartments with all the comfort of most four-star hotels – and big discounts in November!
Go to http://www.parismarais.com/rent-a-flat.htm .

Côté Place
2, rue des Francs Bourgeois - 75003 Paris
Tel : 01 42 71 27 40

Traditional cuisine from the southwest: L'Ambassade d'Auvergne
For over 20 years, the Ambassade d'Auvergne has been one of Paris' top restaurants. Francis and Françoise Petrucci welcome you like old friends and share their passion for their region of France, happily explaining the secrets of their wonderful cuisine. Among the many house specialties, we recommend the chilled lentil salad, cochonnailles de la Châtaignerie (assorted charcuterie), Parlan sausages and aligot (mashed potatoes with garlic and Cantal cheese). For dessert, try their chocolate mousse, which is unlike any you've had before, or the triple-flavored cream. Great selection of wines ranging from affordable (€16 per bottle) regional Auvergne wines like Saint-Pourçain or Madargues to the most prestigious Burgundies, such as Gevrey-Chambertin. For weddings and other celebrations, you can reserve a private room for up to 35 people. Great fixed-price lunch menu: starter, main course and a glass of French regional wine for €22. Auvergne and Aveyron regional menu: starter, main course and dessert for €28

L'Ambassade d'Auvergne
22 rue du Grenier Saint-Lazare - 75003 Paris
Tel : 01 42 72 31 22
Métro : Rambuteau or Arts et Métiers. Parking : Quartier de l'Horloge nearby.
Open every day from noon to 2 am. Orders taken from 7:30 pm to 10 pm.

---
Top-of-the-range hotels in the Marais
According to the strict French hotel classification, hotel rooms must meet certain specifications to receive four stars: they must have a separate toilet and bathroom, and generally must measure over 200 square feet (most three-star hotel rooms are just 150 square feet and sometimes less). Many business hotels outside the center qualify for four stars, but because of the small size of buildings in Paris's historic center, there are very few four-star hotels in the heart of the city. Some upscale three-star hotels, however, easily qualify for the international four-star classification, and some choose not to be classified at all. Parismarais.com has created its own classification for such establishments: the three, four or five "fleur de lys" categories. These are hotels that can boast exceptional décor, service and ambiance.
http://www.parismarais.com/4-star-hotels-paris-marais.htm
http://www.parismarais.com/5-star-hotels-in-le-marais-paris.htm
We also have selected hotels in central Paris outside of the Marais in other fantastic locations, including Opéra, St Germain des Prés and the Champs-Elysées, always at the best price guaranteed on the Web.
http://www.parismarais.com/hotels.php?zone=Paris
Le Pavillon de la Reine, after it's renovation
---
Chéries Chéris: the Paris Gay and Lesbian Film Festival
Check out this wonderfully creative Web site. While it is only in French, the essentials are easy to understand.
The Sound of Music in Paris, by the puppets of Salzburg
This magical musical comedy with a universal story will be performed at the Théâtre Dejazet, near the Place de la République, not by real actors, but by life-sized marionettes, with the original soundtrack. The kids and the whole family will love it.
http://www.youtube.com/watch?v=UBGYZFTlzCE
Théâtre Dejazet: Boulevard du Temple, next to Brasserie Jenny, the best Alsatian brasserie for "choucroute" in Paris, with great service and a fabulous decor. Métro: Place de la République.
---
Beauty for all with LAZEO
LAZEO is the hair laser removal leader in France. Located in the well known Champs-Elysees district, LAZEO offers brand new machines relying on excellent technologies which meet the customers (male or female) demand regardless of their skin color.
Moreover, LAZEO services offer the most advanced technology that can eradicate hair on every parts of the face and the body with great efficiency in a a secure environment.
Thanks to LAZEO, the hair laser removal is now financially accessible ! Two thumbs up for LAZEO !
From monday to friday 9am to 18pm
12 rue Ponthieu - 75008 Paris
Tel : 01 56 88 07 07
Subway : Franklin D. Roosevelt or Saint-Philippe-du-Roule
www.lazeo.net

CARITA beauty Spa célébrâtes its first anniversary at the Pavillon de la Reine Hotel ****
Discover a new luxury space entirely dedicated to well-being which offers you the ultimate equipments in well being for men and women. Carita skincare products, various types of facials, body treatments like exfoliation, seaweed or mud wraps, hot stone massage, Aromatherapy massage… Jacuzzi, Sauna, Steam Bath, Luxurious air conditionned gym room with Power Plate sytem. The Carita Spa is located inside The Pavillon de la Reine, one of Paris' most prestigious hotel, and uses top of the line professional products by Carita. It is accessible to Hotel's residents and outside visitors. Fitness menberships are also available on request for 6 month or one year.
28, place des Vosges - 75004 Paris
Tel: 01 40 29 19 19 - Fax : 01 40 29 19 20
Treatments by appointment only.
Open 7 days a week. Details at the Hotel reception

---
André Kertész Exhibition Review from ParisUpdate.com
If there had been no André Kertész (1894-1985), would there have been a Brassaï, a Henri Cartier-Bresson, a Robert Doisneau, a Willy Ronis? Kertész the precursor did it all before them: shooting from oblique angles; cropping images in unconventional ways; shooting at night; using mirror images, reflections and shadows; and capturing what Cartier-Bresson later called the "decisive moment."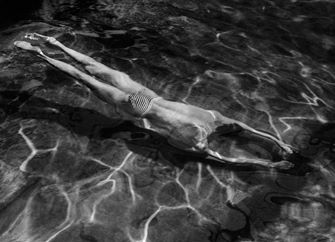 The current retrospective at the Jeu de Paume offers a rare chance to see a large collection of Kertész's original prints, plus many published images. The show starts with contact prints made when Kertész was in his 20s. While some of these are so small that it is difficult to make out details, even with the pretty much useless plastic magnifiers the museum lends visitors (better to bring your own), Kertész's perceptive eye, curiosity, sense of humor, poetic sensibility and eagerness to experiment are already very much in evidence in such images as "My Brother as a Scherzo" (1919), in which the photographer's sibling Jenö is caught in silhouette against the sky in a midair leap à la Nijinsky or another of a stretched-out Jenö swimming underwater (pictured above), a great innovation in its time. Others, like "Esztergan" (1918), which shows just a house and a tree on a hillside framed against the sky, have that moody, mysterious sense of absence that will reappear in so many of Kertész's later images.
Born in Hungary, Kertész fought for the Austro-Hungarian Army in World War I, during which he was seriously wounded but continued to take pictures, of his friends and fellow soldiers rather than the gory details of war.
His work matured after he moved to Paris in 1925. At first he associated mainly with the émigré community of artists since he didn't speak French, but he quickly became well-known as an avant-garde photographer. He was given his first gallery show only three years after his arrival and also began to work for magazines and newspapers.
While Kertész always eschewed the idea of pure reportage except when he was on a specific assignment for a magazine, he is credited with unintentionally creating the "photoreportage," in which a photographer covers a subject from a personal rather than objective point of view (Life magazine once rejected one of his photoreportages because it "talked too much").

The Paris years were a highlight for Kertész. This is when he took many of his iconic pictures, including "Satiric Dancer" (1926), of a woman in a dancer's angular pose stretched out on a sofa; a portrait of Piet Mondrian that does not include the painter, just two pairs of eyeglasses and his pipe; the entrance to Mondrian's studio, with its staircase, flower vase and hat hanging on the wall; a fork resting on the edge of a plate, casting strong shadows; the Eiffel Tower at night surrounded by lightning bolts; and so on.
Among those from this period that I loved were "Square Jolivet at Night" (1927) taken from above at an oblique angle, with circular patterns formed by the shadows of the streetlamp and stripes by the shadows of the benches; two sets of men in silhouette crossing a rain-soaked Place de la Concorde; and "Rue des Ursins" (1931), in which the gracefully curving street separates two glimpses of contrasting lifestyles: on the left, a nun with her little black dog (or perhaps a cat), and on the right, two men and a little white dog seen through the door of a bar. One series I liked less was the photographer's "Distortions," images of nude women reflected in funhouse mirrors, which seemed too gimmicky.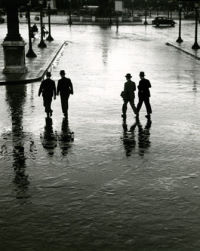 Times were tougher for Kertész and his wife, Elisabeth, after they moved to New York in 1936. In 1947, he got a day job photographing interiors for the magazine House and Garden, work he considered "slavery." It was only after he retired from this job in 1962 that Kertész was once again able to take joy in photography. His New York photos capture the stony urbanity of the city just as his Paris photos had caught the particular charms of the City of Light. Kertész always pitted New York's hard, straight lines against something soft or alive: a pigeon in flight against a brick wall, or a single, delicate cloud defying the hard, rectilinear mass of Rockefeller Center ("Lost Cloud," 1937).
Kertész's influence was so great that when most of us take a picture today, we are unconsciously imitating him or one of his followers, while professional photographers have to constantly strive to find new, original ways to express themselves without imitating their forebears, which today usually means using technical innovations. But even though Kertész long ago set the standard for so much that came later, much of his work still looks modern, quirky and original today.
Heidi Ellison
http://www.paris-update.com/
Jeu de Paume
1, place de la Concorde, 75008 Paris. Métro: Concorde. Open Tuesday, noon-9pm; Wednesday-Friday, noon-7pm; Saturday-Sunday, 10am-7pm. Admission: €7. Through February 6, 2010. www.jeudepaume.org
---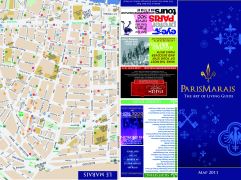 LE MARAIS MAP, DOWNLOAD FOR FREE!
To prepare for your trip to Paris, you can download the exclusive Parismarais map of le Marais for free! Be sure to print out both sides A and B of the map by clicking on the following links:
http://www.parismarais.com/map/A.pdf
http://www.parismarais.com/map/B.pdf
You can also visit the following page where you will find more maps of Paris and le Marais as well as selected places to visit—photos and addresses will "pop up" as soon as you click on the colored dots. Fabulous, n'est-ce pas?
http://www.parismarais.com/map-of-le-marais.htm
---
Don't miss our SPECIAL OFFERS
AOL blocks many major European ISPs, so we cannot guarantee that our mail to AOL addresses will arrive. Please use another email provider or "White List" our email address or add "info@parismarais.com" and to your contact list.
Parismarais Newsletter, Fall November 2010
http://www.parismarais.com
mailto:info@parismarais.com
To Subscribe or unsubscribe :
http://www.parismarais.com/parismarais-newsletter.htm
To find out more about cultural events in Paris, discover Paris Update, the weekly English-language Web review of Paris cultural events edited by Heidi Ellison, an American journalist who has lived in Paris for over 20 years.
http://www.paris-update.com/fr/index.php
Follow Parismarais on Twitter:
http://www.Twitter.com/parismarais
Follow us on facebook:
https://www.facebook.com/pages/Parismarais/338587426166976
Special thanks to all our contributors and media partners all over the world.
http://www.parismarais.com/worldwide-links.htm
Should you wish to promote us and create profitable reciprocal links with us to your web site, please write to advertising@parismarais.com
PARISMARAIS.Com is a Media Partner of Paris Tourism Office, France Guide / Atout France, IGLTA and correspondant of over 100 medias in the world.
---


Copyright 2010, parismarais.com