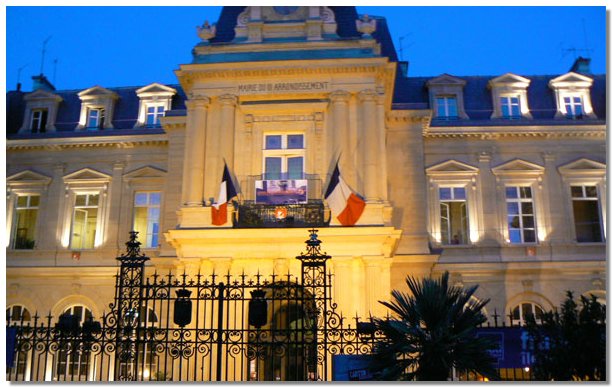 Paris district 3 city hall
Parismarais Newsletter
Issue 15, July 2006
http://www.parismarais.com
Bonjour Parismarais Readers,
This month, PARISMARAIS web guide has the great honor of opening with an editorial signed by our local mayor, Mr. Pierre Aidembaum, to show visitors from around the world that everyone is welcome in Le Marais, Paris' favorite district. Here is the original French version, followed by our English translation.
WELCOME TO PARIS' FAVORITE DISTRICT
By Mr. Pierre Aidembaum, Mayor of Paris District 3
« Le 3e arrondissement jouit dans Paris d'un prestige et d'une notoriété que l'on doit aux hauts faits historiques qui s'y sont déroulés et qui ont marqué l'architecture et l'esprit de ce territoire appartenant au quartier du Marais.
De la place des Vosges au Marché des Enfants rouges, du Musée Carnavalet au Carreau du Temple… les touristes sont très nombreux à fréquenter le 3e et à le porter dans leur cœur. Ils y trouvent bien sûr des trésors du patrimoine parisien, mais aussi la douceur de petites rues au charme désuet et le dynamisme de son activité économique et culturelle.
Le public anglo-saxon ne s'y est pas trompé puisque nombreux sont-ils à le visiter ou même à décider de s'y installer de façon pérenne.
Le cœur de Paris est un des plus bels endroits du Monde. Que vous soyez en train d'organiser un prochain voyage, ou que vous y ayez déjà vos habitudes, je suis fier de vous souhaiter la bienvenue. Je suis sûr que vous ne résisterez pas au charme du 3e et que vous vous laisserez emportés par son effervescence ! »
Pierre Aidenbaum, Maire du 3e arrondissement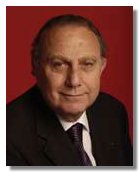 Message from Mr. Pierre Aidembaum, Mayor of Paris District 3
The 3rd arrondissement of Paris enjoys a certain prestige and reputation due to the many events in French history that took place here. These have left a deep imprint on the architecture and spirit of this district, which is part of le Marais.

From Place des Vosges to the Marché des Enfants Rouges, from Carnavalet Museum to the Carreau du Temple, many tourists flock to this area and embrace le Marais in their hearts. Here they find the treasures of the Parisian patrimony, the quiet and peace of village life, as well as the dynamism of its economy and culture.
Anglo-Saxons have made a good choice when selecting le Marais for their holiday or as the place to start a new life. The heart of Paris is one of the world's most beautiful spots. If you are thinking of visiting Paris soon, or if you visit our area often, I am happy to wish you a warm welcome. I am sure you won't be able to resist the charm of Paris district 3, and that you'll be more than enthusiastic about its liveliness and wonderful energy.
---
POLITICAL ISSUES
By Pascal Fonquernie, Editor
In May 2007, France will elect a new president, after 12 years under the presidency of Mr. Chirac. There is no need to mention that most French citizens have seen enough of him – the polls show that his popularity is less than 20% – even worse than Mr. Bush, as most Americans would like to see W take a long holiday.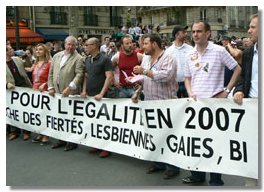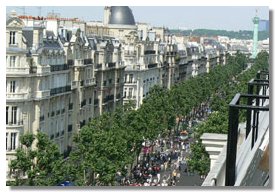 Among the many subjects that are listed as political issues, gay marriage is a very serious one. For the first time in history, 800,000 people marched in the streets of Paris to ask for equality in 2007.The socialist alliance took the formal stand that gay marriage will be adopted if they win the next election.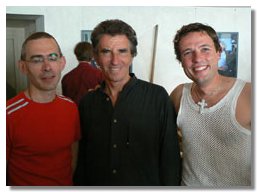 After gay pride, we had the chance to meet with Mr. Jack Lang, former minister of culture, who has not missed the gay pride parade in 20 years, and who is also a candidate to represent the socialist party. Mr. Lang confirmed that no matter who will be representing the party, gay marriage and equal rights for all couples will certainly be adoped. In this case, France will follow Holland, Belgium and Spain as one of the many European countries that have already legalized gay marriage.
Royal or not Royal? Mrs. Segolene Royal, another former Minister of François Mitterand and also a socialist, would like to represent the left in the next election. She has reached 57% popularity in the polls. She also claims to be close to Tony Blair, so she is not a pure lefty, but more of a social democrat. It would be quite amusing if a person named « Royal » was elected as head of the French republic, especially since she is a socialist. (We're sure she loves the Parismarais fleur de lys logo anyway!)
For those who often ask us, « Are you royalist? » we would say, we are Segolene Royalist, but not Royalist. Our heart does not belong to daddy but is definitely more democrat than anything else. We chose the Fleur de lys as our logo because it is the symbol of the old Paris that we love…it's found in every stone of all ancient monuments and it's the symbol of quality and excellence. It is even part of Paris' flag: three fleur de lys and a boat. So don't be surprised by our fleur de lys; it's not a political symbol, just a symbol for the beauty, quality and excellence that we are promoting in every field – from hotels and apartments, restaurants, businesses and boutiques.
Let's be royal in our choice of great spots… Here's what our team have selected for you in July…
---
FAVORITE RESTAURANTS
By Cara Scouten and Jesse Hulberg
Enough of all the nouvelle cuisine and diet portions! We won't send you to any restaurant where you'll end up starving at the end of the meal. Here you'll find creativity with taste and imagination – all at great value.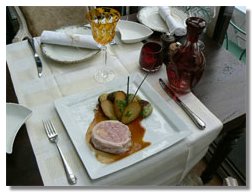 Les Chineurs offers refined yet unpretentious dining at affordable prices, where you can sample dishes made from only the freshest ingredients, created by chef Gilbert Luszezinski: Rable de lapereau aux morilles (small rabbit stuffed with mushrooms), Brochette de thon et d'espadon à la vanille (tuna and espadon skewers with vanilla sauce), Chartreuse de fruits frais à la menthe (fresh fruit pastry with mint sherbet)... To accompany your meal, homemade bread and a selection of 150 great French wines. Since «Les Chineurs» means antique-hunters, expect an ecclectic dining room decor with each table designed in a unique style. With the option of dining on the lively terrace overlooking the Square du Temple, and a new menu every 2 weeks, a visit to Les Chineurs is an entirely new experience every time.
Lunch menu for 22€. Three-course dinner menu for 28€. A la carte main courses from 20€.
L'ambassade d'Auvergne
Recently celebrating their 40th anniversary, the Ambassade d'Auvergne is one of Paris' top gastronomic institutions. Francis and Françoise Petrucci welcome you like old friends and share their passion for their region of France, happily explaining the secrets of their wonderful cuisine. Among the many house specialties, we recommend the chilled lentil salad, cochonnailles de la Châtaignerie (assorted charcuterie), stewed pork with braised cabbage, Parlan sausages and aligot (mashed potatoes with garlic and Cantal cheese). For dessert, try their chocolate mousse which is unlike any you've had before, the triple-flavored creme, or the cold rhubarb soup with fresh mint. A great selection of wines ranging from the affordable (16€ per bottle) with regional wines like Saint-Pourçain or Madargues to the most prestigious Burgundy wines: Gevrey-Chambertin, Clos Vougeot, or Morey Saint-Denis…. For weddings and other celebrations, you can even reserve a private room for up to 35 people.
Great lunch menu: starter + main course + glass of French regional wine for 20€. Auvergne and Aveyron regional menu: starter + main course + dessert for 28€.
Au c'amelôt
No you're not in Camelot, you're in an excellent bistro, which serves a fantastically prepared 4-course meal with a fixed price menu of only 32€! My mother used to say, that a perfect vacation was when you didn't have to make decisions. Just outside the Marais but well worth the trip, the chef here decides for you what you're going to eat. The starter is normally a fabulous soup followed by 2 small main courses. First fish then meat or poultry. The dessert is the only decision you'll have to make and you'll probably wish he had decided that too because they're all wonderful. This was my regular restaurant when I lived close by and I'm glad to say it hasn't changed.
Cuisine: Modern French
50 rue Amelot, 75011 Paris
Tel: 01.43.55.54.04
Métro: Chemin Vert or St. Sébastien-Froissart
Closed Sunday and Monday and the month of August
Le Dôme du Marais
Situated in the heart of our favorite neighborhood is a gorgeous restaurant that I love to bring friends to who really appreciate an evening of great food in a magnificent setting. Once a pawn shop opened by Louis the 16th in 1778, Le Dôme du Marais saw many changes before its incarnation today by owner and chef Pierre Lecoutre who took charge in 1999. The impressive glass dome allows natural light in the day and a wonderful ambiance at night. I've had three delicious meals here and wouldn't hesitate to go again. The restaurant is in litigation with the building owner which means there might not be a Le Dome du Marais in the future so be sure to hurry here before it disappears.
Cuisine: Modern French
53, bis rue des Francs Bourgeois, 75003 Paris
Tel: 01.42.74.54.17
Métro: Rambuteau
Closed Sunday and Monday
Check out their adresses and other information, and discover more good places at: http://www.parismarais.com/selected-restaurants.htm
---
WHERE TO STAY?
5 stars for the price of 3… and 3 for the price of 2
Check out PARISMARAIS special deals !
Hotel Saint Paul *** from 115€. Best location if you want to attend the famous « Bal des Pompiers » on July 13 and 14.
Hotel des Archives *** from 90€, a contemporary touch just next to the Paris District 3 City Hall and Temple Square
Hotel Ecole Centrale *** Single for 80€, double for 90€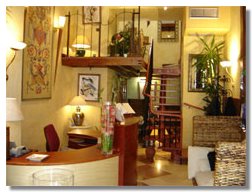 In the heart of the Marais…. With its charming, centuries old interior crowned by splendid wood beams, this friendly hotel offers rooms with a contemporary ambiance. Features include free WiFi access, air conditioning, satellite TV, minibar and breakfast buffet. Although the hotel is centrally located, facing the great Arts et Métiers Museum and conveniently next to the Arts et Métiers metro station, one of the main advantages is that it is on a quiet street with very little traffic. Should you stay on one of the upper floors, you'll enjoy a lovely view of Paris rooftops.
http://www.parismarais.com/charming-budget-cheap-hotels-paris.htm
APARTMENT RENTALS at 30% OFF
August is the best month to enjoy Paris at discounted prices… so think again before booking anywhere else. Holiday apartments are offered at 30% to 40% off – some even have air conditioning. Plus, great studios from 450€ per week or 800€ for 2 weeks.




http://www.parismarais.com/visit-our-flats.htm
---
EVENTS NOT TO MISS
FESTIVAL DES SOIRS D'ÉTÉ

Until the end of July, Paris District 3 City Hall organizes a new party every evening in front of the charming Square du Temple. It is the perfect place to get outside and eat, drink, meet, enjoy open air cinema for free and attend cultural events.
To find out more about the daily events…visit Paris District 3 web site: http://www.mairie3.paris.fr/mairie3/jsp/Portail.jsp
PARIS PLAGE
Open July 20 to August 20
Each summer since 2001, tons of sand have been transported to the heart of the city, transforming the banks of the Seine into an urban beach bash. Floating nightclubs, outdoor music festivals, sand castle building and activities such as roller skating, a climbing wall and trampoline attract sun worshipers, sports enthusiasts, picnickers and partyers alike. Just sit back in your beach chair, close your eyes and you can almost hear the gentle surf, rather than the din of busy Parisian streets.
You can grab your sunscreen and catch some rays between July 20 and August 20, daily from 7 a.m. to midnight.
14TH JULY CELEBRATIONS AND BAL DES POMPIERS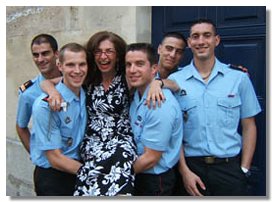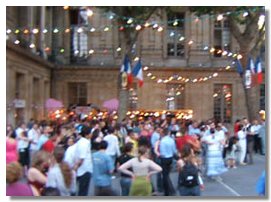 Paris heats up July 13 and 14 for the annual Bal des Pompiers. The young fireman are totally dreamy with their short hair, muscular tattooed bodies and adorable smiles. Last year, with a press pass, a business card and a little charm, we snuck our way into the back entrance of the party at the "caserne" (fire station) on rue de Sevigné before the party even began. That gave us a chance to "schmooze" with the guys before the crowds started to flow in and fill the large courtyards to capacity.
The band played, the dancing began and we didn't stop until we were dripping in sweat and our feet were in pain. The "merguez" and fries were surprisingly delicious. Check out last year's report by Adrian Leeds and join us this year for the party at the fire station on rue de Sévigné, starting at 9:30 p.m. on July 13th. Metro Saint Paul… if you re staying at Hotel Saint Paul, you'll be in a great position to be first in line!
http://www.parismarais.com/bastille-day-firefighters-paris.htm
---
WELL-BEING
Il fait beau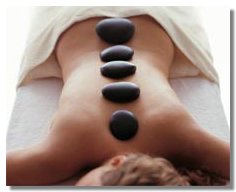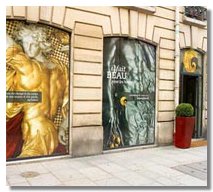 Discover a new space entirely dedicated to well-being that offers skincare specially tailored to men's needs…plus various types of facials, body treatments such as exfoliation, seaweed or mud wraps and hot stone massage, pulsed light hair removal, and the newest generation of body sculpting: Power Plate. Il Fait Beau uses top of the line professional products by Comfort Zone and even has a terrace open in the summertime for afternoon tea. Il Fait Beau means « it's a nice day » and also « it's beautiful ». Treat yourself to a pleasant grooming, and leave looking and feeling your best. Facials and skincare from 50€, Body Treatments from 55€, Aromatherapy Massage from 85€. Shoulder and back waxing from 17€ to 35€ and pulsed light hair removal sessions from 35€. Power Plate: Free trial session, 30€ per session or 240€ for 10 sessions.
51 rue des Archives, 75003 Paris
Tél: 01.48.8. 00.00
Métro: Rambuteau
Monday to Saturday from 10 a.m. to 9 p.m., Sunday from 2 p.m. to 7 p.m.
---
SHOPPING
Buzz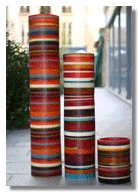 With a perfect location in a charming tree-lined pedestrian alley in the heart of the Marais, Buzz offers a unique and original concept in fabrics and interior decorating.
In this lovely boutique set up like a small house, you will discover a selection of furniture, made-to-measure curtains, and home accessories, mostly created by up-and-coming young designers.
All are « beautiful, well-made, and original » objects which bring the « extra soul » you desire for your home interior. Whether you are looking for an original gift idea or are simply looking for inspiration to decorate your house or apartment, the two founders of Buzz, Martine and Natalie will give you the best advice for imaginative solutions to improve your living space.
8 rue du Trésor, 75004 Paris
Tél: 01.44.54.80.26
Fax: 01.44.54.80.27
Métro: Hotel de Ville or Saint-Paul, Parking Hotel de Ville
Web site: www.buzzdeco.com
E-mail: buzz@buzzdeco.com
A Fleur de Verre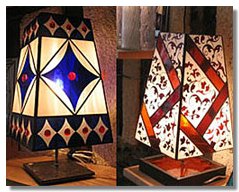 An atelier of true creativity and innovation, A Fleur de Verre is an artist's collective dedicated to glasswork and stained glass. In addition to stained glass windows, their artisans design and create a range of unique decorative pieces: lamps, mirrors, and jewelry. If you have your own ideas, special orders are also available upon request. The artists at A Fleur de Verre would be happy to make your project a reality.
23 Rue Michel Lecomte, 75003 Paris
Web site: www.a-fleur-de-verre.fr
Email: lateliervitraux@hotmail.com
Tél: 06.15.25.47.15
Monday – Friday, 10:30 a.m. to 5:30 p.m., Saturday by appointment
Pauline Pin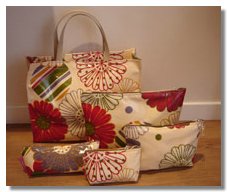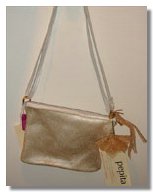 Creative bags for every day at affordable prices, and limited editions so you'll be sure to have something unique.
Pauline Pin
51 rue Charlot
75003 Paris
Visit rue Charlot : http://www.parismarais.com/rue-charlot.htm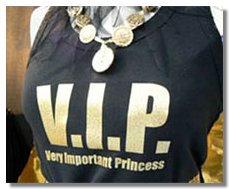 Find the genius of recycling in terms of clothing… meet Lisa at number 59 rue Charlot and you're sure to become a VIP…
Customisée par Lisa
---
MUSEUMS
Musée Carnavalet - History of Paris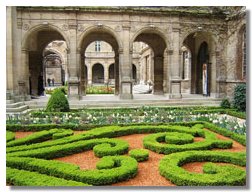 Carnavalet opens its gardens! Visit the former house of Madame de Sévigné and live for a few hours in the time of the Sun King…all for free
Paris from the Roman times to 1900… if you see only one museum, see this one!
23-29 rue de Sévigné, 75003 Paris
Tél : 01.42.72.21.13
Métro: Rambuteau or Saint-Paul
Open 10 a.m. to 5:40 p.m., closed on Monday
Free entrance except for the temporary exhibitions.
---
GAY BARS: Places to go first
A critical guide, at last, to know where you should be most welcome
By Jesse Hulberg, an American in Paris
In every metropolitan capital where there is a visible gay scene, one should expect its nightlife to splinter off in all directions. Paris and the Marais are no exceptions. I'd say Paris is even more varied than most cities. After all, we are not all the same and we don't all like the same things. Edwina likes Lacroix, Patsy has her bottle and Saffy her books.
Of course all this variety doesn't help a traveler who is exploring a new city and wants to go out. The generic question where can I go to have some fun? just needs to be a bit more specific. So what do you call fun?
SOFT or "Just a nice place to sit, drink and watch people"
A favorite pastime for many Parisians, gay and straight, this one is a piece of cake. Edmund White the American author who once lived in Paris, titled one of his books The Flaneur meaning a person who hangs around without a purpose observing and watching, but especially allowing the spectacle to unfold on its own. This will be the sitting and drinking version of that.
What I look for in this type of bar is some colorful variety in the crowd and a low level of sexual tension. People might be flirting but they're not cruising. Perhaps a decent air filtering system would play a part too if everyone is smoking. Paris risks banning smoking in bars but it hasn't gotten there yet and even if it does I'm sure the bars will find a way around it as they do in New York. With some exceptions I'm focusing on bars for men though some of these bars are also cafes and/or restaurants too that certainly do not exclude women.
l'Enchanteur –Hidden behind a door that you might easily pass without noticing is this friendly bar that charms and entertains on rue Michel Lecomte. When introduced to a stranger the first thing you say in French is enchanté. Well that should give you and idea of the ambiance here. The age group is varied and the look is innocent and not pretentious. It's a be yourself type of place. The extra bonus is the downstairs. While many Parisian bars sport backrooms in their lower parts, l'Enchanteur uses this beautifully renovated a l'ancien space for singers, shows and other fun things. Easily avoided upstairs if you prefer.
Duplex –Just a few doors down from l'Enchanteur, the Duplex is known as the intellectual's spot where local artists often exhibit their photos or paintings. It's a lovely bar that welcomes you with an engaging innocence. Friends in their 30s meet after work to decompress here. Tables on the upstairs balcony offer an intimate view where you can watch the happy hour from above. The furtive looks of young men searching for Mr. Right add to the innocence without creating a sexual tension.
Amnésia –More on the beaten path than the two previous bars I've mentioned Amnésia is a bit younger and perhaps a bit more "Marais" in the gay sense. These boys might live in the burbs or outer arrondissements and here they are "out" in the Marais having fun. Cell phones and cigarettes complete the look but it's part of the rainbow we all know and love.
SEMI-SOFT or "A place to watch guys and pretend you're not"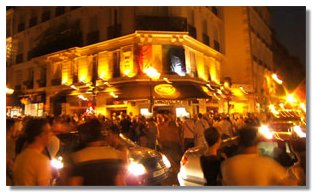 A special note about rue des Archives or what I refer to as "The Strip," The Castro, Christopher Street, Chelsea, West Hollywood, Warmoestraat, Schöneberg or Old Compton Street. The Paris equivalent is the intersection of rue des Archives and rue Sainte Croix de la Bretonnerie in the heart of the Marais. Just fake a sneeze when trying to pronounce it. If they hear croix they'll know. A relatively recent phenomenon, this intersection has become gay central. The four businesses that comprise the main gay circuit of rue des Archives have certain particularities that need mentioning. The visibility of these establishments add to their notoriety but what is really going there?
Open Café - In the words of any good real estate agent it's all about location. Smack dab on the corner sprawls the Open Café offering .....openness? Everyone goes there at one time or another but they might not admit it. Sort of like MacDonalds.
Cox –Cruisy, muscled Parisians and tourists with a touch of attitude. Fills to the max around 7p.m. and blocks the traffic on the sidewalk until 9:30 or 10, and then empties out completely until they all come back the next night. If a visiting friend insists that we go I often strike up a conversation about flower arrangements or feng shui in a loud voice just to see the reaction.
Les Maronniers –Food service at all hours which is convenient and nice chestnut trees in front of a big, outdoor terrace, hence the name Maronniers.
Le Carrefour –Mostly straight during the day when suddenly at 7 p.m., guys of different ages and looks fill the place. This bar/cafe is for those who prefer sitting comfortably outside with a beer rather than being pushed around the sidewalk at Cox.
To read more and find other places to visit or to avoid, read … http://www.parismarais.com/leather-bars-cruising-dating-le-marais-paris.htm
---
TRAVEL GUIDES
Before you visit Paris, why not buy our selected guides online, at the best prices? These are the guides that will round out the information you find on PARISMARAIS.COM.
http://www.parismarais.com/selected-books.htm
Also see our local maps and download the Paris Metro Map for free:
http://www.parismarais.com/map-of-le-marais.htm
---
REAL ESTATE
Prices are still rising…when will they stop ? Buying in le Marais is more expensive now than in the bourgeois districts of Paris like the 16th or 17th. The number one buyers are French of course, then Italians, with Americans in third. In fact, 35% of new sales in Paris are made to foreigners…
Investing in Paris ? Subscribe to French Property Insider!
A weekly e-letter sharing insights, recommendations, tips, and discoveries about property in both Paris and France.
FPI... A Newsletter and So Much More
Each issue of French Property Insider is packed with information on how to buy, what to look out for, how to work with your "notaire," how to choose a real estate agent, how to deal with inheritance issues, how to minimize your tax obligations -- and will also contain listings of apartments and homes for for sale as of each writing. You'll be able to find the perfect apartment rental for your next vacation trip to France...or a place to stay to give you the time to take a look at properties for sale that interest you. You'll also find articles on culture and lifestyle to help you learn those important things necessary to "fitting in," wherever it is you choose to rent or buy..
Click here to subscribe!
http://www.parismarais.com/flat-hunting.htm
SPECIAL ANNOUNCEMENT BY BANQUE PATRIMOINE IMMOBILIER
Banque Patrimoine & Immobilier specialises in managing and developing private assets. We boast 30 years of experience in real estate financing, enabling us to offer specialised know-how to our clients to guide them successfully through their property buying projects in a trouble-free manner.
The International Department of Banque Patrimoine & Immobilier is specialised in the private residential mortgage market, either principle, holiday homes or buy-to-let investment properties or leasebacks. We are a team of 6 bilingual advisers who are dedicated to making the whole process of buying a property in France as easy as possible. The International Department has been providing services to the international clientele for 15 years.
We are based in Paris and our experience in the Parisian market enable us to answer all your questions about the purchase and financing of your French property. Our strong experience and expertise in this market will be your best support. Our expertise also extends to all regions in France.
Each personal situation is different. As Banque Patrimoine & Immobilier is not a big banking network, our people are very reactive and available to meet you in our offices when you are in Paris. Given Banque Patrimoine & Immobilier's experience and the varied personal and financial situations encountered over the years, the international team is highly qualified to guide you through the entire process. We make it hassle-free by advising you and working with you to ensure a quick and easy outcome.
We will assist you in the whole process of buying, giving you a dedicated adviser who will remain in constant contact with your notaire and the estate agent, and will keep you and them informed at all stages of the mortgage process. We can also assist you in opening a French bank account through one of our partners.
At Banque Patrimoine & Immobilier we firmly believe that each client is unique, hence our philosophy to study each project on a case by case basis. In many cases it is more than just a mortgage you may need. That's why the team of the International Department will offer you financing solutions with high-end financial products tailored to your specific objectives from our wide range of products available. At Banque Patrimoine & Immobilier you have the flexibility to choose between an interest-only and a repayment mortgage from 5 to 25 years either with a fixed or a variable rate or a combination of both.
---
COUNTRYSIDE BREAKS OUTSIDE PARIS: TRAVEL IN PROVENCE
Gay Provence is a network of hotels and great guesthouses in the south of France. They are not specifically gay but welcome everyone, and it is important to know that we have the same policy at Parismarais. We want all the hotels and places we promote to be open minded and welcome all nationalities, ages, skin colors and lifestyles. This is our idea of welcoming and we share it with Gay Provence, so we highly recommend that you find out more about all they have to offer in the south of France or anywhere in the countryside. Their web site is in both French and English.
Visit www.gay-provence.org
Of course, if you feel like going to upscale categories, visit our hotel section:
http://www.parismarais.com/5-star-hotels-in-le-marais-paris.htm
To rent an apartment on the Côte d'Azur,
| | |
| --- | --- |
| | check out our colleague on the French Riviera who offers some wonderful flats in Villefranche sur Mer, the world's most beautiful bay, half way between Nice and Monaco: www.Rivieraexperience.com |
---
Parismarais Newsletter
Published each month by Pascal Fonquernie, Lynda Sydney and the ParisMarais Team.
http://www.parismarais.com
mailto:info@parismarais.com
To Subscribe:
http://www.parismarais.com/parismarais-newsletter.htm
To Cancel Your Subscription:
http://www.parismarais.com/unsubscribe.htm
Copyright 2006, parismarais.com