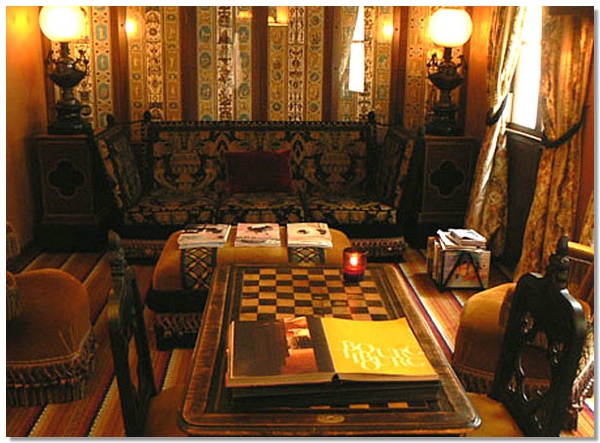 Médieval style at Hotel Le Bourg Tibourg in the Marais

Parismarais Newsletter
Issue 54 May 2009
http://www.parismarais.com
---
LOVING LE MARAIS AND THE LOIRE VALLEY
Bonjour Parismarais readers,
May is one of the most magical months to visit Paris. The weather is warm, the gardens are in bloom, and the parks, streets and cafés are filled with people enjoying the City of Lights. It is also a good time to visit the French countryside, so we invite you to discover one of our favorite regions in France: the Loire Valley.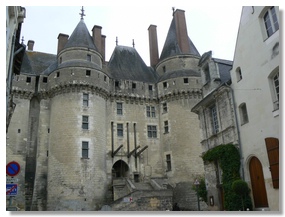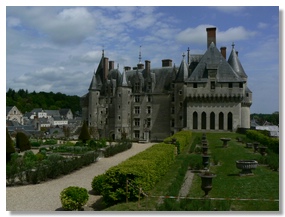 Le Marais and the Loire Valley actually have much in common. Both have a great deal of history having been home to the kings of France, and both boast magnificent architecture. A visit to the Loire Valley is like taking a trip back to a time when royalty ruled, as you'll find some of the most majestic châteaux, Renaissance houses and medieval fortresses in this area. The elaborate décor — ancient furniture, opulent tapestries, crafted staircases, period fireplaces, royal chambers with canopy beds—make each a masterpiece.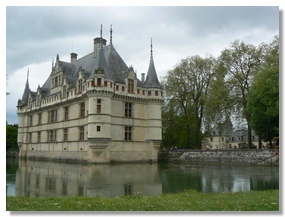 The gardens are as enchanting as the châteaux, filled with fountains and statuary, forests and streams, meticulous landscaping, and every type of flower imaginable. In May, the gardens are bursting with color, making it the perfect time to pack a picnic lunch and wander through the gorgeous grounds of these fairytale castles.

The Loire Valley also delights in the art of living. You can taste exceptional wines, enjoy the local produce, and indulge in the regional specialty of goat's cheese.

Today, with the convenience of the TGV, a trip to Tours in the Loire Valley takes only about an hour from Paris, ideal for a day trip. Or take a few days to travel around and discover the magnificent manors—Parismarais has provided a list of the most celebrated châteaux, not to be missed:
Cheverny, Chenonceaux, Langeais, Azay-le-Rideau, Chambord, Amboise, Blois, Villandry...

For your trip to Paris and to the Loire Valley, Parismarais.com offers a variety of bargain hotels in Le Marais, as well as in the Loire Valley. Scroll down to view our special selection, and save when you book online at Parismarais.com.

A visit to Paris would not be complete without sampling fine French food. At Parismarais.com, we are constantly searching for the best restaurants that will tempt your palate without emptying your wallet. Below we have listed new selections—and a few of our favorites.


Enjoy May in Le Marais — we look forward to seeing you!

A bientôt,
Pascal Fonquernie
Editor, Parismarais

P.S. For places to eat, shop and stay in Paris, le Marais and the charming Loire Valley, see all of the restaurants, stores, hotels and holiday apartments we've specially selected, just for you.
---
STAY IN FABULOUS HOTELS IN EUROPE
When planning your trip to Paris, why not extend your stay in other fabulous French and European cities? After a week in the City of Light, you may want to visit the prestigious resorts we have selected for you in the Loire Valley, the French Riviera and Monaco, as well as London, Berlin, Vienna, Prague, Rome, Venice, Florence... Make your stay in Europe your most memorable ever in our specially selected dream hotels.

Book now on Parismarais.com: http://www.parismarais.com/hotels-europe.htm
---
FAVORITE RESTAURANTS

Monjul
FABULOUS ! « I've never tasted anything like this in my life » This is what you'll say when they'll bring you the first dish – Every detail of every meal looks like a work of art. Foie gras mousse served on a black tile, bœuf Bourguignon that looks like chocolate cake, salmon and beef together, chocolate and pistachio delirium… Every single meal is an experiment. Monjul has opened in may 2007 and it's already one of the Marais Top 10 restaurants. Talented Chef Julien Agobert and his team will surprise you like no one else ever did before. Be sure you book to get a table !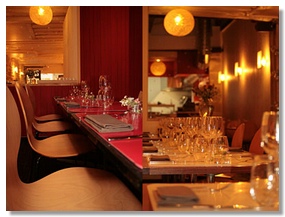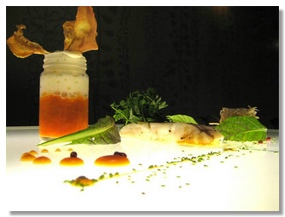 Monjul
28, rue des blancs manteaux - 75004 Paris
Tel.: 01 42 74 40 15
Anthracite
Rendez-vous on the rue de la Reynie for one of the trendiest tables in the Marais… the space is as surprising as it is immense, and the upcoming cabaret in the charming cellar space will be a first in the neighbourhood. But for now, the excellent food is in the spotlight. Service is elegant and professional while the dishes are copious and creative. Traditional cuisine and fresh market products are some strong points here. Prices are reasonable: lunch menu between 15€ or 19€ (includes starter - main dish- dessert) and evening à la carte menu is 40 euros. The yellow and anthracite decor is sophisticated and attention to details like cloth napkins are nice touches. Philippe and his staff give you a warm welcome. And the deluxe feel at reasonable prices makes this restaurant-bar-cabaret worth a visit.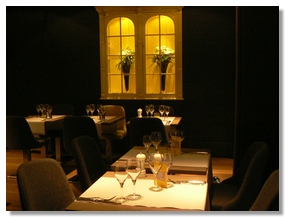 Anthracite
20, rue de la Reynie - 75004 Paris
Tel 01 42 77 50 50
www.anthracite-paris.com
Le 3
Venture behind the door at number 3 rue Sainte Croix de Bretonnerie and you'll find yourself in a verdant courtyard that is a sheer delight. The gastronomic fusion of traditional Sicilian and French cuisine is a nice surprise. Refined décor and attentive presentation of dishes is another high-point. Plus you're served quality food at reasonable prices: 3 dishes for 26 € is a bargain for dinner. And 3 dishes and a glass of wine at lunch for 17€ can't be beat. The upscale bohemian ambiance draws a multicultural clientele. It's also gay-friendly making it one of the best-loved addresses for the locals and clients staying at the charming hotels in the area. The elegant tables with plenty of space surrounding them makes this spot one of our favorites.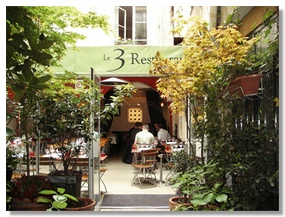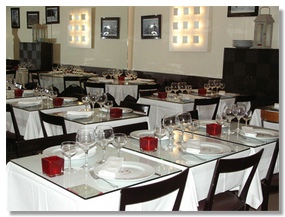 Le 3
3, rue Sainte Croix de la Bretonnerie - 75004 Paris
Tel.: 01 42 74 71 52
www.letrois.com
Le Carré des Vosges
This gourmet restaurant is one you won't want to miss. Just north of the historic Place des Vosges, it's tucked away on the quiet street, rue St. Gilles. Dishes are prepared with care and creativity like all great epicurean addresses. Service is also attentive and convivial. Lunch menu includes starter + main dish or main dish + dessert for 23 € or 3 dishes for 29€. The evening seasonal menu for 40 € is a culinary adventure for the taste buds. Wines complementing the complexly flavored dishes also come at a reasonable price. A specialty of the house not be missed is the ris de veau. Like all fine- dining experiences, everyone is served an amuse-bouche and mignardises to round out the meal. Once you've eaten here, you'll want to come back again and again…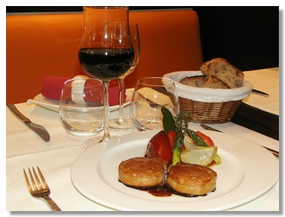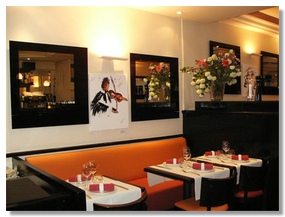 Le Carré des Vosges
15, rue Saint-Gilles - 75003 Paris
Tel.: 01 42 71 22 21
www.lecarredesvosges.fr
More restaurants here: http://www.parismarais.com/selected-restaurants.htm
---
WINE DEALER
Chez Julien Caviste


Julien speaks perfect English as he's been in the wine business in London for many years. He will advise you on what to choose with the meals you plan and will offer you a great selection of Burgundy, Bordeaux, Loire Valley and Alsatian wines…and Champagne of course!


Julien Caviste
50 rue Charlot - 75003 Paris
Tel.: 01 42 72 00 94.
julienaujeau@club-internet.fr
---
ENJOY LE MARAIS BEST TERRACES
Here's our top selection of cafés and brasseries in le Marais best spots. They all have an unique personality. All of them stay open late at least until midnight and offer you free wifi access too !
Café français
At the foot of the Place de la Bastille, opposite the new Opera, the Café Français is easily one of the top ten best Parisian brasseries. Elegance and tradition are the by-words here, with its contemporary décor and hushed atmospheric light. The cooking is sophisticated and the pastries are exceptional. It's the perfect mix of cosmopolitan chic and old-world charm where one could easily imagine calling the waiter "garçon" and having someone like the debonair Yves Montand appear. Lunch and dinner offer choices of 1 appetizer, 2 main dishes and 3 desserts of the day. Wines are suggested according to the monthly specials. The classic brasserie menu is rich in great recipes. For those on the run, an express lunch menu includes a quiche of the day, pastry of choice and coffee: 16.50€. Breakfast menu for 11.50€ is fine and brunch is on offer every day: scrambled eggs with salmon, cherry tomatoes and shallots, soft chive cream cheese, French toast, fruit salad, fresh pressed juice and a hot drink all for just 22€. Afternoon snack time sees the French lining up to feast on pastry chef Thierry Leveillé's exceptional millefeuilles, éclairs, etc. The reputation of this exceptional dessert spot extends far beyond the doors of the Marais. Come see for yourself!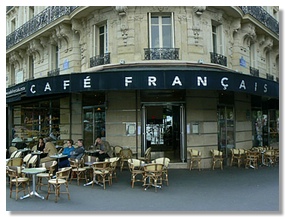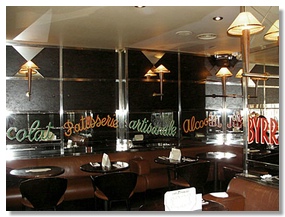 Café français
3 Place de la Bastille - 75004 Paris
Tel.: 01 40 29 04 02

Café Charlot
Just in front of Paris's oldest covered market Enfant Rouges, built in 1610, discover the new rendez-vous of the "in-crowd". In the northern, burgeoning part of the Marais, the Café Charlot has quickly become "the place to be". Have a seat on the only sunny terrace on the northern side of rue Bretagne. It's heated in winter. Clever décor gives the place a homey 1920s feel with old posters and antique phones on the wall. The menu is simple but epicurean, and all the elements of luxury are intact reminding us that this is an address you'll want to keep. Fresh produce in all the dishes are cooked to order. Sunday brunch is a gargantuan affair: scrambled eggs with salmon, cherry tomatoes and shallots, soft chive cream cheese, French toast, fruit salad, fresh pressed juice and a hot drink all for just 17€. Two specials of the day are offered for lunch while the dinner menu is more sophisticated, with a wider variety, notably a timbale of scallops. The café's specialty is the house cheeseburger. Happy hour from 7 to 9 is a must. Run, do not walk to this fine address. You may have to fight for a table for the Café Charlot is a definite fixture in the neighbourhood.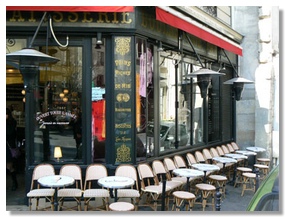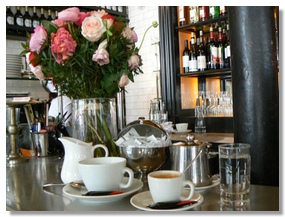 Café Charlot
38, rue de Bretagne - 75004 Paris
Tel.: 01 44 54 03 30
Le Dôme
A stone's throw away from the Place des Vosges, opposite the church of St. Paul, the day begins early at the zinc bar. You can have a quick expresso or sit down to a solid breakfast. There's le français: a hot drink with baguette, butter, jam and orange juice for 8.50€ or l'anglais: a hot drink, with toast, orange juice, bacon and eggs or an omelette for 11€. Sunday is another day with a brunch of scrambled eggs and salmon, cherry tomatoes and shallots, soft chive cream cheese, French toast, fruit salad, fresh pressed juice and a hot drink all for just 16€. It's served between 11:30 and 4:00. At lunch time crowds of regulars throng to the brasserie for a main dish, glass of wine and coffee for 13€. Two specials of the day are inspired by market fresh ingredients purchased that day. For the more urbane pallet you can treat yourself to Andouillette AAAAA with its onion compote. Service is impeccable and rapid. The lounge at the back is an ideal spot to meet friends for happy hour!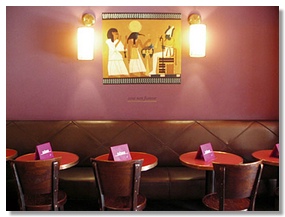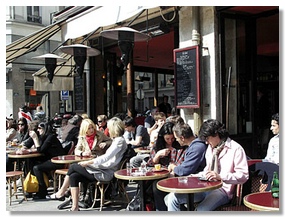 Le Dôme
4-6 rue de Rivoli - 75004 Paris
Tel.: 01 42 78 56 48
Les Arts et Métiers
A hip address for culture vultures
Very central, the Café des Arts et Métiers is located next to the museum of the same name which should be visited at all costs. The brasserie has a warm contemporary feel as well as a wonderful sprawling terrace. The regular clientele include those studying at the Conservatory and the faithful museum-goers along with a chic, intellectual and creative crowd. At the Arts et Métiers you'll find an efficient, typically Parisian brasserie. Service is rapid and impeccable. The interior feels like the lounge of a luxury hotel. For lunch you can choose from daily specials: one starter and two main dishes. Desserts come straight from the extraordinary pastry chef of the Café Français. Fresh market produce is prepared on the spot. An outstanding dish on the menu is creamy chicken risotto. Sunday brunch is fantastic for a mere 19 € and you can stop by for happy hour every day from 6:00 to 8:00 pm to order pints of beer or cocktails.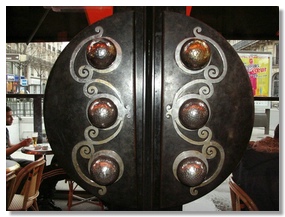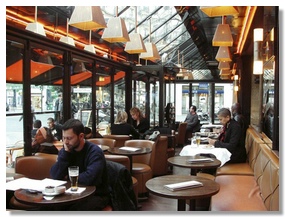 Les Arts et Métiers
51, rue de Turbigo - 75003 Paris
Tel.: 01 48 87 83 25
L'Etincelle
Etincelle, the loveliest terrace in the Marais !
A hop, skip and a jump from the Hotel de Ville, l'Etincelle glows with a thousand lights and its personal do their best to sparkle for their customers. The interior is neo-baroque reminiscent of the Sun King while the sunny terrace has a modernist colorful flavor. It's mercifully tucked away from the noisy street. This is a high-quality bistro. If you ask your waiter, he'll connect you to the hifi for free. With great music, you're ready to roll. Sunday brunch is a highlight. For 16€, you'll get scrambled eggs and salmon, cherry tomatoes and shallots, soft chive cream cheese, French toast, fruit salad, fresh pressed juice and a hot drink. There's always a daily special with reliably fresh market ingredients cooked to order. Evenings are lively with a happy hour from 7:00 to 9:00 pm… pints of beer, cocktails and an exceptional choice of music. Fun can be had by all 365 days a year.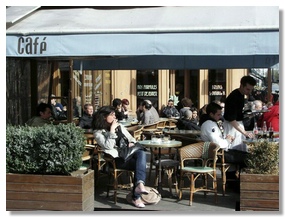 L'Etincelle
42 bis rue de Rivoli - 75004 Paris
Tel.: 01 42 72 09 76
More cafés & brasseries here: http://www.parismarais.com/cafes-brasseries.htm
---
WELL BEING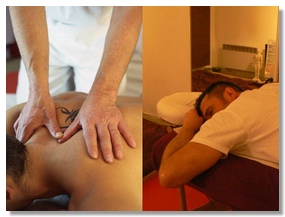 At Home Shiatsu
Stéphane Prémel is a shiatsu specialist and masseur, certified by the French Federation of Traditional of Shiatsu and by Heisei Européan College of Traditional Japanese Medicine.
Japanese in origin, traditional Shiatsu massage enables rebalancing of the links between our mental, physical and emotional states. Unblocking of energy (yin/yang balance) stimulates and strengthens self-healing capacities, giving rise to an extraordinary sensation of well-being. Shiatsu is an officially recognized therapy in Japan. It promotes re-harmonizing of the mind and body's energy. After tuning in to your body's needs, the masseur focuses on key areas in order to enhance emotional stability, eliminate stress, improve drainage of fluids, help you feel lighter and more in touch with your body, intensify energy exchanges, and allow your tensions to be released.
Website: http://www.praticienshiatsu.com
Email: stephane.premel@free.fr
1h30 session on-site: 80€ - At your location or hotel: 150€
---
LAST MINUTE DEALS FOR PRIVATE RENTALS
Looking for somewhere unique to stay for your next Paris holiday? Parismarais selects only the best of the best in each apartment category, just for you. You know that when you rent a flat with the owners and companies we select, you'll be welcomed like a friend, benefit from great service and enjoy exceptional accommodations.
We now have fantastic rentals with 4 star standards starting from only 500€ per week—check them out at: http://www.parismarais.com/book-a-flat-le-marais-paris-france.htm
---
ADVERTISE YOUR PROPERTIES AND SELL YOUR GOODS
AT PARISMARAIS.COM
Did you know that Parismarais.com is a great market place to make new contacts and to buy and sell practically anything you can imagine? Post a small ad online for only a couple of euros and have it promoted on 20 other Anglophone web sites. Great isn't it? Start advertising now – it's fast and easy!
http://www.parismarais.com/buy-and-sell-your-goods.htm
See our TV film made for French television and read more from our historian Pamela Grant who also gives fabulous historical tours of le Marais:
http://www.parismarais.com/marie-antoinette-story.htm
---
Don't Miss PARISMARAIS NEWSLETTER AND SPECIAL OFFERS
AOL blocks many major European ISPs, so we cannot guarantee that our mail to AOL addresses will arrive. Please use another email provider or "White List" our email address or add "info@parismarais.com" and to your contact list.
Parismarais Newsletter, May 2009
http://www.parismarais.com
mailto:info@parismarais.com
To Subscribe:
http://www.parismarais.com/parismarais-newsletter.htm
To Cancel Your Subscription:
http://www.parismarais.com/unsubscribe.htm
Special thanks to all our contributors and media partners for their help. Check our link pages http://www.parismarais.com/worldwide-links.htm and http://www.parismarais.com/gay-links.htm
Should you wish to promote us and create profitable reciprocal links with us to your web site, please write to advertising@parismarais.com.
PARISMARAIS.Com is a Media Partner of Paris Tourist Office and France Guide / Maison de la France.
---

Copyright 2009, parismarais.com