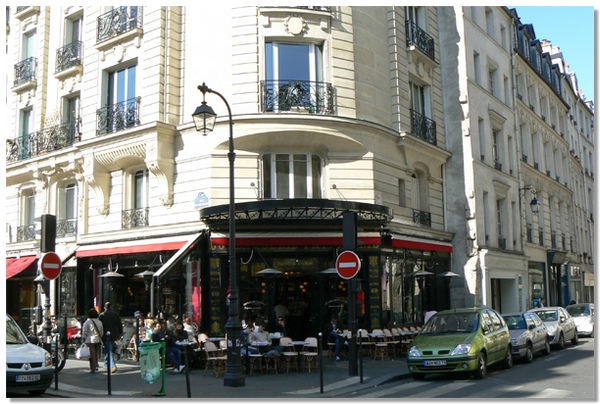 One of Le Marais' favorite terrace : Café Charlot.

Parismarais Newsletter
Issue 53, April 2009
http://www.parismarais.com
---
IS THE SOUL OF THE PLETZL STILL ALIVE ?
Bonjour Parismarais readers,
"Things aren't what they used to be"… It's a common lament these days as people stroll down the historic rue des Rosiers, the heart of the Jewish quarter (known as the "Pletzl") in the Marais.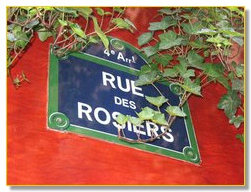 Over the past 40 years, the neighborhood has undergone a gentrification that has recently sped up to breakneck pace. In the last five years, the many Jewish bakeries, delicatessens, Judaica shops, kosher butchers that once lined this medieval street have gone, replaced by spiffy new high-end shops that provoke comments like "the only thing Jewish about the rue des Rosiers nowadays is the boutiques open on Sunday."
It's a wise observation. France, a Catholic country, still fines stores that open on Sundays. Because Jews worship on Saturday, the city waives the fine in the Marais… which explains the huge influx of boutiques de fringues (clothing shops) in the district.
But what touched off this transformation? Charting the changes of a neighborhood is no easy task.
Things began shifting very slowly in 1962, when André Malraux, Minister of Culture, put a protection order down on the neighborhood – which was commonly called the "armpit of Paris". The area was earmarked for demolition, from the banks of the river Seine all the way to the Gare de l'Est. Malraux foresaw the tragedy and thwarted it. Little by little, the run-down 17th mansions, overrun by poor, working class families (mostly Jewish) or disfigured by having been turned into factories, were renovated. A key moment came when the Hotel Salé, a dilapidated mansion in the northern part of the Marais, was totally renovated and opened its doors as the Picasso Museum. It was the mid 70s.
The gay community, always alert to neighborhoods on the verge of gentrification, began trickling in and renovating apartments. Two gay bars slipped in at the end of the rue des Rosiers and the Jewish neighborhood was slowly engulfed by another ghetto: the gay community.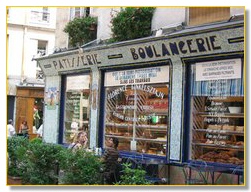 But still the Jewish community was intact. A small community had already been living in the Pletzl (Yiddish for little square) since the middle ages. After centuries of expulsion, they flooded back at the end of the 19th century, when pogroms in Eastern Europe sent millions of Jews (second-class citizens) abroad. France, the first European country to recognize Jews as citizens with civil rights, naturally drew hundreds of thousands of immigrants. The floodtide of displaced people arrived at Gare de l'Est. Disoriented, they found their way to the poor streets of the Marais, where they set up as best they could.
It was tenement housing, with toilets in the corridors and an average of 30 families crowding into a large, old mansion or apartment building. Yiddish was the prevalent language. Many synagogues cropped up, along with kosher delis and restaurants and schools.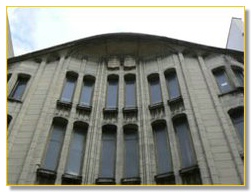 In France, children go to school on Saturday morning, but these schools closed on the Sabbath. As in the Lower East Side in New York, the garment trade was popular, offering work to poor, unskilled laborers. It was a distinctly poverty-stricken area, but full of local color and camaraderie.
The Pletzl is, in fact, a sort of square with four major streets outlining the parameters. The rue des Rosiers and rue du Roi du Sicile run parallel, east/west, buttressed by rue Pavé and rue Vieille du Temple, which run north/south. Rue des Rosiers is also crossed by Rue des Ecouffes and rue Ferdinand Duval.
Rue Ferdinand Duval was called rue des Juifs from the 13th c. until 1900 – a reminder that Jews lived in the neighborhood centuries ago. And rue des Ecouffes (meaning kites, the birds of prey), is a reference to Jewish moneylenders in the middle ages, later replaced by moneylenders from Lombardy.
Recent changes on rue des Rosiers are due to the ambitious urbanization initiative of the 4th arrondissement's mayor, Dominique Bertinotti, who has been in office since 2001. The decision to pave the street (from 2005-2007) drew complaints from shop owners, afraid they would lose their "old world" regular clientele. Now it is a lovely pedestrian street, and many of the more modest shops did go out of business. Some were tempted with attaché-cases full of cash, to sweeten the deal. Marciano, an excellent bakery, has held firm. Formerly owned by Ashkenazy Jews, the Moskowitzs sold the shop to Joseph Marciano with the proviso that he continue to make Eastern European treats. Indeed, here you can get some of the best apple strudel you've ever tasted.
Other, older Jewish owners, ready for retirement, threw in the towel. Now, the newer end of rue des Rosiers, from rue Pavé to Ferdinand Duval, has virtually no Jewish shops left (this part of the street was opened up in the 1850s, under the Haussmann development of Paris).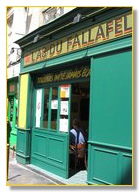 Oddly enough, these trendy shops are having a hard time remaining open. Though great for window-shopping, their prices are closer to those of the elegant stores on avenue Montaigne. In fact, it seems like the street is once again poised for change.
An Adidas shop opened last year, after a chic boutique closed its doors, and COS (a slightly more upscale H&M store) now occupies the former hammam. Will the street become like SoHo in NY, with the trendy and original giving way to the more mainstream mid-range stores?
Still, there are falafel shops, vying to be the best in the world, at the far end of rue des Rosiers. L'As du Falafel still claims it's the best. And judging from the lines, 30-people thick, many agree. But the Falafel King is snapping at their heels. Its owner is happy about all the tourism and says business is booming.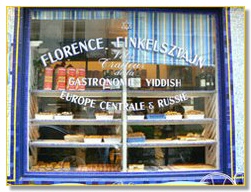 The two Finkelstajn bakery/delicatessens (Mr. Finkelstajn at 25 bis rue des Rosiers and ex-wife Kahn-Finkelstajn at 24, rue des Ecouffes) also can't complain about business. But it's decidedly different from 40 years ago, when locals would purchase their challah bread there in the morning. Now lines of tourists form in the afternoon, to enjoy chopped liver and bagels.
Meanwhile the owner of kosher pizza place, Mr. Benaim, a Hassidic Jew, is sad to see the neighborhood change and thinks the Mayor doesn't have the best interests of the historic street at heart.
Things start to seem awfully anachronistic as you wander into Lamarthe, holding your 5-euro falafel, to purchase a 700-euro leather, designer bag.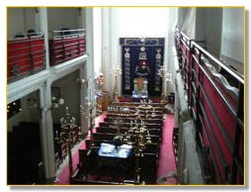 Thank goodness there's still a yeshiva on rue Pavée and several synagogues scattered throughout the area. Without them, there would be no active Judaism on these streets… Just memories of what once was, with stirring plaques reminding people of the horrifying round-ups and deportation of the Jews during WWII.
Perhaps the saddest note on the street is the closing of Goldenberg, which happened in 2007. The restaurant/deli was an absolute fixture in the neighborhood. Jo may not have always been the nicest person, but his restaurant was synonymous with the Jewish experience. Ministers and presidents had eaten there. Ironically, in the terrorist attack of 1981, all those killed there were non-Jews. The window, with yellow paint around the bullet holes, and the plaque in memory of the dead, testified to the "never forget" philosophy. Strangely the plaque was removed when the restaurant closed. Problems of hygiene shut it down and Jo was already forced to change the bullet-shattered window a few years ago. Rumor has it, he sold the place to a cousin three weeks before he knew he was about to be closed down. The Costes brothers had their eye on it. But many problems with the syndic and a kitchen not up to health standards had them pull out. The fate of this restaurant, like so much on this ancient street, is up in the air.


So, like it or lump it, change is here to stay on rue des Rosiers. But where it will lead nobody knows. Let's just hope that the Jewish heart and soul of the place won't be entirely squeezed out.

Pamela Grant,
Historian and tour guide for Parismarais.com

Book your own private tour with Pam ?
pamela.grant@noos.fr
---
ENJOY LE MARAIS BEST TERRACES
Here's our top selection of cafés and brasseries in le Marais best spots. They all have an unique personality. All of them stay open late at least until midnight and offer you free wifi access too !
CAFE FRANCAIS - 3 Place de la Bastille – 75004 PARIS - 01 40 29 04 02 – Metro Bastille
L'ETINCELLE - 42 bis rue de Rivoli – 75004 PARIS - 01 42 72 09 76 – Metro Hotel de Ville
LE DOME Saint Paul – 4/6 rue de Rivoli – 75004 PARIS - 01 42 78 56 48 Metro Saint Paul
CAFÉ CHARLOT - 38 rue de Bretagne – 75003 PARIS - 01 44 54 03 30 - Metro Filles du Calvaire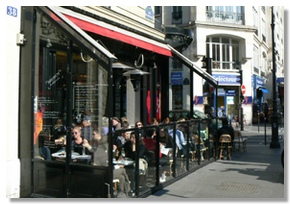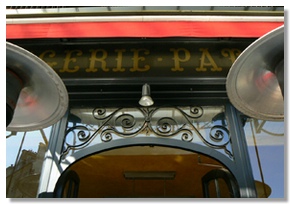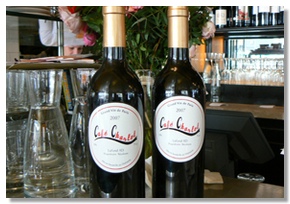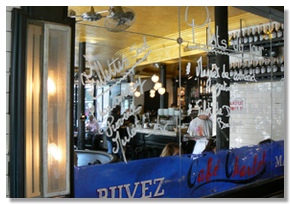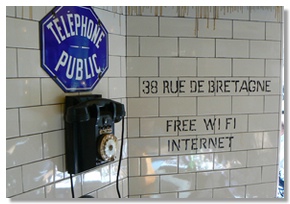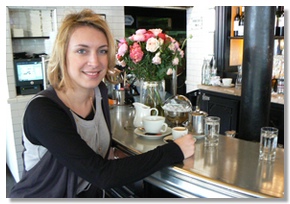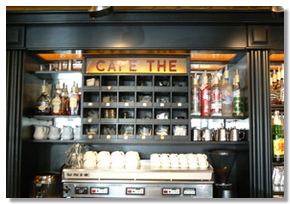 CAFE DES ARTS ET METIERS - 51 rue de Turbigo – 75003 PARIS - 01 48 87 83 25 Metro Arts et Métiers
---
WHAT'S AROUND LE MARAIS ?
Le Marais is a small triangle of land of about 2 kms on each side going from Place de la République to Place de la Bastille and to Place de l'Hôtel de Ville. It's not very big at all, but within this small area you'll find 170 fabulous historical palaces and mansions, two islands on the River Seine, the exquisite Paris City Hall, Carnavalet Palace and Notre Dame. It is an incredible concentration of art, beauty and architectural wonders. The rest of Paris may be jealous of our district.
But there is so much to discover just outside of le Marais as well. That's why we are now inviting you to visit the Paris districts around the center of le Marais including the Louvre area, the Latin Quarter, Montorgueil, Les Halles and Saint Germain des Près. You can stay in your choice of these little Parisian villages, as we have now selected 20 fantastic new hotels in central Paris, all close to le Marais, and all available to book online.
http://www.parismarais.com/hotels.php?zone=Paris
---
WHAT'S UP NEXT IN LE MARAIS?
Our newsletter is available in English, only once a month, but we have so much to tell you it just keeps getting longer and longer! Don't wait for the next one to check out what's new in le Marais.
Almost every day we'll add a new report or article about le Marais, Paris and also many tips about real estate, travel and entertainment in Paris… We are building strong relationships with many international medias to promote le Marais and we'll publish some of their articles in our blog. If you want to write about le Marais, send us your comments about hotels, restaurants, shops and more in Paris. If we publish it, we'll be happy to add you to the list of our contributors and writers.
http://www.parismarais.fr/blog/
---
LAST MINUTE DEALS FOR PRIVATE RENTALS
Looking for somewhere unique to stay for your next Paris holiday? Parismarais.com chooses only the best apartments in each category. It's good to know that when you rent a flat with the owners we select, you'll be welcomed like a friend, benefit from great service and enjoy exceptional accommodations.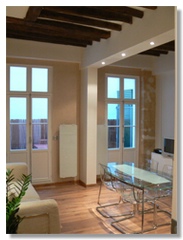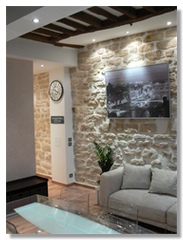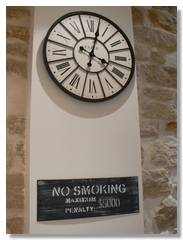 We now have fantastic rentals with 4 star standards starting from only 500€ per week—check them out at: http://www.parismarais.com/book-a-flat-le-marais-paris-france.htm
We are now promoting less apartments and are very choosy about the ones we recommend, we specially avoid all those managed by the numerous online american companies who cheat the french tax system and do not respect the laws about rentals.
---
THE FABULOUS MONTH OF MAY ON THE FRENCH RIVIERA HOSTING THE AUTOMOBILE GRAND PRIX OF MONACO,
THE CANNES FILM FESTIVAL AND A UNIQUE FRENCH IMMERSION PROGRAM
If you're looking for an exciting experience, head South for the month of May to a gem of the French Riviera, the fishing village of Villefranche-sur-Mer, between Nice and Monte Carlo. There, overlooking one of the Mediterranean's most beautiful bays, sits the Institut de Français. This world renowned French language school has been offering since 1969, with unwavering success, an immersion program of 8 ½ hours a day for 2 to 4 weeks. Adults have been going there from all over the world, with one common goal : to be able to speak French in the shortest time and have fun doing it.
An incredible mix of nationalities and professions gather at the Institut every month ready to meet the challenge. For instance, this March, you could have been chatting "in French" with a Mexican fashion designer, a Norwegian flight attendant, an Irish newspaper publisher, a British financial consultant, a Russian economist, a South African writer, a New Zealander Red Cross official.
Still another month, during a linguistic guessing game held in a sumptuous living room, you could be putting questions to an Austrian lawyer, a Turkish pastry chef, a Chinese engineer, a Jamaican air hostess, a US housewife, a Finnish secretary or, at a particular moment, be guessing the fictitious profession of … none other than the Duchess of Gloucester.
Add to that, evening outings, with teachers, to a theater, an opera or a restaurant enjoyed in stimulating company and of course in the month of May the Grand Prix of Monaco, the 23rd and 24th May (Saturday and Sunday), and the Cannes Film Festival, 13 – 24 May (in the evenings or on weekends). All this could indeed be a wonderful, fulfilling experience !
But then nearly every month on the French Riviera (July and August are hotter and with a lot of tourists) is delightful and replete with unusual events and entertainment.
Add to that, the organized evening activities, most accompanied by teachers: cinema showings, going to the theater after having studied the play, meals at a restaurant, a full-day excursion in the hinterland, to renowned villages like St. Paul-de-Vence, Grasse, the perfume center of France, etc. All this makes for a truly fulfilling, unforgettable experience! Find out more and read about it in German and Russian too: http://www.parismarais.com/education-language-schools.htm
Check rates, dates and programs on http://www.institutdefrancais.com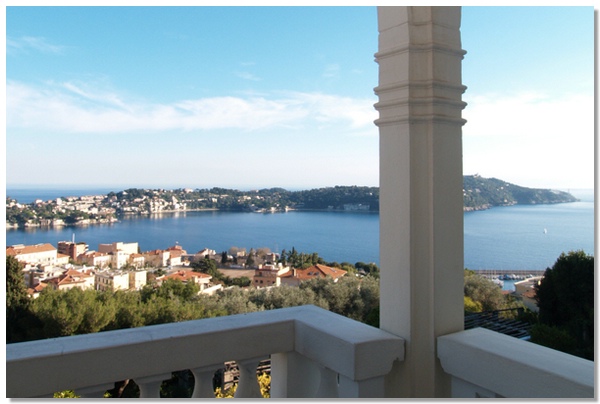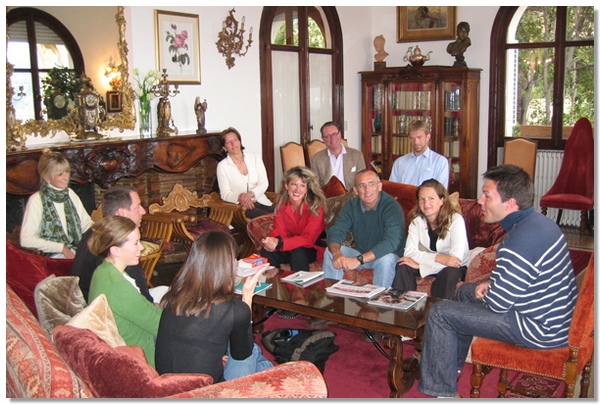 Most Cannes hotels are already fully booked for the festival, but you may be lucky if you check online in our Cannes hotel selections. We do know that there are still plenty of availabilities in Nice, Beaulieu Monaco, and other Riviera hotels.
When booking this hotel or any other new Riviera hotels through Parismarais.com, you can benefit from great prices and often get upgrades upon availability.
Hotel Best Western Premier West End****
One of the best value in the 4 star range in Nice
31 Promenade des Anglais 06000 Nice
Book at great rates with parismarais.com:
http://www.parismarais.com/hotels-europe.php?zone=Nice
Les Thermes Marins de Monte Carlo
This is probably Europe's most beautiful spa! From only 130 euros per day including three healthcare treatments such as Californian massage under sea water, Dead Sea mud wrap, foot reflexology, all in a divine setting with a saltwater swimming pool overlooking Monaco Harbor and facing the Prince Palace. Free access included in your room rate if you stay in one of the SBM hotels listed below: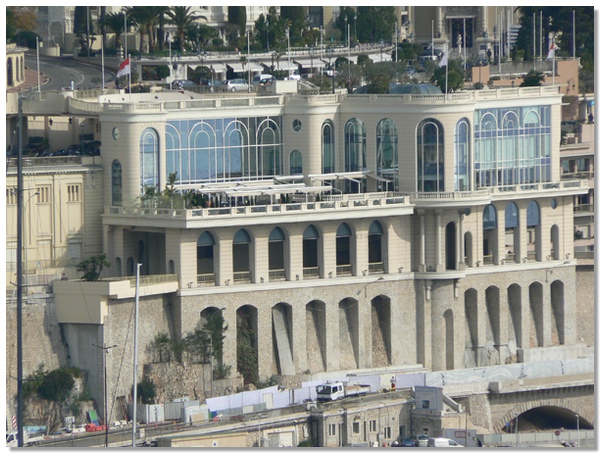 SBM Hotel de Paris*****
One of the world's top 10 hotels. Do not miss to try « Le Louis XV », Alain Ducasse most prestigious restaurant.
SBM Hotel Hermitage*****
This mythic hotel features a great art nouveau glass roof designed by Gustave Eiffel.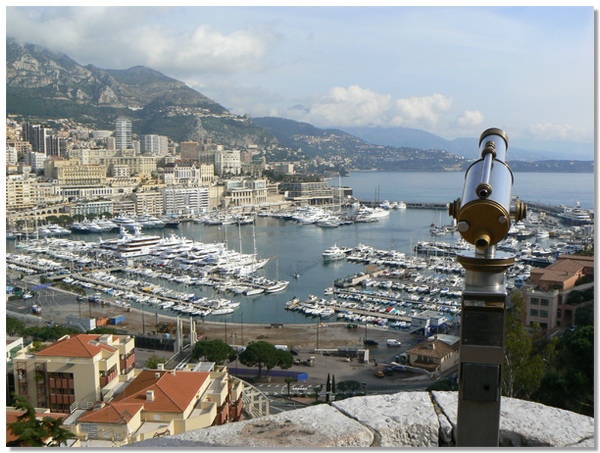 SBM Monte Carlo Bay****
The new 4 star hotel created by the SBM next to the summer sporting club, it contains a surprising artificial lagoon, part of it inside the hotel, part of it outside.
You can book all these fabulous resorts online on Parismarais.com Go to : http://www.parismarais.com/hotels-europe.php?zone=Monte-Carlo
Looking for an apartment to stay for a week, a month or two on the riviera ?
Choose to book with our friend Shelley Dobbins, manager of rivieraexperience.com, her selection is so far one of teh best in Villefranche sur Mer. Say you are recommended by parismarais.com!
www.Rivieraexperience.com
---
Don't Miss PARISMARAIS NEWSLETTER AND SPECIAL OFFERS
AOL blocks many major European ISPs, so we cannot guarantee that our mail to AOL addresses will arrive. Please use another email provider or "White List" our email address or add "info@parismarais.com" and to your contact list.
Parismarais Newsletter, April 2009
http://www.parismarais.com
mailto:info@parismarais.com
To Subscribe:
http://www.parismarais.com/parismarais-newsletter.htm
To Cancel Your Subscription:
http://www.parismarais.com/unsubscribe.htm
Special thanks to all our contributors and media partners for their help in the past 4 years. Check our link pages http://www.parismarais.com/worldwide-links.htm and http://www.parismarais.com/gay-links.htm
Should you wish to promote us and create profitable reciprocal links with us to your web site, please write to advertising@parismarais.com.
PARISMARAIS.Com is a Media Partner of Paris Tourist Office and France Guide / Maison de la France.
---

Copyright 2009, parismarais.com