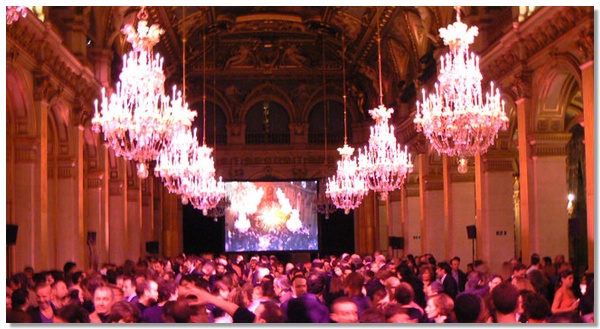 Paris City Hall Grand Ballroom for Paris Capitale de la Creation Celebration.
Parismarais Newsletter
Issue 23, March 2007
http://www.parismarais.com
La Vie en Rose in le Marais.
Bonjour Parismarais Readers,
"Paris Je t'Aime" was the theme of this year's "Paris, Capitale de la Création" celebration two weeks ago. This organization is designed to promote 16 professional design trade fairs in fashion and housewares. Over champagne cocktails and hors d'oeuvres, in front of an audience of hundreds in the salons of the Hôtel de Ville, three of Mayor Bertrand Delanoë's deputies – Jean-Bernard Bros, Lyne Cohen-Solal and Christophe Girard – honored a line-up of creative and innovative leaders in the design community, including Jean Bousquet, manager of Cacharel. The entrance, lobbies and main ballroom were lit entirely in pink, and a large screen showed attendees as they entered by the grand staircase.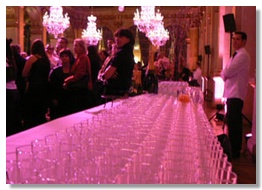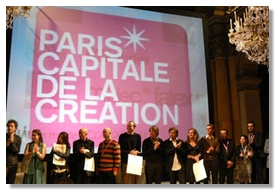 The Champagne was not pink but it was delicious, and it was fascinating to see the gigantic ballroom that usually only receives the world's top representatives opened to so many people – artists, journalists and creative heads from around the globe. The ambiance was definitely informal, and if we had any doubt before that Paris was the city of creativity, we were certain about it when we left. For those couple of hours we had the best vie en rose we could imagine
Speaking of La Vie en Rose, Edith Piaf's most popular song is also back in fashion in its original version (even if we still love the Grace Jones disco remix made in the eighties!). Edith Piaf died 45 years ago, and there is a new film production all about her life… en rose? Well, her life was more grey than pink, but do not miss La Mome on your local screen when it comes to your city.

This month, we are starting many new media partnerships to promote le Marais and are looking forward to working with other media who share with us a passion for Paris' favorite district.
We are happy to be have some exchanges with the Paris Times, Paris' number one Anglophone monthly paper managed by Julie Pecheur. The March issue of the Paris Times is all about le Marais, so make sure you don't miss it (see below for information about where to get your copy). Until now, Anglophone papers in Paris were not very successful despite a huge Anglophone community (250,000 Anglophones in Paris and over one million British in France). That is not the case with the Paris Times which is great and full of useful information about local life, politics, practical answers and everything you need to know as an expat or a tourist. See theparistimes.com.
France Today is the number one American paper for those who love France. There will be a special issue on Paris coming in April – you won't want to miss it.
Paris Cap, the new cable TV channel dedicated to Paris, will soon be featuring films and report on le Marais that will help you discover our favorites places. Visit pariscap.com
The high tourist season is heating up, starting Fashion Week, and most Paris hotels are packed. But we still have some special deals and offers just for you…make sure you visit our rental section.
If you want to take a walking tour of le Marais, see below for our recommended partners. All of our guided tours are now also available in Italian. To find out more, see http://www.parismarais.com/visit-le-marais.htm
A bientôt!

Pascal Fonquernie
Editor
---
THE PARIS TIMES
March issue is all about le Marais!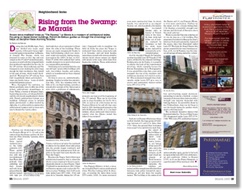 ....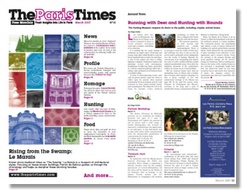 Here 's a list of places where you can get your print copy in central Paris
Paris 1er
Office du tourisme de Paris, 25, rue des Pyramides et Caroussel du Louvre
Galignani, 224, rue de Rivoli
WH Smith, 248, rue de Rivoli
Le Fumoir, 2, rue de l'Amiral Coligny
Restaurant Joe Allen, 30, rue Pierre Lescot
Scoop, 154, rue Saint Honoré
Colette, 213, rue du faubourg Saint-Honoré
Paris 2ème
Café Etienne Marcel, 34, rue Etienne-Marcel
Bistrot Vivienne, 4, rue des Petits Champs
Harry's Bar, 5, rue Daunou
The Frog and Rosbif, 116, rue Saint-Denis
Berlitz Opéra, 38, avenue de l'Opéra
Brentano's, 37 avenue de l'Opéra
Paris 3ème
Luniverre, 20, rue des Coutures saint Gervais
Taxi Jaune, 13 rue Chapon
Paris 4ème
Thanksgiving, 14, rue Charles V
The Red Wheelbarrow, 22, rue Saint Paul
Café Mezzanine, Centre George Pompidou
Café Beaubourg, 43, rue Saint-Merri
Restaurant Au Vin des Pyrénées, 25, rue Beautreillis
Lizard Lounge, 18, rue du Bourg-Tibourg
Stolly's, 16, rue de la Cloche-Perce
Read more online : http://www.theparistimes.com
---
FRANCE TODAY

France Today is the magazine of French culture and travel. If France is one of your favorite destinations, then France Today is for you. Get the insider's look at the culture, its people and trends. France Today is your savvy tour guide to "the hexagon" providing invaluable tips for discovering Paris and off-the-beaten track spots in other French cities and the countryside. http://www.francetoday.com
---
LA VIE EN ROSE FOR CLUBBING
Les Bains Douche

The new restaurant, Les Bains Douche is chic, glamorous, affordable…and PINK!
A 2 course menu at the first floor restaurant and free access to the dance club below is just 27 euros.

7 rue du Bourg-l'Abbé 75003 Paris
Tel: 01.48.87.01.80
Metro: Etienne Marcel
---
LA VIE EN ROSE FOR TELEVISION
PINKTV is France's only gay television

PinkTV is the first general interest TV station dedicated to gay and gay-friendly interests. PinkTV offers eclectic programming – beyond news, PinkTV covers cultural, political and social trends, keeping an eye on the next big thing. The editorial is dedicated 50% to gay issues and 50% to the interests of our gay and gay-friendly audience
How to get PinkTV: A PAY TV channel, PinkTV is broadcast by every major cable, satellite and DSL network in France (CanalSat, TPS, Noos, UPC, Numericable, Freebox TV, Neuf Telecom, EstVideo.com and FranceCitéVision), as a stand alone channel (9€ /month - 11 USD) and will soon be available in a package.
In Belgium, PinkTV is broadcast on BeTV (former Canal+, Belgium) and on Coditel as a stand alone (10€/month – 13 USD). In Luxembourg, PinkTV is broadcast by Coditel as a stand alone (10€/month – 13 USD). In Switzerland, PinkTV is broadcast on Naxoo as a stand alone (17 CHF) and in the "Tendances" package (25 CHF).
---
LA VIE EN ROSE RADIO

FG radio is a unique experience in Europe. It was launched in 1981 as the first gay radio station, and became a great success through the direction of station president Henri Maurel. FG radio is not only a gay radio station, but also the top reference for all fashionable radio stations in France. What you hear on FG today will be on other radio stations in a couple of weeks. The good thing is that now FG can be listened to on the net in various versions. Discover the top French DJs and international stars on France's number one DJ radio.

Visit http://www.radiofg.com
---
LE MARAIS HISTORIQUE GAY (Tour in French)
Discover everything you want to know about gay life in le Marais as it was centuries ago with a fantastic 3 hour tour organized by parisgayvillage.com. Life was definitely not as easy as it is today, especially for those who did not belong to the aristocracy. Book your tour today – it's all in French, but most of the team and participants speak a bit of English and will translate for you if your French is a bit rusty.
Le Marais n'a jamais été un quartier homosexuel avant la fin du XXème siècle. Mais nombreux sont les « chevaliers de la manchette » du Grand Siècle et du Siècle des Lumières à y avoir vécu ou y avoir connu des aventures. Ces hommes, et quelques femmes, la plupart du temps bisexuels, ne se cachaient guère (leur haute naissance les mettant à l'abri de toutes poursuites pénales). Ce qui n'était pas le cas des artisans et ouvriers qui pouvaient avoir de graves ennuis s'ils étaient débusqués par les «mouches» de l'efficace police royale de la capitale. Mais, comme aujourd'hui, ils avaient leurs lieux de rendez-vous et de drague, discrets, dont certains se trouvaient dans le Marais.
Visite animée par Alain Canat.
Dimanche 1er Avril, A 14h30
RDV : Métro Saint-paul, près du manège.
Tarif : 10 €.
Réservation : contact@parisgaivillage.com
---
FRENCH CABARET SHOW
WITH CHRISTOPHE MOULIN

Christophe MOULIN is in concert Monday, March 26
at Palais des Glaces in Paris 75010.
---
EDITH PIAL REVIVAL
«Quand il me prend dans ses bras, il me parle tout bas, je vois la vie en rose…»
Edith Piaf is living again in La Mome, the fabulous film production by Olivier Dahan with Marion Cotillard and Gerard Depardieu… See the official web site: http://www.tfmdistribution.com/lamome/lamome.htm
We are proud to mention that the English subtitles for this film were done by Pamela Grant, history specialist and member of the Parismarais team. Read her great articles about Marie Antoinette at http://www.parismarais.com/marie-antoinette-story.htm and the Sun King, Louis XIV at http://www.parismarais.com/le-marais-and-king-sun.htm
To book a private guided tour with Pamela, write to her at:
Paris Perspectives
pamela.grant@noos.fr
---
GUIDED TOURS

Eye Prefer Paris offers fun guided tours
run by Richard Nahem.
Richard personally leads these 3 hour walking tours. The Eye Prefer Paris Tour visits many of the places he has written about including small museums and galleries, restaurants, cafés and food markets, secret addresses, fashion and home boutiques, parks, and much more.
"I look forward to meeting you on my tours and it will be my pleasure and delight to show you my insider's Paris."
Tours up to 4 people from 150 euros
Check it out at http://www.eyepreferparistours.com
---
BEST BOOKS ABOUT PARIS AND LE MARAIS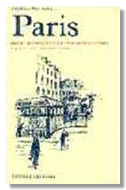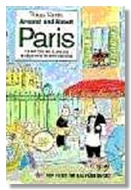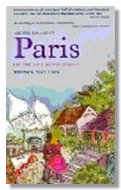 Thirza Vallois is the author of the internationally acclaimed 'Around and About Paris' series of books and 'Romantic Paris', not to mention the Paris entry to the Encarta Encyclopaedia. She has lived in Paris for more than 40 years and is an expert on all things Parisian. She lectures worldwide on Paris and France and contributes her comments to television, radio and the printed press. She has appeared on BBC, PBS, the Travel Channel, CNN, Discovery, the French Cultural Channel, has talked to scores of radio stations in the US and Britain, and has contributed articles to the Financial Times, United Airlines' Hemispheres, Condé Nast Traveller, and more. Her 'Three Perfect Days in Paris', commissioned for United Airlines' Hemispheres, won her the North American Travel Journalists' Association award and was aired as a film on United Airlines international flights and on television around the world.
What the press had to say:
"There are guides to every aspect of Paris, from museums and bars to sex and shopping — and then there are Thirza Vallois's extraordinary 'Around and About Paris.'"
Anthony Sattins, The Sunday Times
"I think we can safely toss all other Paris guidebooks aside. Paris is made for walking and Thirza Vallois's guides are made for Paris. They should soon achieve legendary status."
William Boyd, The Spectator
"Here's to 'Around and About Paris.' On your next flight to Paris, don't leave home without it."
The Boston Book Review
"A riveting tour history of Paris... an unpatronising, anecdotal, user-friendly walking guide to where, who and why of each building, park and street-name in Paris."
Boulevards
"Entertaining at all times, and full of erudition and historical anecdote, she out-Baedekers Baedeker even at his best!"
Francophonie
"Treat yourself to this treasure."
Book List (The American Library Journal)
To order online, visit Thirza Vallois' official web site http://thirzavallois.com/
---
BEST VALUE FOR LUNCH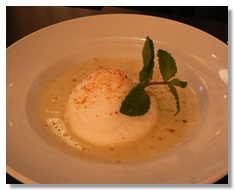 Every week we try new restaurants in le Marais, and we focus on the lunch deals. As in all major cities, eating out is expensive in the evening, but about half as much at lunch, so why not try the best restaurants for just a bit more than you would pay for fast food?

On rue de Picardie in district 3, Les Don Juan offers one of the best deals we've recently found – a 3 course menus for less than 15 euros. I ordered the Terrine de Raie à la Toscane (Fish paté with spicy sauce), Poulet Fermler with Purée Maison (roast country chicken with mashed potatoes) and to finish, Ile Flotante et Crème Anglaise Pistache (mousse with pistacio custard). If you go, mention you were recommended by Parismarais.com
Les Don Juan
19 rue de Picardie, 75003 Paris
http://www.lesdonjuan.com
---
BEST GOURMET BOUTIQUE
GOUMANYAT et son royaume
Guess where all the best restaurants and hotels get their products? The answer is Goumanyat, the top luxury shop for gourmet cuisine. From sophisticated spices to fabulous wines and even cooking classes, Goumanyat is the not to miss address in le Marais for everyone who enjoys gastronomy and the art of living. http://www.goumanyat.com/index2.php
---
MASSAGES & WELL-BEING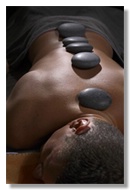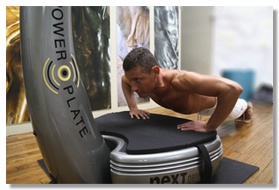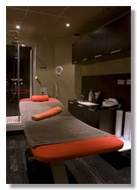 Il Fait Beau
Discover a new space entirely dedicated to well-being which offers skincare specially tailored to men's needs…various types of facials, body treatments such as exfoliation, seaweed or mud wraps and hot stone massage, pulsed light hair removal, and the newest generation of body sculpting: Power Plate. Il Fait Beau uses top of the line professional products by Comfort Zone and even has a terrace in the summertime for afternoon tea. Il Fait Beau means « it's a nice day » and also « it's beautiful ». Treat yourself to a pleasant grooming and leave looking and feeling your best. Facials and skincare from 50€, Body Treatments from 55€, Aromatherapy Massage from 85€. Shoulder and back waxing from 17€ - 35€ and pulsed light hair removal sessions from 35€. Power Plate: Free trial session, 30€ per session or 240€ for 10 sessions.
http://www.ilfaitbeau.fr/institut-beaute/comfort-zone.php
51 rue des Archives
75003 Paris
Tel: 01.48.87.00.00
http://www.ilfaitbeau.fr
Metro: Rambuteau
Open Monday to Saturday from 10 a.m. to 9 p.m., Sunday from 2 p.m. to 7 p.m.
---
BEST SPA FOR MEN
Bastille Sauna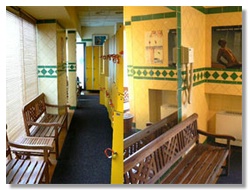 ......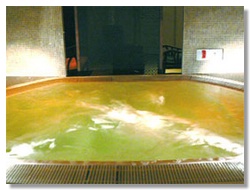 When crossing the Place de la Bastille just north of the modern Opera House there is a subtle change in the neighborhood. This is perhaps why Bastille Sauna chose this part of Paris to open its doors. Apart from the numerous amenities and relaxed, soothing atmosphere, the subtle difference you will find here is the comfort and luxury that this beautiful establishment offers. A quote from André Gide greets you in the spacious salon that says « Ose devenir qui tu es » Dare to become who you are. With trained masseurs, fully equipped gym, tanning beds, private relaxation rooms, spa, jacuzzi and sauna you will find it a pleasure to « become who you are » in these luxurious surroundings and no attitude friendliness.
MASSAGE EVERYDAY from 3 pm to 9 pm and by appointment, from 40€.
4, Passage Saint Antoine 75011 Paris
Tel: 01.43.38.07.02
Metro Ledru Rollin
Car park nearby
Open every day from 1 p.m. to 1 a.m.
---
LA VIE EN ROSE, IT'S LIVING HERE!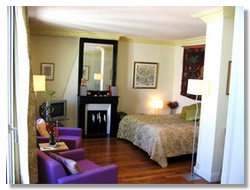 We are spoiled. Sometimes we don't realize that it is the dream of millions of people to live in Paris. Now you have an opportunity to make this come true, make a good investment and make a profit!
One of our dear friends is selling her Marais apartment. It's ready to move in or rent out, and ready to produce a decent income. Even better news is that it already has bookings for many weeks! Now la vie en rose could be a real option for you!
The flat can easily be rented 800 euros per week. It is already advertised in our rental section and rather well rented as our global audience is reaching 60 000 visitors per month.
Take a close look at Suite Normandy. This adorable 440 square feet flat, fully furnished is located on rue Charlot, one of the most desirable streets in le Marais, close to 2 metro stations, Temple and Filles du Calvaire. Check: http://www.parismarais.com/visit-our-flats.htm
Asking price is 336 000 euros including agency fees + 7% Notaire's fee
We can put you in contact with the agency that is handling the sale – just contact us
To find out about properties in Paris visit our real estate section: http://www.parismarais.com/flat-hunting.htm
---
GREAT HOTELS IN LE MARAIS to see la vie en rose!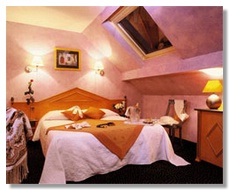 Hotel Ecole Centrale ***
In the heart of the Marais…. With its charming, centuries old interior crowned by splendid wood beams, this friendly hotel offers rooms with a contemporary ambiance. Features include free WiFi access, air conditioning, satellite TV, minibar, and breakfast buffet. Although the hotel is centrally located, facing the great Arts et Métiers Museum and conveniently next to the Arts et Métiers metro station, one of the main advantages of this hotel is that it is on a quiet street with very little traffic. Should you stay on one of the upper floors, you'll enjoy a lovely view of Paris rooftops. For Easter holidays, we invite guests to share in champagne, foie gras and delicious Belgium chocolates, found in the lobby. This warm welcome is sure to make you feel right at home…which is why our clients keep coming back, and recommend us to their friends.
3 rue Bailly, 75003 Paris
Metro: Arts et Métiers
http://www.parismarais.com/charming-budget-cheap-hotels-paris.htm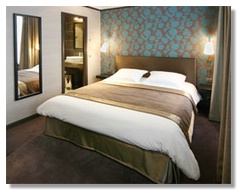 HOTEL DUO ***
Situated halfway between Notre Dame and the Georges Pompidou Center, the Hotel DUO, formerly Axial Beaubourg is dedicated to serenity. Architectural decor and colors, space and materials merge in elegance and coziness with a warm modern theme. In perfect harmony with the neighborhood, Hotel DUO offers you great ambiance and proximity to all major landmarks, restaurants, nightlife and chic boutiques. Large comfortable rooms and suites, Lobby & Lounge Bar, Private Spa and fitness facilities make the new Hotel DUO the ultimate luxurious and trendy spot in Le Marais. A lifestyle experience on its own, Hotel DUO offers a hospitality you won't soon forget.
11, rue du Temple, 75004 Paris
http://www.parismarais.com/3-star-hotels-in-le-marais-paris.htm
---
SHOPPING EN ROSE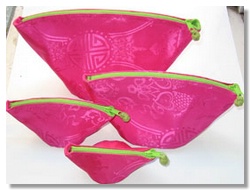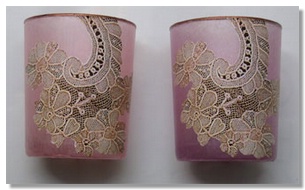 Le Boudoir et sa Philosophie
Open the door and step into a baroque exploration of intimate Parisian life. Carla Vizzi invites you to discover the first Boutique Museum of Living History. She has selected for you plenty of fabulous pink products for you to fit perfectly with this season's fashion. This shop is one you won't want to miss.

Le Boudoir et sa Philosophie
18, rue Charlot 75003 Paris
Tel: 01.48.04.89.79
mailto:carlavizzi@yahoo.fr
Metro: Filles du Calvaire or Temple.
Tuesday to Saturday from 2 p.m. to 7.30 p.m.
---
LAST MINUTE LUXURY RENTALS IN LE MARAIS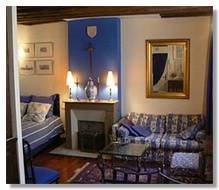 ...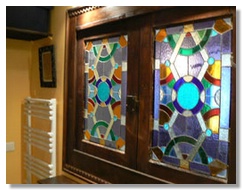 Here are the most romantic apartments you can find in le Marais. Most are run directly by private owners and we encourage you consider this when you make your choice – first you are welcomed like a friend, second you often benefit from special deals. Also, when you use our site, you are put directly in touch with the owners, who are very pleased to connect with you, rather than dealing through an anonymous agency. This is the new trend for upscale travel everywhere. You want to be treated personally when on your Parisian getaway, and apartment owners are more pleased to welcome individuals. So visit our site, make your selection and connect with the best apartments you can find in le Marais – all are listed here and new additions will be coming soon…

http://www.parismarais.com/visit-our-flats.htm

For example, 4 star studios equipped with computer, free adsl and free unlimited calls to the USA, march 10 to 22 start at 120 € per night (minimum 4 night rental).
---
LEARN FRENCH IN PARADISE
A CULTURAL VACATION … A unique French immersion program in the South of France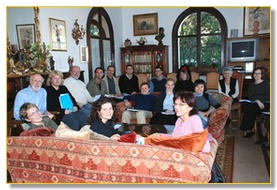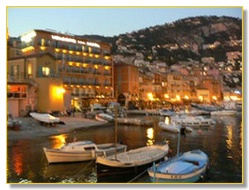 Instead of idling away the time lying on a beach or sitting in a café, why not live the intellectually invigorating adventure of learning to speak French together with fascinating people from all over the world? These can be a Dutch engineer working on a UN project, a Canadian journalist, a Swiss banker, a German psychiatrist, a Hollywood starlet and at one time, the Queen of Norway, Australia's former prime minister, a Canadian minister, Vidal Sassoon, etc.
This unique opportunity is offered by the Institut de Français in Villefranche-sur-mer, (the town next to Nice) a renowned school set in a breathtaking setting on the French Riviera, which runs an intensive program of 8½ hours a day, with 2 on-site meals, 5 days a week, all year round.
The results are impressive: first, because the teaching standard is top notch, secondly, the program is extremely varied, ranging from audio-visual classes, language lab, discussion-lunch (with a teacher) to practice sessions, linguistic games, songs, role playing in everyday situations, commenting on newscasts, commercials, a demonstration of crepe making, a presentation and tasting of cheeses, etc.
Add to that, the organized evening activities, most accompanied by teachers: cinema showings, going to the theater after having studied the play, meals at a restaurant, a full-day excursion in the hinterland, to renowned villages like St Paul-de-Vence, Grasse, the perfume center of France, etc. All this makes for a truly fulfilling, unforgettable experience!
Find out more and read about it in German too:
http://www.parismarais.com/education-language-schools.htm
---
Parismarais Newsletter
Parismarais Newsletter, March 2007 issue
Thanks to the following people for their contributions: Pascal Fonquernie, Thirza Vallois, Cara Scouten, Maxence Aulas, Lynda Sydney and the ParisMarais Team.
http://www.parismarais.com
mailto:info@parismarais.com
To Subscribe:
http://www.parismarais.com/parismarais-newsletter.htm
To Cancel Your Subscription:
http://www.parismarais.com/unsubscribe.htm
Copyright 2007, parismarais.com