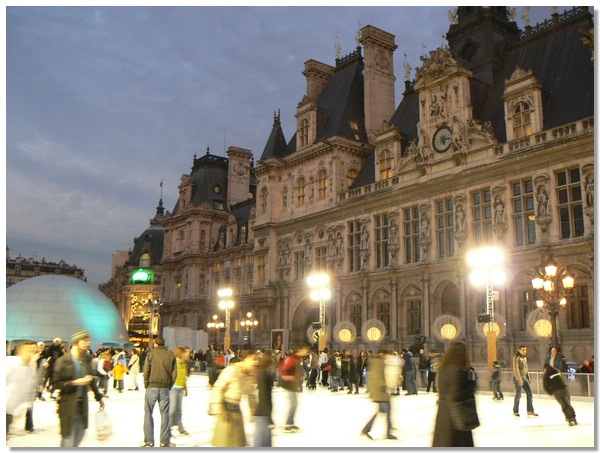 Ice-skating in front of Paris' City Hall
Parismarais Newsletter
Issue 22, February 2007
http://www.parismarais.com
The Month of Romanticism in Paris.
Bonjour Parismarais Readers,
What could be more appropriate than to name February the month of romanticism in Paris, the most romantic city in the world? And le Marais the most romantic area of all Paris – a district full of history and stories of romance, all from the golden age of the Marais. This month, we offer you a special treat with an excerpt from a book by Thirza Vallois, a top Paris expert.
Everyone deserves a little romance in their life, no matter which language they speak, and that's why the ParisMarais.com web site will soon offer many articles in French, English, Italian, German and Russian...
From all of us at ParisMarais.com, Happy Valentine's Day to the first million readers from around the world who have enjoyed our web guide!

Pascal Fonquernie
Editor
---
A ROMANTIC VISIT TO LE MARAIS
By Thirza Valois
Magnificence, arty stylishness, eccentricity, and a certain measure of cultural diversity combine to make the Marais one of the city's most exciting areas. A glamorous, aristocratic past completes the picture with beautiful architecture, sprinkled along the way with spicy stories of passion and romance. A stroll past some of the neighbourhood's shrines of love could be a stimulating starter for your Valentine's celebrations now coming up.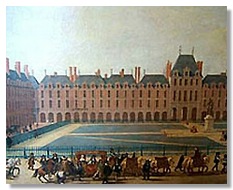 The crème de la crème lived on Place Royale (renamed place des Vosges, in 1800, after the first department to have paid its taxes to the young Republic). "The most beautiful quarter in the town of stylishness is the big square which can verily be said to be royal", as reported by the abbé d'Aubignac who lived in the 17th century, the golden age of the Marais. Among the residents of the square was Henri IV's former minister Maximilien de Béthune, Marquis de Rosny and Duc de Sully, who bought the palace at no. 7, now home to the Caisse Nationale des Monuments Historiques et des Sites. By then Sully was a fulfilled old man of 75, laden with titles and pensions. He liked to strut under the arcades or dance the pavan with young women of doubtful reputation, unaware of the outdated figure he cut in his Renaissance garb. Apparently he was open-minded enough not to mind being cuckolded by his young wife and went so far as to provide generously for the upkeep of her lovers. But he did not wish to bump into them on the main staircase, and had a separate one installed to his wife's apartments. His granddaughter, the Duchess of Rohan, lived across the square when she became widowed in 1655, upon which she rented the present no. 26, but wouldn't pay her rent. Despite her social position, she ended by being evicted, while her furniture was seized and piled into the square to await removal, in view of all. Not that anyone was particularly shocked. Living beyond one's means and getting into debt was an accepted way of life among the nobility no less than leading a loose or debauched life.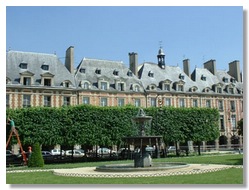 Marion Delorme, residing at no. 11, had no such pedigree, but gained access to the upper strata of society thanks to her charms. Cardinal Richelieu is said to have been one of her lovers, whom she visited twice, once dressed as a man. The second time the Cardinal gave her as a present a basket of sixty pistols, we are told by Talleyrand des Réaux, a notorious gossip. The somewhat younger Ninon de Lenclos also chose a life of gallantry, – "The triumph of vice conducted with wit", as the famous Duc de Saint Simon put it. Her wit and musical talent, allied with her sexual appeal, made her irresistible to the greats of France — the Maréchal d'Estrées, Gondi, Condé, Richelieu, the Sévigné (both father and son) – no one disdained her company and she welcomed them all into her generous bed, at 36 rue des Tournelles, north of Place Royale. The puritanical Anne of Austria, the wife of Louis XIII and mother of Louis XIV, was impervious to her charms and had her locked up at the Madelonnettes, a convent turned prison for repentant whores, despite her protestations that she was "neither a whore nor repentant!" As her sexual appetite waned with the passing of years, she presided over one of the city's literary salons and frequented the likes of Queen Christina of Sweden, Madame de Sevigné, Madame de Maintenon…
Madeleine de Scudéry had none of the requisites of a courtesan, and her home on the dark, narrow rue de Beauce on the northern side of the Marais, had none of the lustre of the more palatial hotels; but she was one of the enlightened women of her century and her 'salon' was a draw to the intellectual upper crust. Among them the philosopher Leibnitz who liked to communicate with her parrot which shared her gem of a garden with a warbler and a wren (hence the corner rue des Oiseaux). Love was on everyone's lips at her gatherings, though limited to its platonic expression, as reported by the amused Ninon, "They speak a lot about it but never make it." Nor were the members of the circle particularly alluring. Mademoiselle de Scudéry was by then an ageing woman in her forties… whilst her favourite suitor, Pellisson, was short, with "a hump which he carried on his shoulders […] His two legs were of unequal length, he was blind in one eye, and could not see with the other", according to writer Furetière. Molière was barely more sparing towards the women, those bas bleus ('bluestockings') he lampooned in his farce Les Précieuses ridicules.
Poet Scarron's house, at 56 rue de Turenne, was just as modest, yet the gatherings at his place were no less popular, "the meeting-place of the most polished members of the court and of all the great minds of Paris." Molière, La Fontaine, Lully, the Duc d'Orléans (the future Regent), all climbed up the steps of his modest house, bringing their own food in recognition of their hosts' slender means. 41-year-old Scarron was deformed and crippled, bed-ridden in excruciating pain. Impoverished 15-year-old Françoise d'Aubigné agreed to marry because the only other alternative offered to a girl in her condition was a nunnery. Ninon described the young woman as clumsy in matters of love, but she was already practical and clear-sighted. Once widowed, aged 23, she rose from the role of governess of Louis XIV's children to that of his official mistress, Madame de Maintenon, then his wife (though never Queen of France) – the only such case in French history. In the court of France, mistresses provided pleasure, the role of queens was procreation. The fact that the King nicknamed her 'ma solidité' sums up the secret of her success.
No less astonishing is the story of Cateau la Borgnesse (one-eyed Cateau). By all accounts she was hardly more attractive than Pellisson, who had the advantage over her of being a man, a brilliant academician, and the King's historiographer. Cateau was Anne of Austria's chambermaid and was married to an ordinary commoner Pierre Beauvais, a mercer by trade. It seems that the Queen had confided in her about her concern that her son Louis might take after his supposedly frigid father, Louis XIII. Thereupon, the chambermaid decided to take the matter in her own hands and promptly introduced the young King to the facts of life. In her gratitude, the Queen appointed her husband Councillor to the King and bestowed upon him the title of Baron. The couple was also granted a substantial sum of money to build the palatial mansion at 68 rue François Miron, in the southern part of the Marais. Her social betters did not fail to mock her for opening shops on the ground floor of her palace, but she wasn't bothered by the gossip and led a dissolute life, attended by a long list of lovers, who were just as unbothered by her unprespossessing looks. The palace has been renovated recently and can be appreciated from the courtyard. As you step in, give a thought to 7-year-old Mozart who stayed at the Hôtel Beauvais with his father and sister Nannerl in 1763/4, the guests of the Ambassador of Bavaria who lived there at the time. On 1 January the boy was introduced to the court at Versailles and acclaimed as a prodigy, but he was upset when they left, because Madame de Pompadour had not kissed him.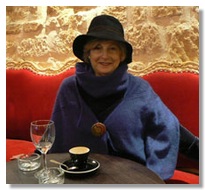 Thirza Vallois is the author of the internationally acclaimed 'Around and About Paris' series of books and 'Romantic Paris', not to mention the Paris entry to the Encarta Encyclopaedia. She has lived in Paris for more than 40 years and is an expert on all things Parisian. She lectures worldwide on Paris and France and contributes her comments to television, radio and the printed press. She has appeared on BBC, PBS, the Travel Channel, CNN, Discovery, the French Cultural Channel, has talked to scores of radio stations in the US and Britain, and has contributed articles to the Financial Times, United Airlines' Hemispheres, Condé Nast Traveller, and more. Her 'Three Perfect Days in Paris', commissioned for United Airlines' Hemispheres, won her the North American Travel Journalists' Association award and was aired as a film on United Airlines international flights and on television around the world. At present, she is completing a new book on the last hidden corner of France, the Aveyron, home to the recently opened Millau Viaduct, Roquefort cheese and other delights...
What the press had to say:
There are guides to every aspect of Paris, from museums and bars to sex and shopping — and then there are Thirza Vallois's extraordinary 'Around and About Paris.'
Anthony Sattins, The Sunday Times
I think we can safely toss all other Paris guidebooks aside. Paris is made for walking and Thirza Vallois's guides are made for Paris. They should soon achieve legendary status.
William Boyd, The Spectator
Here's to 'Around and About Paris.' On your next flight to Paris, don't leave home without it.
The Boston Book Review
A riveting tour history of Paris... an unpatronising, anecdotal, user-friendly walking guide to where, who and why of each building, park and street-name in Paris.
Boulevards
Entertaining at all times, and full of erudition and historical anecdote, she out-Baedekers Baedeker even at his best!
Francophonie
Treat yourself to this treasure.
Book List (The American Library Journal)
---
ROMANTIC HOTELS IN LE MARAIS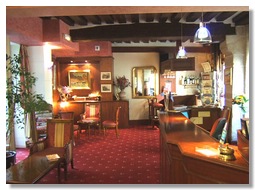 Hotel Saint Paul
Centrally located in the very heart of le Marais, Hotel Saint Paul offers 28 rooms in Louis Philippe country style, all with air conditioning, Wi-Fi access, double glazed windows for extra warmth and quiet, a meeting room, a large lobby, lovely garden and a breakfast room – all to help you enjoy your time at the hotel, as well as the wonders of the area. Just a few steps away is the magnificent Hotel Carnavalet, which now houses the historical museum of Paris – access is free and it is definitely worth a visit. There is also Musée Cognacq Jay dedicated to the 18th century, and the great Saint Paul Church, an example of pure baroque style. Facing the hotel is the beautiful Hotel de Chavigny, now home to the local fire brigade which hosts one of the most popular Bastille Day parties every year. On rue de Sévigné and rue des Francs Bourgeois just on the next corner, are hundreds of chic boutiques and sumptuous spots to have lunch. You'll soon realize that Hotel Saint Paul is really the place to stay for great fun in le Marais.
8 rue de Sévigné
75004 Paris
Tel: +33 (0)1 48 04 97 27
Fax: +33 (0)1 48 87 37 04
Metro: Saint-Paul
Book online http://www.parismarais.com/3-star-hotels-in-le-marais-paris.htm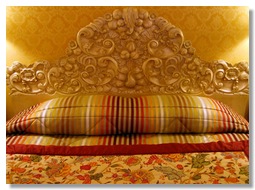 Hotel Beaubourg
Located just behind the "Pompidou Center" with its contemporary culture and the exciting entertainment of the area, the Hotel Beaubourg will cater to your every want and need. It is centrally located, right in the middle of Le Marais. Hotel Beaubourg offers all the amenities for a comfortable and enjoyable stay: air conditioning, high quality beds, the calm of a quiet street, Wi-Fi access at the desk and an efficient staff who are ready to answer your questions, any time of the day or night. The Hotel Beaubourg has 28 rooms, most overlooking a charming, flowered courtyard, and some rooms even have a private garden terrace. The décor is different in every room, so you can choose your favourite for your next visit. All rooms have a private bathroom with a tub or shower, direct telephone line, satellite TV and mini-bar.
11 rue Simon le Franc
75004 Paris
Tel: +33 (0)1 42 74 34 24
Fax: +33 (0)1 42 78 68 11
Parking at Beaubourg and Hôtel de Ville
Metro: Châtelet or Hôtel de Ville or Rambuteau or Les Halles
Book online http://www.parismarais.com/3-star-hotels-in-le-marais-paris.htm
Hotel Jacques de Molay
Welcome to a 400 year old home, completely renovated in 2004. Hôtel Jacques de Molay, on rue des Archives just a short walk from the Archives Museum, is an experience in its own right. Enjoy a friendly and warm atmosphere in a medieval inspired décor tempered with Provençal styling.
It features 23 exquisite rooms where the modern world subtly finds its place… superb colourful bathrooms, satellite TV, Internet access and mini-bar. Enjoy a great breakfast buffet after a workout in the private fitness club with sauna, hamman, hydrojets showers or simply relax in the lounge bar. We can host private parties as well as business conferences.
93 rue des Archives
75003 Paris
Tel: +33 (0)1 42 72 68 22
Fax: +33 (0)1 42 72 00 41
Metro: Temple
Book online http://www.parismarais.com/3-star-hotels-in-le-marais-paris.htm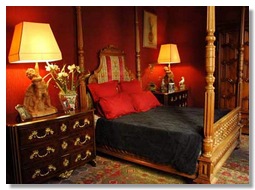 The Marais Guesthouse
The Marais Guesthouse is not a hotel, more of a cross between a hotel particulier and a prestige bed and breakfast. But it qualifies amply for our 4 lys category. Yann-Gabriel Hentschke's meticulously restored interior breaks the mold—and positively exudes attitude. He lovingly tracked down the raw materials to transform a derelict shell into a chateau-in-miniature. There are stone floors, and furniture brought back from Poitiers and Loire Valley. The fireplaces date mostly from the same era. Carefully selected antiques complete the effect, and go some way towards explaining the owner policy of disclosing the exact location when guests reserve.
Tel: +33 (0)6 16 13 39 90 or +33 (0)1 42 74 61 36
Book online : http://www.parismarais.com/4-star-hotels-in-le-marais-paris.htm
---
ROMANTIC SHOPS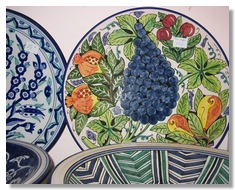 Les Comptoirs de Carthage
Throughout time, Tunisian artisans have created useful objects for daily life. They primarily used those materials available in their environment, such as wool and silks, olive wood, copper, clay, glass, and alpha grass. These objects, while both useful and beautiful, played an important role in the family economy. They were often sold or swapped at « Souk », the village weekly market day. Modern life inevitably brought changes in social and economic structures, distancing the hand that creates from the hand that buys. The Comptoirs de Carthage and their craftsmen bring you this world of authentic goods made with noble materials from generations of skilled knowledge. Hand-woven hammam wraps from 12€, ceramic plates from 6€, rural pottery from 12€.
27 rue de Picardie, 75003 Paris
Tel: 08 72 29 37 36
Fax: 01 48 04 37 37
Metro: Temple
http://www.parismarais.com/decoration-and-design.htm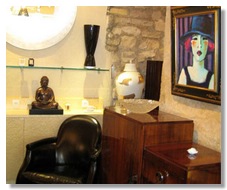 Cosy Cocoon
With its brick and stone walls, beams, and vaulted lower-level, Cosy Cocoon is a very charming boutique in the heart of the Marais where Genevieve and Fanny display art deco furniture discovered in flea markets all over France. Dishware and vases decorated by hand, Jean Cocteau porcelain, jars designed by Kenzo…
You will also find crystal light fixtures that sparkle like jewelry, silver leaf mirrors, plus various gift ideas including leather and steel for men, lead crystal and sequins for women…as well as portraits by Daniel Timmers and elegant paper artwork by Elisabeth Loesch. Aces of Heart cups at 14 €, surprising light fixtures from 95 € ... Everything is cosy at Cosy Cocoon, a treat for the senses as well as a treat for oneself.
13 rue des Blancs Manteaux, 75004 Paris
Tel: 01 42 71 21 71
Fax: 01 42 71 08 60
Metro: Hotel de Ville
http://www.cosy-cocoon.com
mailto:info@cosy-cocoon.com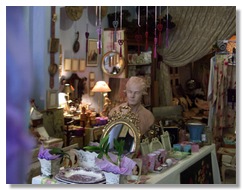 Le Boudoir et sa Philosophie
Carla Vizzi invites you to discover the first Boutique Museum of Living History. The Boudoir Philosophy allows you to rediscover the Art of Living in the 18th-century around the daily activities of the Boudoir. Carla works with manufacturers and craftsmen who make copies of 18th century art, and sells both antiques and re-creations of classical necessities. Made to order paintings and portraits of your favorite cat, in an 18th century spirit, are but one of the many possibilities of artwork she can create for you. Open the door and step into a baroque exploration of intimate Parisian life.

Le Boudoir et sa Philosophie
18 rue Charlot 75003 Paris
Tel: 01 48 04 89 79 carlavizzi@yahoo.fr
Metro: Filles du Calvaire or Temple.
Tuesday to Saturday from 2 p.m. to 7.30 p.m.
---
WHERE TO START YOUR ROMANCE
If you're a single man looking for a single woman
Café du Trésor
7 rue du Trésor 75004 Paris
Tel: 01 42 71 10 72
On a pedestrian street in one of the smartest places to see and be seen…have drinks and enjoy live DJ's, a fashionable ambiance and a very good-looking crowd. Open noon until 2 a.m.
The Auld Alliance
80 rue Francois Miron 75004 Paris
Tel: 01 48 04 30 40
This is one of the few pubs to have a licence until 4 a.m. on weekends (most bars in France cannot stay open later than 2 a.m.). A good selection of Scottish, Irish and British beer and a very friendly Anglophone crowd, of course. Happy hour from 6 p.m. to 8 p.m.
Or use PARISMARAIS SMALL ADS TO MEET YOUR MATCH!
http://www.parismarais.com/free-personals-men-seeking-women.htm
If you're a single man looking for a single man
Les Piétons (tapas bar)
A taste of Spain in Paris. Very friendly with a small terrace
8, rue des Lombards, 75004 Paris
Métro: Hôtel de Ville
11 am to 2 am daily
Open Café (café/bar)
17, rue des Archives, 75004 Paris
Métro: Hôtel de Ville
Phone: 01.48.87.80.25
Lunch Monday to Friday 11 am to 2 pm, café/ bar daily 11 am to 2 am happy hour 6 pm to 8 pm
Le Carré ( lounge bar )
One of the few places with space, comfortable chairs and a pleasant modern decor.
18, rue du Temple 75004
Métro: Hôtel de Ville
11 am to 2 am daily
Les Marronniers (café terrace)
Best drink is their hot chocolate!
Rue des Archives 75004
Métro: Hôtel de Ville
9 am to 2 am daily
Or use PARISMARAIS SMALL ADS TO MEET YOUR MATCH!
http://www.parismarais.com/free-gay-personal-ads.htm
If you're a single woman looking for a single man
Or use PARISMARAIS SMALL ADS TO MEET YOUR MATCH!
http://www.parismarais.com/free-personals-men-seeking-women.htm
If you re a single woman looking for a single woman

La Champmeslé
4 rue Chabanais
75002 Paris
Tel: 01 42 96 85 20
Metro Pyramides or Palais-Royal or Bourse
Monday to Thursday, 3 p.m to 3 a.m., Friday & Saturday 3 p.m. until dawn
Closed on Sundays
Or use PARISMARAIS SMALL ADS TO MEET YOUR MATCH!
http://www.parismarais.com/free-gay-lesbian-personal-ads.htm
---
ROMANTIC APARTMENTS IN LE MARAIS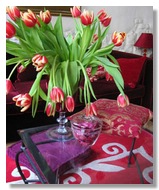 ..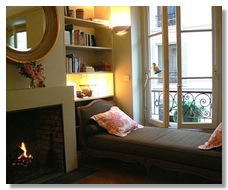 ..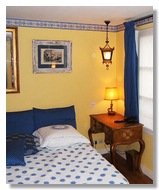 Here are the most romantic apartments you can find in le Marais, most of them are run directly by private owners and we encourage you consider these criteria when you make your choice…first you are welcomed like a friend, second you often benefit from special deals, then when connecting through our site you are put directly in touch with the owners, who are very pleased to connect with you, rather than dealing through an anonymous agency. This is the new trend for upscale travel everywhere. You want to be treated personally when on your Parisian getaway, and apartment owners are more pleased to welcome individuals. Make your choice and connect with the best apartments you can find in le Marais – all are listed here and 10 new additions will be coming soon…
http://www.parismarais.com/visit-our-flats.htm
---
ROMANTIC AND SMOKE-FREE PARIS... AT LAST!

The sad news is that 66,000 French die each year of diseases related to smoking. The good news is that finally, the French government has decided they would save us more money by cutting hospital bills than by taking 80% of cigarette sales in taxes. The average price of cigarettes in France is about 5 euros for 20 cigarettes. If someone smokes one pack a day it means 365 x 5 = 1825 euros, or 1500 euros lining French government pockets. This is the equivalent of the cost of a one week stay in hospital, paid at 100% by our generous social security health system!

Starting February 1, smoking is forbidden in France in all public places, offices, shops metro trains and every place that is open to the public. Only in bars and restaurants will smoking be allowed for one more year, with smoking and non-smoking sections still in effect. But in 2008 smoking will be banned in all bars and restaurants everywhere in France, just like in Ireland and Italy who are successfully following this new European trend. Very good news for all of us, especially our American visitors.

By the way, do you know which hotel is the most successful in le Marais, getting the most bookings with us? It is Villa Mazarin, the first completely non-smoking hotel in le Marais. Mr. Perkins, the manager, made a very good choice when opening it two years ago…

Book online http://www.parismarais.com/4-star-hotels-in-le-marais-paris.htm
---
ROMANTIC VIEW FROM A NON-ROMANTIC BUILDING
The Pompidou Center is celebrating it's 30th birthday this year. Opened in 1977, it was then called the oil factory in the heart of le Marais. What most people forget is that it greatly contributed in making this area the most tourist one in Paris, as well improving its gentrification.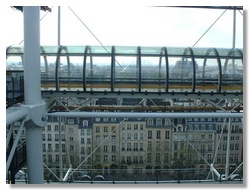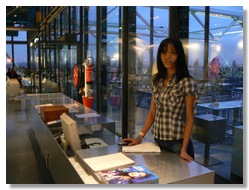 I can remember when I was a kid, my parents said "Don't go to Les Halles – it's dangerous, and full of prostitutes, the streets are dirty…." That was true. At that time nobody wanted to live there, rue Saint Martin and rue Saint Denis were the most unwanted streets in central Paris. Today, the purchase price is no less than 7000 euros a square meter to buy. Now people are fighting to live there even if building prices are over estimated considering their condition.
But the Pompidou Center is worth a visit, even if you don't like modern art. You can at least go for a drink, high tea or dinner at Georges, run by the Costes Family, who also own many of the top locations in Paris, such as Café Beaubourg and Hotel du Bourg Tibourg. To avoid paying the museum entrance fee, access the top floor by entering via the lift on the north side of the plaza and say you're going to "Georges" – the door man will let you go up, direct for free.
YOUR ROMANTIC PARIS EXPERIENCE?
Please write to us with your most romantic (or sexy) Paris experience. We will publish the 10 best stories we receive! If you're planning to become a journalist, why not have your start with us!
---
Parismarais Newsletter
Parismarais Newsletter, February 2007 issue
Thanks to the following people for their contributions: Pascal Fonquernie, Thirza Vallois, Cara Scouten, Lynda Sydney and the ParisMarais Team.
http://www.parismarais.com
mailto:info@parismarais.com
To Subscribe:
http://www.parismarais.com/parismarais-newsletter.htm
To Cancel Your Subscription:
http://www.parismarais.com/unsubscribe.htm
To receive more news about Paris, subscribe to Parler Paris Newsletter and twice a week you will receive the latest information, events, tips, and details about what's new in the French capital, written by Adrian Leeds, our real estate specialist and a long time resident of Le Marais. Visit www.parlerparis.com
Copyright 2007, parismarais.com