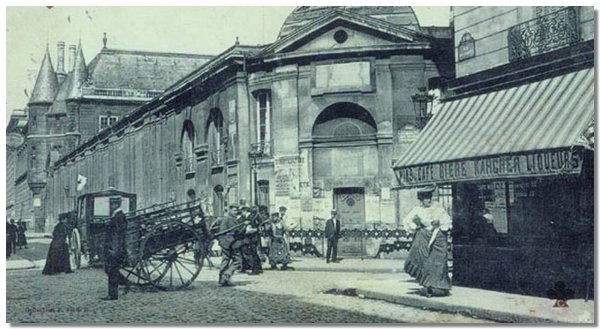 Rue des Archives in 1900 © Parimagine
Parismarais Newsletter
Issue 19, November 2006
http://www.parismarais.com
PHOTOGRAPHY AND ART IN LE MARAIS.
Bonjour Parismarais Readers,
November is THE month of photography in Paris. It is also the month when many cultural events take center stage, one of the most popular being FIAC, the modern art fair. It would virtually take this whole newsletter to list all there is to see in our wonderful city, so here's a small selection. We begin with vintage photography from Parimagine, the art you can buy and bring back home. This is your chance to see a vision of Le Marais of yesterday…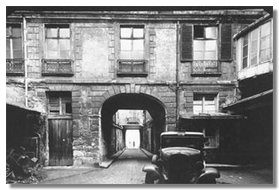 ....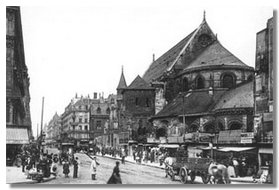 The first thing you'll want to do this month is check ou the Museum of Photography, where you'll be enchanted by the architecture as much as by the exhibitions. See more in our museum section…
http://www.parismarais.com/paris-le-marais-city-tour.htm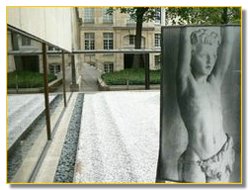 .......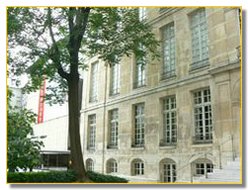 Then take a stroll down the north Marais streets to discover all the treasures to be seen in the many art galleries. Within just a couple of square miles you can find more history, art, good restaurants and fun places for a night on the town than in most cities. In fact, Le Marais is the epitome of what Paris has to offer…and that's why we love it so much!
à la prochaine

Pascal Fonquernie, Editor
---
HISTORIC PHOTOGRAPHY
The Parimagine editions have created a collection, Mémoire des rues, to encourage Parisians and all those who love the City of Lights to learn more about the various quarters and their unique atmospheres. The pictures will encourage you to understand Paris' cultural heritage, and invite you to look at the city in a whole new light.
The collection Mémoire des rues from Parimagine editions presents photographs and texts featuring the 3rd and 4th arrondissements at the beginning of the 20th century.
The 3rd arrondissement at the turn of the century: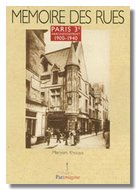 When flipping through the book about the 3rd arrondissement you will take an imaginary stroll through the north end of le Marais, the Grands Boulevards, the market of the Carreau du Temple, where you will see many second-hand clothes dealers, and the market of the Enfants Rouges, the oldest market place in Paris. You'll imagine yourself dancing to the accordion of the "bals musette" on rue au Maire, rue des Vertus or in the Strasbourg-Saint-Denis area, or coming across a big square, the Place de la République, the cour de Rome, the church of Sainte-Elisabeth and the synagogue of the rue Notre-Dame-de-Nazareth, the passage Molière and the passage of the Pont-aux-Biches. See the beautiful mansions of the Marais, the oldest Parisian houses, the stair maker of the rue Montmorency, the hosiery shops of the rue Saint-Martin and the painting sellers of the boulevard "Sebasto", the girls from the rue Quincampoix, the dressmakers of the rue du Temple, the coal sellers and the cafés of the rue Meslay. All in all, 250 photographs and as many surprises!
The 4th arrondissement at the turn of the century: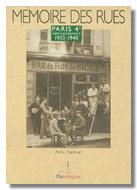 With the book on the 4th arrondissement, you will travel from the secluded quarter of Notre-Dame to that of Saint-Merri or from the smart district of l'Arsenal to the working class area of Saint-Gervais. You will go back a hundred years when flipping through this book, to discover the private mansions of le Marais, the maze of narrow streets that existed before the Centre George Pompidou was built, the nurses of the Place des Vosges, the fruit and vegetable peddlers of the rue Saint-Antoine, the fishermen of the quai des Célestins, the bird market of the quai aux Fleurs, the astronaut of the Place de la Bastille and the clothes sellers of the rue Simon-Le-Franc. You will get a view of old cafés, such as Au Canon de la Bastille or the Bar du Roi de Sicile and of old cinemas, such as the Cinéma Saint-Paul or the Cinéphone Saint-Antoine. You will also discover the Jewish quarter, the Pletzl, and the rue des Rosiers with its beautiful shop signs and its inhabitants, who held endless conversations in Hebrew. This book features 250 photographs, all unique and delightful!
To see these wonderful books and order them online, visit the Parimagine editions website where you will also find other books on Paris and lots of printings of old postcards.
http://www.parimagine.com
contacts@parimagine.com
---
CHAMPAGNE CITY
As you well know, any time is the perfect time to drink champagne in France. And one of the best occasions we know is to celebrate the pleasure we take in living in le Marais, Paris' most beautiful district.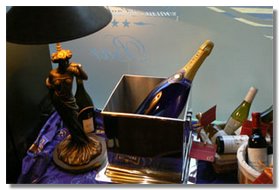 ......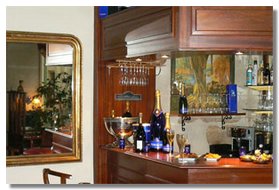 Many bars in le Marais offer champagne, even by the glass, for a very reasonable price. Hotels enjoy serving champagne, and one even decided to launch its own champagne bar in the lobby… Hotel Saint Paul on rue de Sévigné, just facing the Marais fire station. As the hotel manager said, « The most attractive tourist part of Paris is not only cultural. We have many clients who come to the hotel just to be able to watch the sexy firefighters working out in their shorts every morning… »
Now there is another good reason to stay at Hotel Saint Paul -- the Pomery Champagne Bar. And if you're getting a bit tipsy, it is comforting to know that you can be saved in a second…. !
Pomery Champagne Bar at Hotel Saint Paul ***
Open to the public from 6 p.m. to midnight, and to hotel clients at any time.
---
ART GALLERIES
Anselm Kiefer at Galerie Thaddaeus Ropac
Yvon Lambert & Galerie Thaddaeus Ropac have joined forces to promote a fantastic artist, Anselm Kiefer. This exhibition is to celebrate the gigantic paintings inspired by poet Paul Celan. Beautiful landscapes from the Salzburg region include surprising elements that come right out of the painting.
See it for yourself at Yvon Lambert Galerie, 108 rue vieille du Temple, 75003 Paris and Thaddaeus Ropac, 7 rue Debelleyme, 75003 Paris - http://www.parismarais.com/3-star-hotels-in-le-marais-paris.htm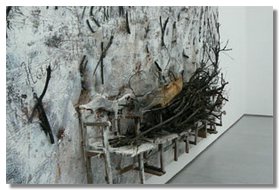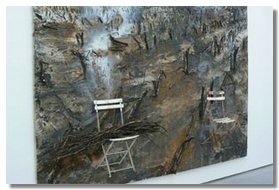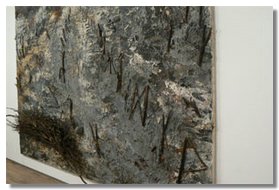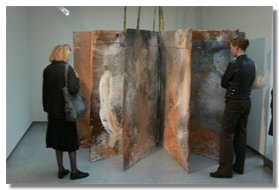 Yvon Chemin Magnificent Wooden Sculptures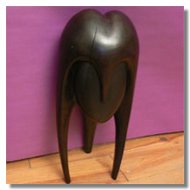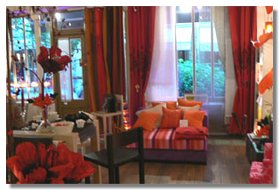 You won't want to miss this exhibition at Buzz Deco Gallery, just opposite Café du Trésor. This is art for every day at affordable prices. Visit before December to be sure you get yours!
8 rue du Trésor, 75004 Paris
Tel: 01.44.54.80.26
Fax: 01.44.54.80.27
Metro: Hotel de Ville or Saint-Paul
Parking Hotel de Ville
http://www.buzzdeco.com
buzz@buzzdeco.com
---
GOURMET GOODIES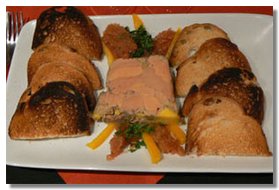 Foie gras for the price of fast food…
Bright colors, stone walls and a fresh design welcome you for lunch or dinner. Amisphère offers a plat du jour starting at only 9€, a new dish every day, and innovative ways of improving traditional French recipes to suit the tastes of today and everyone's pleasure.
Every evening, Amisphère offers a new intimate atmosphere and a choice of inventive gourmet dishes such as pot au feu at 13€, tartare topped with foie gras at 20€, grilled duck with rapsberry spicy sauce, frog legs with Pastis, and to finish, tarte tatin or crêpes-cake with vanilla sauce. A wonderful selection of red wines from only 13€ per bottle and Bordeaux grands crus at 59€. Of course, you'll want to start with the homemade foie gras at only 13,50€!
Amisphère
64, rue Charlot 75003 Paris
Tel/Fax 01.42.77.34.10
Monday to Saturday 8 .a.m. to 4 p.m. and 6 p.m. to 1 a.m.
A treasure to discover…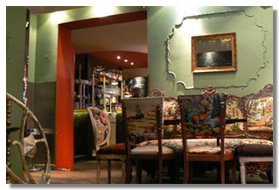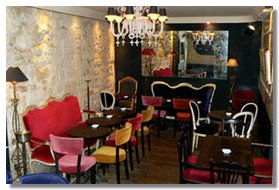 Discover the new and warmer atmosphere where you are surrounded by gold accented mirrors and colorful velvet sofas. The « new » Trésor is neo-baroque and divine, offering creative French and Italian cuisine at affordable prices. Try the «Mille feuille d'aubergine et parmesan », « Penne à la Norma » or « Rigattoni with Pesto ». The «Poulet roti cuit dans son jus et purée maison » is a must in French traditional recipes. Even more seductive is the « Piccata de veau au citron ». The « Bar Grillé » (cod) is also a must. To finish, don't miss the homemade crème brulée or the panna cotta, an Italian classic. There are very few restaurants where you can eat out in such a beautiful decor for around 35€, so don't hesitate to discover the Trésor – a treasure for the palate and the eyes.
Le Trésor
7 rue du Trésor, 75004 Paris
Tel: 01.42.71.35.17
Metro: Hotel de Ville
Best Italian value in le Marais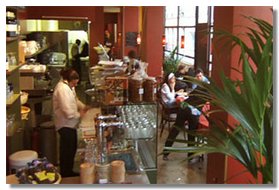 A victory for good food and traditional taste! Innamorati means falling in love…and you are sure to fall for Salvatore's cuisine. Every dish is served in a "cocotte" that holds enough food for four, but it's all for you! Try the wonderful Pasta Nera with Shrimps, the Antipasti Cocktail with Dried Tomatoes, Parma Ham and Artichokes to start, and to finish, homemade Tiramisu, Lemon Tart or Black Forest Cake with Amaretto. The three-course menu and half bottle of good Chianti wine is only 30€ per person, making this one of the best spots for good taste and value in Le Marais. The special lunch menu is even more affordable: one main course with coffee and drinks for just 15€, and all main dishes are only 10€ each to take away. You can also buy a great selection of Italian wines and specialities to take home. You will receive a glass of Chianti or Champagne if you say you were recommended by Parismarais.com! Don't forget to ask for it!
Innamorati Caffé
57 rue Charlot, 75003 Paris
Tel: 01.48.04.88.28
Open from noon to 3 p.m. and 7 p.m. till midnight
Closed on Sundays and Mondays
Please check our restaurant guide : http://www.parismarais.com/selected-restaurants.htm
---
GAY MARAIS
Gay & Lesbian Film Festival of Paris
From November 14 to 21, 2006
Unreleased films, short movies and many classics to re-discover in Paris' most beautiful cinema – Le Rex - Rex, boulevard Poissonière, 75002 Paris
Metro: Bonne Nouvelle
Fund-raising Calendar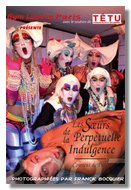 The French sisters calendar...not only hilarious, but useful. Do a good deed for only 10 euros.
This fundraising calendar was produced by the Sisters of Perpetual Indulgence to support AIDS charities. It will be sold almost everywhere in November in preparation for the World AIDS Day on December 1.
To get your copy dedicated and signed by the French sisters, visit the Gym Louvre Sport Club on Friday, December 1 from 7 p.m. to 10 p.m. If you can't make it, get your copy at Les Follivores at the Bataclan on Saturday, December 2.
The calendars will be sold to support Basiliade, a project to help with accommodations for HIV-positive people with challenges.
An expo will also take place at Blue Book, the gay library in le Marais.
If you're not in Paris and want to order one, please write to:
Les Soeurs de la Perpétuelle Indulgence
30 rue de la Mare
75020 PARIS
Gay Guided Tours by Paris Gai Village


Parisian give answers to all your questions about the real gay Paris. They love their city and want to share it with you. They wish to welcome you, at the meeting desk, and to help you discover the cultural and alternative side of gay Paris. Learn about gay history, places and cultures of Paris with guided tours organised by Paris Gay Village.
November 4th & 12th
Check online: http://www.parisgaivillage.com
Favorite gay places to go out..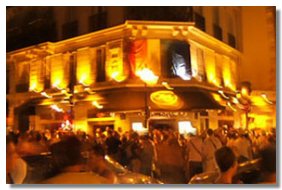 Open Café
Open Café - In the words of any good real estate agent it's all about location. Smack dab on the corner sprawls the Open Café offering affordable lunch snacks and drinks until the legal closing time, 2 a.m. Everyone goes there at one time or another, but they might not admit it. For the gay visitor to Paris, this is the local meeting point and there is no place in le Marais where you can meet such an international and sexy young crowd – including the friendly bar tenders!
Raidd Bar
The Raidd Bar serves a unique purpose that Parisians like to call a « before. » With the intention of opening a nightclub, the Raidd has comfortably inhabited the before role since November 2003 with a great deal of gusto.
Modern, efficient and sexy, the boys (and their friends) flock here after dinner (or before) to start their soirée de danse where four times each night they are given a show of go-go boys taking showers à la Splash in New York. An exceptional effort has been made in the décor, sound system, plus imported and local DJs to start the evening right.
The demi-club status is because the focus is not only on dancing but also about schmoozing or watching the go-go boys before going out to dance. That being said, the Raidd Bar stays open until 4 a.m. for those who choose to stay and boogie. It is certainly the premier bar of this type in Paris and in le Marais. Tuesdays are retro from the 70s to the 90s and Thursdays go Latin with a tapas – and topless – bar included. Check out the most sexy muscle men you can meet in le Marais: http://www.raiddbar.com/
Gym Louvre
Relaxation and well-being in the heart of Paris…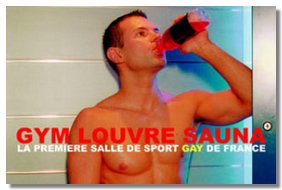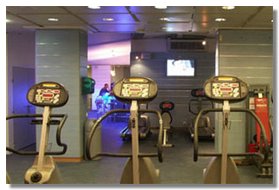 Pleasure and fitness have finally come together…and you'll find them at Gym Louvre. Welcome to Paris' one and only gay gym. Enjoy 700 square meters of fitness equipment…and 700 square meters of fun for cruising and safe pleasure. Three top professional coaches can help you quickly achieve your dream body. Gym Louvre offers cardio training, 50 different machines, free weights, diet consultation, a fitness shop and protein bar. Gym Louvre is also one of the few fitness clubs that lets you join on a daily basis – great when you're in Paris for just a week or two and don't want to buy an annual membership.
Prices and special parties are listed online, visit www.gymlouvre.com
Les Bains Montansier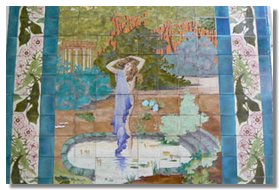 Just next to the Medieval castle of Vincennes, home of King Saint Louis, just 15 minutes away from le Marais by Metro line 1, les Bains Montansier is a great place for anyone and everyone to unwind. Non-pretentious men dedicated to bears and those who love them. Here, all ages and physiques are welcome as long as they are masculine and friendly. Michel and Alain and their team will greet you in a place where you can socialize and have great encounters if you like. A big screen TV, snacks and bar, Hammam, 2 saunas, relaxation rooms, air conditioning. You will be well-received in a warm and butch atmosphere every day from noon to 8 p.m. or as early as 9:30 a.m. on Saturdays and Sundays, if you would like to relax before visting the wonderful woods of Vincennes and the castle in the afternoon.
La Champmeslé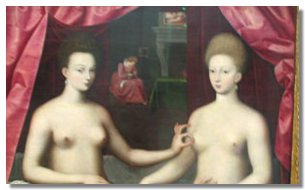 La Champmeslé was the first girl bar to open in the late seventies. Today, it is still an institution, and one of the most popular and friendly lesbian bars. Josy and her team welcome you in a warm and cozy atmosphere where you'll feel right at home, meeting French girls as well as an international crowd. Every night offers a different atmosphere: Thursday is cabaret evening with great shows, Tuesday is a mystic evening with clairvoyant experiences, weekends are festive and busy until dawn. This is definitely the first place to go when starting your "Paris for Girls" tour!
4 rue Chabanais, 75002 Paris
Tel: 01.42.96.85.20
Metro: Pyramides or Palais-Royal or Bourse
Monday to Thursday 3 p.m to 3 a.m., Friday and Saturday 3 p.m. until dawn – closed Sundays.
Le Tango
Le Tango dance hall plays its part in the very convivial mood of the nights at La Boîte à Frissons. This ballroom has kept the old-fashioned charm of yesterday's popular dance halls: wooden dance floor, tables and seats surrounding the dance hall, decorations from the fifties, subdued lighting and a sound system designed so it is always possible to hear your neighbour clearly.
The evening starts at 10:30 p.m. with a long sequence of couple dancing. This is without a doubt the most surprising moment at La Boîte à Frissons, and probably a world exclusive! Couples of boys and girls carry on with Waltz, Tango, Paso Doble, Polka, Rock 'n' Roll and Cha Cha dances. Around 12:30 a.m. comes the fetish moment for the regular customers, which is a sort of ritual at La Boîte à Frissons: The Madison Dance Program. This line dance usually packs everybody on the dance floor and it marks the beginning of the second part of the night. The disco music begins then, and all kinds of music is played until 5 a.m. So Parisian and so unique!
Le Tango
13, rue au Maire, 75003 Paris
Metro: Temple - Art & Métiers
http://www.tangoparis.com
Every night from 10:30 p.m. untill you're kicked out!
Shows at 1:00 a.m. some special evenings.
---
CHIC & SEXY
Philéa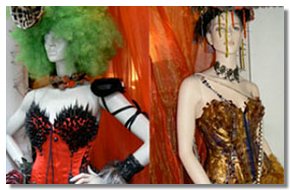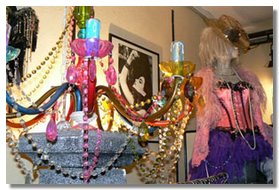 Opened in 1989, Phylea was and still is the first fetish boutique to combine elegance, haute couture and fantasy. It is an institution, well known by Parisians as the place to shop for clothes you've always desired secretly in your dreams. Phylae is the ancient Egyptian goddess of love, giving the shop its name, and it is completely dedicated to love and imagination. Many of the costumes made by Phylea have been used in advertising commercials or ordered made to measure by some popular international artists and singers. Leather, rubber, vinyl and silk are mixed together perfectly to form unique creations such as corset dresses and even more extravagant outfits. Fetish fashion has one advantage above other fashion: it's stylish and long lasting, an investment in pure pleasure for anyone who dares. If Parisians are doing it, why shouldn't you? The designs may be outrageous, but the prices are not – a full rubber dress starts at only 300 euros. So please yourself!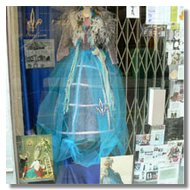 Customisee par Liza
Baroque delirium at Liza's. The Queen is on the screen, it's also revamped by Liza at 59 rue Charlot.
Liza is actually preparing our glamourous clothing collection PARISMARAIS COLLECTION BY LIZA. It will be a hit in the U.S. and in South America where Liza has great connections. Until it is complete it will appear on the shoulders a few VIPs in the fashion industry. Liza was selected in the TOP 5 by Paris Capitale de la Creation for her windows and creativity.
59 rue Charlot, 75003 Paris
To discover more fun shopping for all in le Marais check out this article we produced in partnership with ELLE http://www.parismarais.com/fashion-guide.htm
---
DISCOVERING LE MARAIS
By Richard Nahem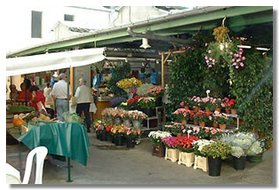 Le Marche des Enfants Rouges
Le Marche des Enfants Rouges is the oldest food market in Paris, built in 1615 under the rule of King Louis XIII. The name literally means " Market of the Red Children" and in my research all I found was that the name comes from a nearby 17th century orphanage where the children wore red uniforms. What that has to do with the price of cabbage, I don't know, but the name has a mysterious, romantic air to it.
Located in the chic northern part of the Marais, Le Marche des Enfants Rouges is a compact indoor market with a small iron-gate entrance that's easy to miss if you aren't looking for it. I arrived in the late afternoon and was starving for lunch. The nice thing about the market is that many of the stands sell fresh prepared food that you can eat on tables with cheerful plastic tablecloths spread out through the market. The heavenly aroma from an Asian food stand seduced me and I chowed down on a delicious dish of Asian–style chicken nuggets with seaweed salad.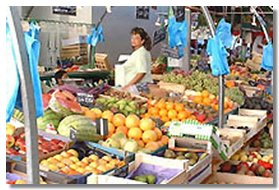 The market was quiet as I walked around and smelled the bouquets of vibrant flowers, marveled at the wide selection of obscure wines, admired the gorgeous bounty of organic pumpkins, tomatoes, cauliflower, and other richly colored fruits and vegetables, and savored the treasures of a stand with fresh pasta, Italian olives and extra virgin olive oil. Some of the other stands had a great selection of fresh seafood, meat and charcuterie, and French and imported cheeses.
I was just about to start filling my basket so I could whip up a delicious dinner but darn!, I already had dinner reservations.
Le Marche des Enfants Rouges
39 rue de Bretagne
Hours: Tuesday, Wednesday, Thursday: 8:30 a.m. to 1 p.m. and 4 p.m. to 7:30 p.m., Friday, Saturday- 8:30 a.m. to 1 p.m. and 4 p.m. to 8 p.m., Sunday: 8:30 a.m. to 2 p.m.
Metro: Filles du Calvaire or Temple
| | |
| --- | --- |
| | Richard Nahem is an American expat who moved to le Marais one year ago. He created « Eye Prefer Paris » to share with you his passion for Paris and le Marais. Visit his blog -- it's great ! |
---
LAST MINUTE RENTALS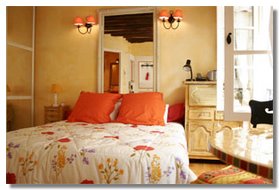 Still haven't planned your Christmas shopping in Paris? Well, now is the time to book and enjoy mid-season prices until December 15.
You can easily receive 20% off most hotels and apartment rentals in November, so don't hesitate to ask.
How about this charming « Le Provençal » studio with everything you can imagine – adsl, cable TV, computer, unlimited free calls to Europe and the U.S., all for only 105 € per night on a short term basis… and save even more if you stay for over a month ! Email rent@parismarais.com
---
Parismarais Newsletter
Published each month by Pascal Fonquernie, Lynda Sydney and the ParisMarais Team.
http://www.parismarais.com
mailto:info@parismarais.com
To Subscribe:
http://www.parismarais.com/parismarais-newsletter.htm
To Cancel Your Subscription:
http://www.parismarais.com/unsubscribe.htm
To receive more news about Paris, subscribe to Parler Paris Newsletter and twice a week you will receive the latest news about the French capital, written by Adrian Leeds, our real estate specialist and a long time resident of Le Marais. Visit www.parlerparis.com
Copyright 2006, parismarais.com