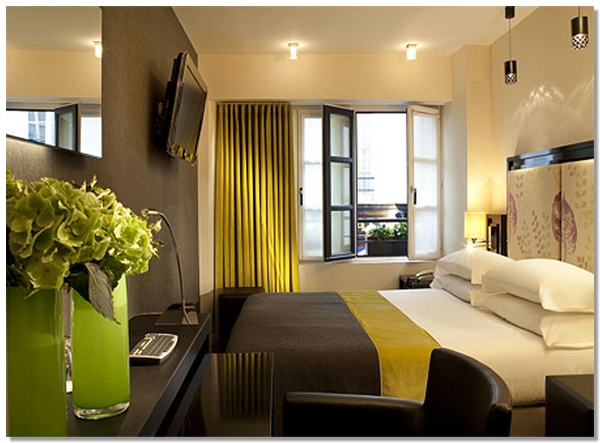 A new Boutique Hotel in le Marais: Hôtel Caron

Parismarais Newsletter
Issue 58 October 2009
http://www.parismarais.com
---
DISCOVER EUROPE'S BEST HOTELS AT THE BEST PRICES
---
ALWAYS SOMETHING NEW TO DISCOVER IN LE MARAIS
Bonjour Parismarais readers,
October is a wonderful time to visit Paris. The autumn air is perfectly crisp, the cafés are warm and welcoming, and there is so much to see and do, we hardly know where to begin! This month, the City of Light is bustling with trade shows, fashion shows, art exhibitions and a multitude of cultural events not to be missed.
Paris certainly deserves the distinction of being the most visited city in the world. Many people prefer to travel to the French capital in the fall, making October one of the busiest months of the year—and that means many hotels are booking fast. If you're planning a visit to Paris this autumn, we invite you to check out the Parismarais.com web site for our selection of the best boutique hotels.
One of our newest is the fabulous Hôtel Caron which opened this past August.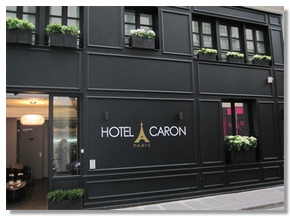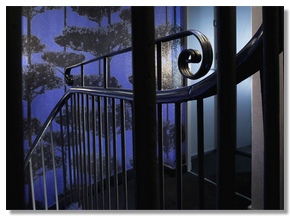 The Hôtel Caron is one of the new generation of luxury "Designer Boutique Hotels", offering the latest in French refinement and elegance in a cosy, historic setting.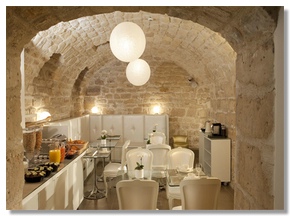 Classed as a 3-star hotel for technical reasons, Parismarais.com has given it a 4 fleur-de-lys rating for its high-quality service, chic decor, sophistication, and location right in the heart of the Marais.
Situated very near the Place Sainte Catherine, the Carnavalet Museum and the Hôtel Sully, it is just a stone's throw away from the Village St. Paul.
The hotel has 18 air-conditioned rooms that are uniquely decorated, bringing together technology and serenity to ensure a memorable stay.
But the best part is that Parismarais.com readers can take advantage of a very special offer. Until the end of the year, book your stay at the Hôtel Caron for only 189€, a discount off the regular rate of 239€.


You can also enjoy great offers at Hôtel Bastille Speria, Hôtel Ecole Centrale and Hôtel du Vieux Saule that offers now a fantastic hydrotherapy system and sauna…
Each Hotel has reduced their rates to help British, Canadian, Australian and American visitors with the exchange rate.
After a day of exploring all there is to see and do in Paris, treat yourself to a meal at one of our recommended best value restaurants in Le Marais. With menus from 12,50 € to 100€, we have selections for every taste and budget.
---
TOP SELECTED RESTAURANTS
Des Gars dans la Cuisine
Since it opened 18 months ago, this chic designer restaurant has become one of the best addresses for dining out with a wonderfully friendly atmosphere. "Des Gars" literally means two guys and is a play on words meaning "damage". "The guys" would be the chefs, Jean-Jacques Delaval and Gil Rosinha. But there's no damage here…instead, their sure hands will win over your taste buds, and the waiters' warm smiles will make you feel welcome.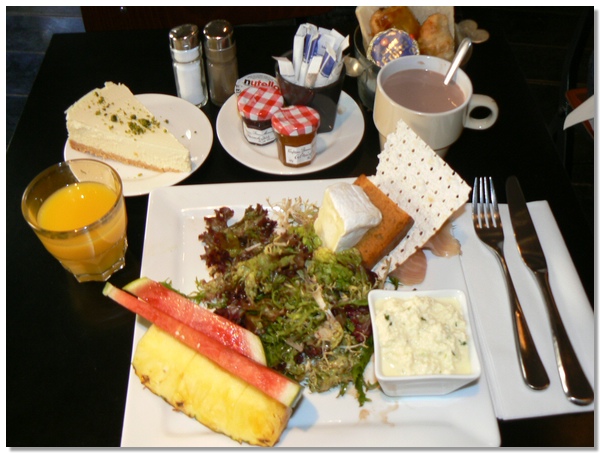 The Sunday brunch is gigantic and delicious! There are two choices: one is the bio with natural smoked salmon, a health choice that is guilt-free, the other is "des gars" including the famous Butch home style hamburger. Sunday brunch runs from 22€ to 24€.
For lunch the formule is unbeatable—two dishes for only 12,50€! Top wines are available at reasonable prices like le Mercurey AOC Bouchard, le Marquis Saint-Estèphe, le Petit Chablis AOC Domaine Louis Moreau, all for only about 30€.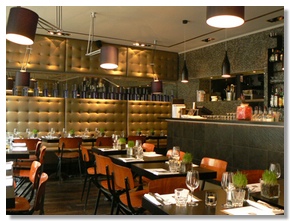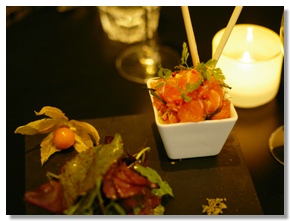 Des Gars dans la Cuisine
72 rue Vieille du Temple, 75003 Paris
Tel: 01 42 74 88 26
Bel Canto
For those with an appreciation of Southern French cooking with a touch of Italian and a love of opera music, Bel Canto brings you an unusual dining concept. You can enjoy your meal while listening to the music of such classical composers as Verdi, Rossini, Mozart, and Puccini, performed by the talented young opera singers from the conservatory of the Paris Opera.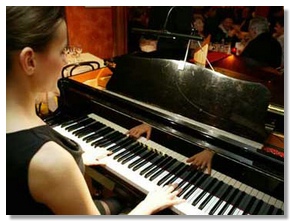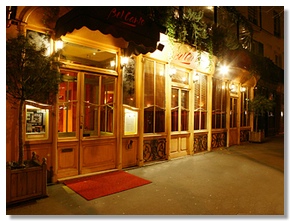 The menu includes marinated salmon with fresh dill, homemade cannelloni with pancetta and fresh spinach, strips of duck with foie gras, or filet of sea bream with raspberry butter, all served to you by the same performers who will delight you with operatic interludes every 15 minutes, accompanied by a pianist who plays throughout your meal.
Located along the Seine near the Hôtel de Ville, there are two levels of dining areas decorated with ochre walls and diffused lighting. With a beautiful terrace overlooking Notre Dame and the Ile Saint-Louis, Bel Canto is the perfect place for a special evening for small or large groups. Dinner with performance is around 75€.
Bel Canto
72, Quai de l'Hôtel de Ville, 75004 Paris
Tel: 01 42 78 30 18
Fax: 01 48 78 30 28
http://www.lebelcanto.com
infos@lebelcanto.com

Food & Beverage…Paris and now also in Cahors
F&B now features a new menu for a new season. An excellent wine list includes: Bordeaux, Château Margaux and Lynch-Bages (69€), Château Giscours (49€), Condrieu from the Côtes du Rhône, and Pommard from Burgundy. The three-course dinner costs approximately 32€. F&B also offers a great deal for lunchtime…three courses for 19€ or two courses for 15€.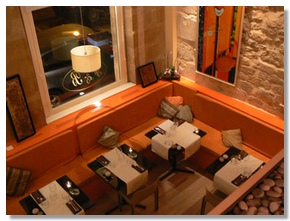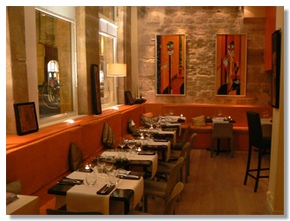 F & B Restaurant
14, rue Charlot, 75003 Paris
Tel: 01 42 78 02 31
http://www.foodandbeverage.fr
Monjul
At Monjul, every detail of every meal looks like a work of art. There are new dishes to discover every day such as foie gras mousse served on a black tile, bœuf Bourguignon that looks like chocolate cake, chocolate and pistachio delirium…each meal is a mouth-watering experiment! The food is delicious, the staff is wonderful, the décor is attractive… and it's only 31€ for three courses. The great selection of wines includes a fantastic Merlot for less than 10€ for a 50 Cl "pichet."
Monjul opened in May 2007 and it's already one of the Marais' Top 10 Restaurants. Talented Chef Julien Agobert and his team will surprise you like no one has before. Be sure you book ahead to get a table!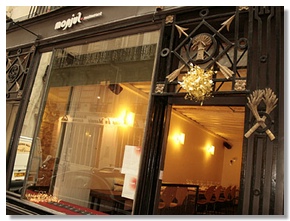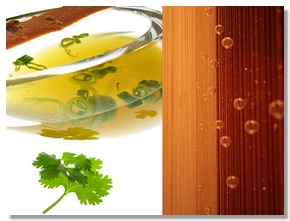 Monjul
28, rue des Blancs Manteaux, 75004 Paris
Tel: 01 42 74 40 15
Nicolas Flamel Inn
Since Alain Geaam has taken over, guests are continually dazzled by the Nicolas Flamel Inn, dating from 1407. Awe-inspiring presentations are coupled with a surprising wine cellar boasting more than 150 vintages. The menu gourmand at 31euro and the menu prestige at 46 euro are a treat and the lunch menu including two dishes, coffee and a drink at 18.50 is an unbeatable price. For a gastronomic detour, try the tasting menu with 5 different dishes paired with the appropriate wines. Some of our favourite dishes are 4 spice duck foie gras on upside-down crusty potatoes. Filet of beef with wild mushrooms and gratin dauphinois… for the piece de la résistance try the flourless chocolate heart-shaped cake explosion in a mini cocotte with violet sorbet or a Farandole of selected desserts. Just reading the menu is a pleasure for the senses. And the menu changes with the seasons.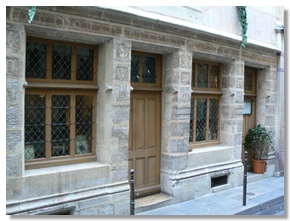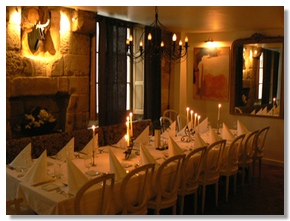 Nicolas Flamel Inn
51 rue de Montmorency, 75003 Paris
Tel. : 01 42 71 77 78 - Fax : 01 42 77 12 78
Metro Rambuteau or Arts et Métiers - Parking Saint-Martin
Maîtres d'hôtel:Sébastien Marchal et Liza Rungé - Chef: Alan Geaam
Everyday from noon to 2:30PM & from 7PM to 11PM (Last order)
http://www.auberge-nicolas-flamel.fr
Autobus Impérial
Last week, Alan Geaam opend a new brasserie located in Les halles district, l'AUTOBUS IMPERIAL …. We ll soon report on this new great place. we enjoyed the opening, its great 1920's décor, fantastic food and the skills of its barman playing with bottles like in a circus.
Happy hours from 5 to 8 pm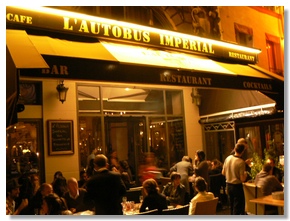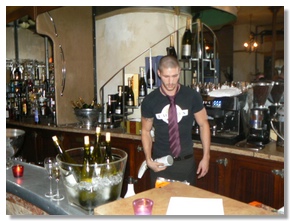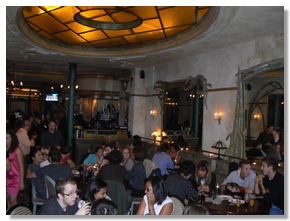 Autobus Impérial
14 Rue Mondétour 75001 Paris, métro Etienne Marcel.
http://www.autobus-imperial.fr/presentation.php
Le Carré des Vosges
This gourmet restaurant is one you won't want to miss. Just north of the historic Place des Vosges, it's tucked away on the quiet street, rue St. Gilles. Dishes are prepared with care and creativity like all great epicurean addresses. Service is also attentive and convivial. Lunch menu includes starter + main dish or main dish + dessert for 23 euro or 3 dishes for 29 euro. The evening seasonal menu for 40 euro is a culinary adventure for the taste buds. Wines complementing the complexly flavored dishes also come at a reasonable price. A specialty of the house not be missed is the ris de veau. Like all fine- dining experiences, everyone is served an amuse-bouche and mignardises to round out the meal. Once you've eaten here, you'll want to come back again and again…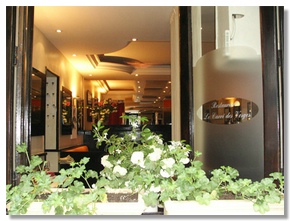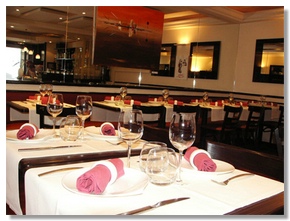 Le Carré des Vosges
15, rue Saint-Gilles
75003 Paris
Tel.: 01 42 71 22 21
www.lecarredesvosges.fr
Metro: Chemin vert – Saint Paul
Car park: Bastille
Chefs : Marc Ouvray & Sébastien Rondel
Tuesday to Friday from noon to 2.30pm and from 7pm to 10.30pm
Mondays & Saturdays from 7.30pm to 10.30pm
Inamoratti
A traditionnal italian trattoria
A victory for good food and traditional taste! Innamorati means falling in love…and you are sure to fall for Salvatore's cuisine. The chef started cooking when he was only 13 years old and won many gastronomic competitions in Italy before opening his new Marais restaurant. Every dish is served in a "cocotte" that holds enough food for four, but it's all for you! Try the wonderful Pasta Nera with Shrimps, the Antipasti Cocktail with Dried Tomatoes, Parma Ham and Artichokes to start, and to finish, homemade Tiramisu, Lemon Tart or Black Forest Cake with Amaretto. The three-course menu and half bottle of good Chianti wine is only 30 euros per person, making this one of the best spots for good taste and value in Le Marais. The special lunch menu is even more affordable: one main course with coffee and drinks for just 15 euros, and all main dishes are only 10 euros each to take away. You can also buy a great selection of Italian wines and specialities to take home. Viva Salvatore and his friendly team for bringing a taste of Italy to rue Charlot!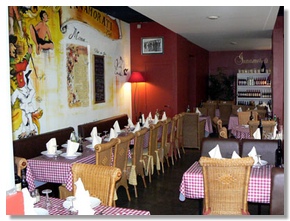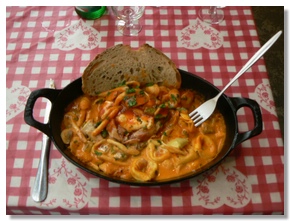 Inamoratti
57 rue Charlot 75003 Paris
Tel 01 48 04 88 28
www.innamoraticaffe.com
Metro: République or Filles du Calvaire - Car park nearby
Open from noon to 3 p.m. and 7 p.m. till midnight - Closed on Sundays and Mondays
---
GET THE BEST ADVICE ON WHAT TO DRINK THIS SEASON
Julien, Caviste - Julien speaks perfect English as he's been in the wine business in London for many years. He will advise you on what to choose with the meals you plan and will offer you a great selection of Burgundy, Bordeaux, Loire Valley and Alsatian wines…Trust him, there' s no better specialist in le Marais.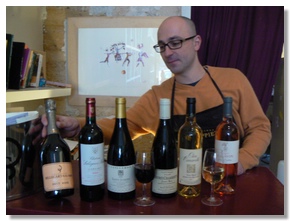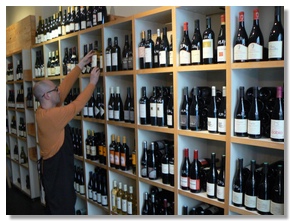 Julien - Wine specialist
50 rue Charlot 75003 Paris
Tuesday to Sunday morning
Closed Monday 10 am - 8pm
---
ENJOY THE MOST ORGASMIC CAKES YOU CAN FIND !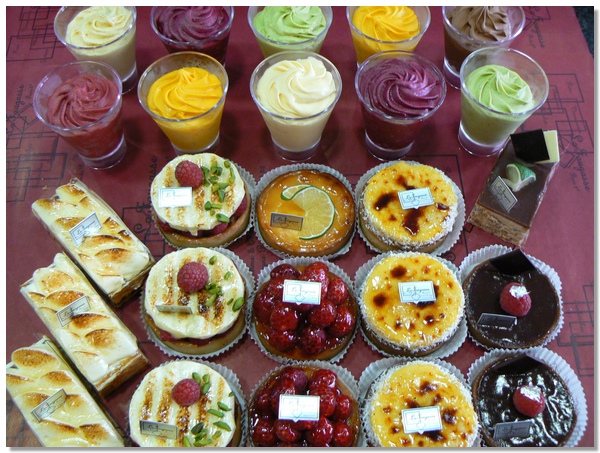 Recently redesigned in a contemporary style, La Fougasse is a new generation of upscale boulangerie and pastry shop…delicious wheat flour bread with nuts and figs, traditional baguettes, inventive and beautifully decorated pastries to eat right away or to bring home to impress your dinner guests…chocolate and banana tart, lemon-meringue tart, strawberry tart with vanilla cream & pistachios, bavarois, millefeuille, black and white chocolate cake, and many more to experience from only 2 euros for an individual cake. The homemade chocolates and macarons are also very tempting…Watch the flat screen TV with « behind-the-scenes » footage of the pastry chefs creating their delicacies!
La Fougasse
25, rue de Bretagne 75003 Paris
Metro: Filles du Calvaire - Private car park just opposite 14 rue de Bretagne
Manager: Mrs Bunel
Tel.: 01 42 72 36 80
Monday – closed - Tuesday to Saturday 7 am to 8 pm - Sunday – 7 am to 2 pm
Discover more on our selected restaurant pages
http://www.parismarais.com/selected-restaurants.htm
http://www.parismarais.com/cafes-brasseries.htm
http://www.parismarais.com/bistros-snacks.htm
---
RENT A FLAT IN LE MARAIS
Looking for somewhere unique to stay for your next holiday? Parismarais has selected a few apartments in beautiful historic houses. You can rest assured that when you rent a flat with the owners and companies we select, you'll be welcomed like a friend, benefit from great service and enjoy exceptional accommodations.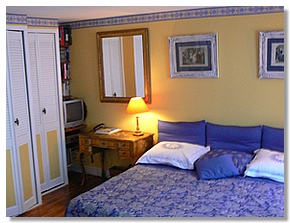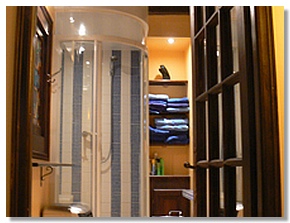 Warning about rentals: You can trust the owners or agencies that are based in France and have representatives here. Many companies based abroad offer you rentals without respecting the French laws and without offering you any insurance. Every week we receive complaints from customers who have encountered such agencies based in Eastern Europe, the USA or Delawaere, Belize or Caiman. To be sure a company is legitimate it is a good idea to ask if the agency is a member of the Paris Tourist Office or Maison de la France. If they are, it means they provide all guarantees that the apartment and company does exist, and that in case of any problem, you'll have someone reliable to assist you, as in any good hotel.
Visit our upscale selection of apartments at http://www.parismarais.com/visit-our-flats.htm
---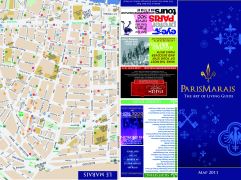 LE MARAIS MAP, DOWNLOAD FOR FREE!
To prepare for your trip to Paris, you can download the exclusive Parismarais map of le Marais for free! Be sure to print out both sides A and B of the map by clicking on the following links:
http://www.parismarais.com/map/A.pdf
http://www.parismarais.com/map/B.pdf
You can also visit the following page where you will find more maps of Paris and le Marais as well as selected places to visit—photos and addresses will "pop up" as soon as you click on the colored dots. Fabulous, n'est-ce pas?
---
ADVERTISE AND SELL ANYTHING YOU WANT AT PARISMARAIS.COM
Did you know that Parismarais.com is a great place to make new contacts and to buy and sell practically anything you can imagine? Post a small ad online for only a couple of euros and have it promoted on 20 other Anglophone web sites. Great isn't it? Start advertising now – it's fast and easy!
---
WHAT'S UP NEXT IN LE MARAIS?
Our English language newsletter comes to you only once a month, but we have so much to tell you it just keeps getting longer and longer! You don't have to wait for the next issue to check out what's new in le Marais. Almost every day we will add a new report or article about le Marais and Paris to our blog, plus many tips about real estate, travel and entertainment. If you want to write about le Marais, send us your comments about hotels, restaurants, shops and more in Paris. If we publish it, we'll be happy to add you to our list of contributors and writers.
http://www.parismarais.fr/blog
---
Don't miss our SPECIAL OFFERS
AOL blocks many major European ISPs, so we cannot guarantee that our mail to AOL addresses will arrive. Please use another email provider or "White List" our email address or add "info@parismarais.com" and to your contact list.
Parismarais Newsletter, October 2009 issue
http://www.parismarais.com
mailto:info@parismarais.com
To Subscribe:
http://www.parismarais.com/parismarais-newsletter.htm
To Cancel Your Subscription:
http://www.parismarais.com/unsubscribe.htm
Follow Parismarais on Twitter:
http://www.Twitter.com/parismarais
Special thanks to all our contributors and media partners all over the world.
http://www.parismarais.com/worldwide-links.htm
Should you wish to promote us and create profitable reciprocal links with us to your web site, please write to advertising@parismarais.com.

PARISMARAIS.Com is a Media Partner of Paris Tourist Office and France Guide / Maison de la France.
---

Copyright 2009, parismarais.com