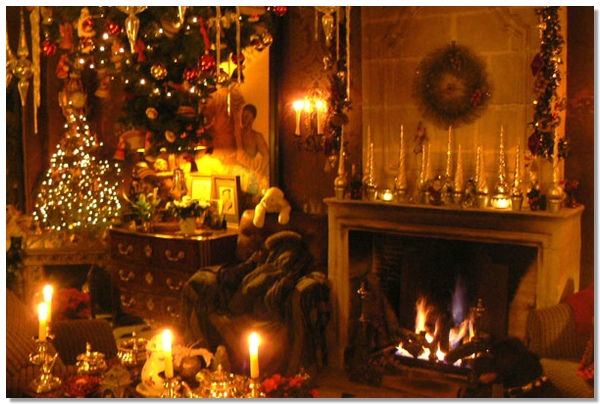 As comfy and cozy as you could ever dream was possible…
one of the Marais' most exclusive guesthouses

Parismarais Newsletter
Issue 36, January 2008
http://www.parismarais.com
ROYAL CAKES AND DEMOCRATIC PRICES
Bonjour Parismarais Readers,
Paris has 20 districts, each with its own mayor, and le Marais is comprised of districts 3 and 4. This year on January 9, Madame le Maire of Paris' district 4, Dominique Bertinotti, invited local citizens to the grand ballroom of the area's city hall to share champagne and a delicious buffet to celebrate the New Year and present her plans. As 2008 will be the year of our local mayoral election, it was time for her to announce that she will run for a new term of another six years. She will likely have a good chance to win as she is running beside Bertrand Delanoë, the mayor of the city of Paris, who is basically elected by the twenty local mayors. Bertrand Delanoë is very popular, and some Parisians even think that in five years he could be our next president, succeeding "Sharkozy"… but let's wait and see. The French are difficult to satisfy and change their minds as often as they change their shirts.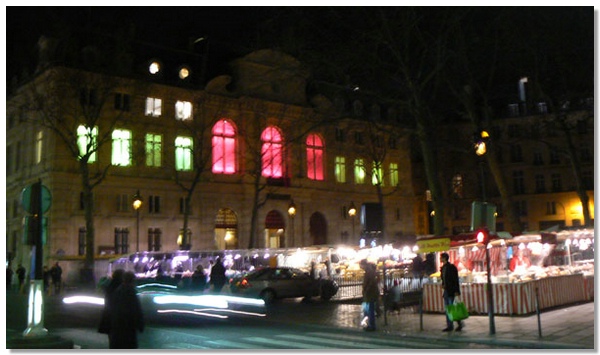 Dominique – as she likes to be called – gave us a quick review of her past actions in district 4, and made a more general speech full of humanity, reminding us all that in this time of religious fanatical craziness, spirituality is not only religious but can be related to secularity. She was right. Most of the brilliant ideas of "le siecle des lumières" (18th century) were not connected with any religion and are still important in our daily lives. This may be one of the main differences of political campaigns in France compared to other countries – you have a good chance to win if you talk about reality, human beings and human rights, and forget about "god." This is a bit of a paradox when you consider that le Marais is the Jewish district of Paris and is also the home of the greatest of all cathedrals, Notre Dame. But France is a country of pardoxes, after all.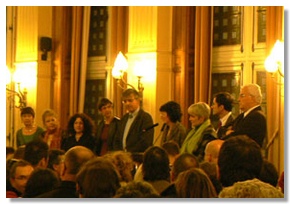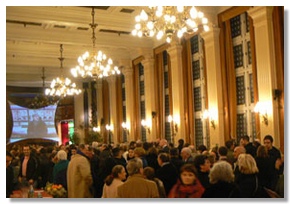 Dominique's speech was enthusiastically applauded and left us all in a good mood, full of hope – for the evening at least. We are now waiting for Monsieur Pierre Aidenbaum, mayor of Paris district 3, to announce more good news on January 17 at an event being held in the fabulous Arts et Métiers Museum. Local citizens will enjoy champagne, petit fours and more, as much as they like. At least we know where some of our taxes are going (taxes are very low in Paris, by the way).
Besides New Year's wishes from our politicians, one of the French traditions enjoyed at this time of year is the galette des rois (royal cake) which has been an institution in France since the Middle Ages. We found a very special one in the Marais at la Fougasse on rue de Bretagne. Buy one, and if you find a gold crown, or star, or jewel-box sign in it, you'll win a beautiful and unique bracelet created by a local designer, worth over 1000 euros. So forget about your diet this month…it could pay off!
If you want to create your own galette des rois, see below for the recipe from our friend Richard Nahem, Editor of "eyepreferparis" who is happily living on rue Saint Antoine.
Royal galette is not the only reason to come to le Marais in January. The best reason is that the winter sales are on and you can enjoy shopping at 50% off almost everywhere in Paris, and even as much as 70% off in the luxury boutiques. So forget about the currency exchange rate…now is the time to come and spend your pounds, yen and dollars!
Most shop owners don't realize it, but if visitors like you did not come to Paris and buy in their shops, they would all be out of business. We can't say it enough, and want our politicians to understand why tourism is so important: 40% of the income in central Paris shops and restaurants comes from foreign buyers. So even if visitors to Paris have no right to vote in our local elections, you do have a right to shop or not, spending your money as you wish when you visit our city. Money can't buy you a vote, but your money is another way to vote, and it can be a powerful and efficient way to cast your ballot, for anyone who still believes in democracy.
A bientôt, bonne année, bonne santé!
(And try not to exceed one galette des rois per day!)


Pascal Fonquernie
Editor, Parismarais




Read more about the specific election system in Paris (in French)
http://www.paris.fr/portail/accueil/Portal.lut?page_id=4824

Have a virtual visit of Paris City Hall http://streaming.paris.fr/visite_virtuelle/html/en/debit_en.html
---
THE PERFECT « GALETTE DES ROIS » RECEIPE
By Richard Nahem, Editor of eyepreferparis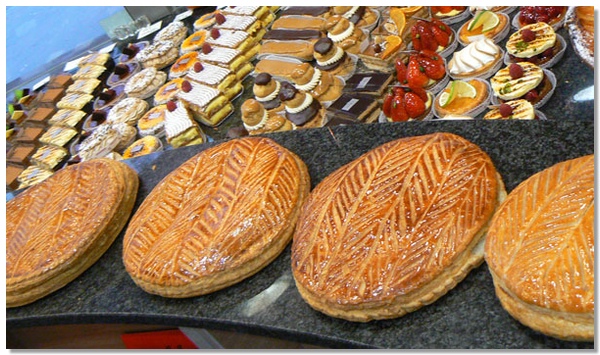 Galette des Rois (Serves 8)
Ingredients:
1 1/4 lb frozen puff pastry
2 eggs
7 oz almond paste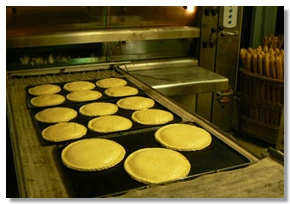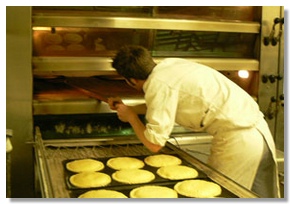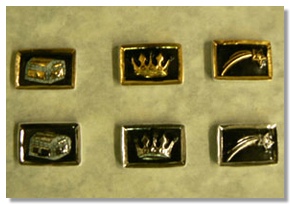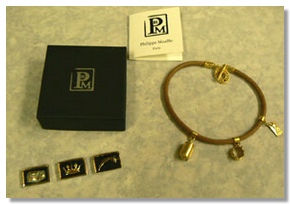 Preparation: Leave the puff pastry at room temperature for about 2 hours until defrosted but still cold.

Preheat the oven to 400°F.

Line a baking sheet or pizza pan with baking parchment or grease the pan and lightly sift flour on it. Shake off any excess flour. Roll each sheet of pastry into a circle about 12 inches across. Place one circle on the prepared pan.

Mix the egg with the almond paste until smooth and spread the mixture evenly on the prepared circle of pastry, leaving a border 1 1/2 inches wide all around. If you have a small piece of china, insert it into the almond mixture (you may also use a bean as the fève.) The person who gets the fève is the King or Queen. Place the second circle of pastry on top and press it down tightly around the rim.

Lightly beat the remaining egg and brush it on the top of the cake. With a long-bladed knife, press lightly but firmly through the egg glaze marking a crisscross pattern.

Bake for 20–25 minutes until golden and puffed. Do not check for doneness for at least 15 minutes, as the pastry may collapse. Serve slightly warm or cold.

Or…you can buy the best galette des rois you can find in le Marais at:

La Fougasse
25, rue de Bretagne, 75003 Paris
Metro: Filles du Calvaire
Private car park just opposite 14 rue de Bretagne
Monday – closed, Tuesday to Saturday 7 am to 8 pm, Sunday 7 am to 2 pm
http://www.parismarais.com/gastronomic-treasures.htm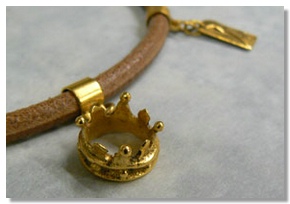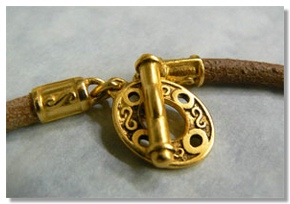 ---
DISCOVER LE MARAIS STREETS

In the past few months we have had the pleasure to present a series of short films on the French television station PARIS CAP about the best addresses in le Marais. If you have not had a chance to see these films, they are now online! Discover rue Charlot, rue de Poitou, rue des Archives, rue du Temple… And if you have anything great to recommend in le Marais, let us know – we may come to film it very soon!

Visit http://www.parismarais.com/videos.htm
---
MUST-SEE AT CARNAVALET MUSEUM

BENJAMIN FRANKLIN EXHIBIT 1776 - 1785
A tribute to the American writer, physician and diplomat who was in Paris in the late 18th-century, before the French Revolution.

December 5 to March 9, 2008
Closed on Mondays.
---
FREE CLUBBING – LE JEUDI!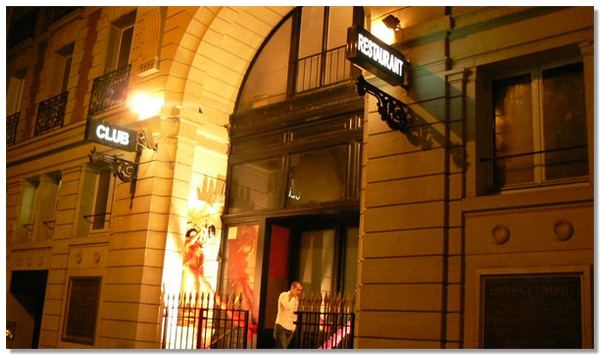 Le Bal du Jeudi is the friendliest mixed party at Les Bains Douches, held every Thursday. The music is fun and 80% French, the crowd is international and friendly with no attitude, the entrance is free and drinks start at 8 euros…don't miss it! Thursdays from 11 pm.

Les Bains Douches is a melting pot, where, according to the day of the week or month, every "tribe" in Paris can find its happiness and discover its friends. For many years, Les Bains Douches has featured the best DJs in the world: Bob Sinclair, Lexicon Avenue, Marco V, Tom de Neef, Antoine Clamaran, Francesco Farfa, Soul Silicon, Dave Seaman, Matthew Dekay, Spirit Catcher, Slam, to name just a few. You can find evenings so eclectic they're mythical …. LE BAL DU JEUDI is one of them "Time passes and are not alike but les Bains Douches will always be les Bains Douches!!!"

Les Bains Douches
7 rue du Bourg l'Abbé, 75003 Paris
Tel: 01 48 87 01 80
Open 11 pm to 5 am
Metro: Etienne Marcel
Tel: 01 48 87 45 83
To book a table or private party: resa@lesbains.info
---
LEARN TO SPEAK FRENCH IN A WINTER PARADISE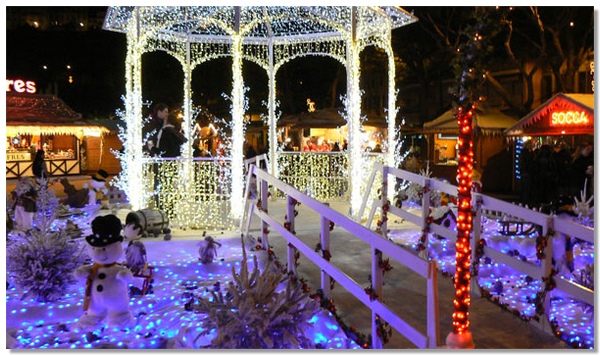 Where in the world can you find, in the heart of winter, sunny skies over a brilliant sea, magnificent sunsets descending behind snowcapped mountains and in this heavenly setting, have a myriad of exciting things to do, day and night? It has to be the French Riviera, that earthly paradise, more serene and beautiful in the winter, with maximum temperatures of 15°-17° to 8 pm, and evening temperatures of 9°-13° and nearly always a clear blue sky.

From Cannes to Nice to Monaco, an unbelievable variety of events take place in the winter: skiing (1 hour from the sea), boating, hiking along the sea or in the woods, concerts (classical, jazz, soul and funk, rock), festivals (dance, flamenco, operetta, guitar), fairs (book, fine wines, foie gras, chesnut, local produce), tea dances, guided tours (olive groves and mills, oils, picturesque tours), shows (musicals), theaters, casinos, the two-week Nice Carnival in February, etc., etc.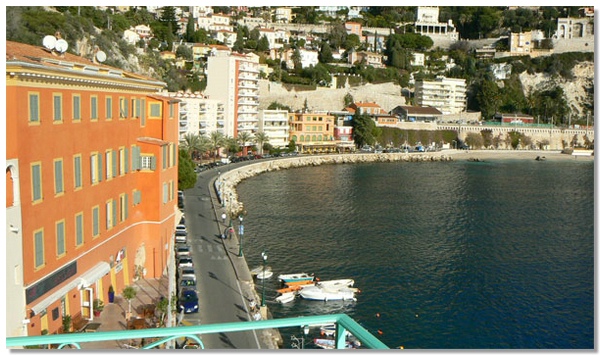 A particularly exciting experience is learning to speak French, along with fascinating people from all over the world, at the Institut de Français, sitting over the charming village of Villefranche-sur-Mer, with superb views of the Mediterranean's most beautiful bay. This world renowned school runs an intensive program for adults of 8½ hours a day for 2 to 4 weeks, all year round. It's total immersion – with breakfast, lunch and tea at the school, only in French. The program ranges from audio-visual classes, language lab to linguistic games, role playing in various situations, discussions with teachers, practicing French every day. From total beginners (there are 2 beginner levels) to advanced students (often diplomats, government officials, etc.) or a total of 8 levels.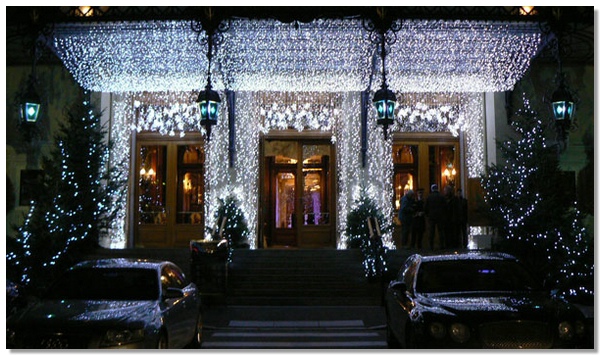 Added to that, there are evening activities with teachers – cinema showings at the school, going to the theater, a restaurant, the opera. Also an all-day excursion to the main sights in the area, the renowned villages of St Paul de Vence, Grasse, the famous perfume making center, Matisse chapel in Vence, Maeght art foundation, etc.

All this makes for an unforgettable experience in a winter wonderland.

Institut de Français
23 avenue General Leclerc
06230 Villefranche sur Mer
Tel: 04 93 018 844
Fax: 04 93 769 217
E-mail: info@institutdefrancais.com
http://www.institutdefrancais.com
---
WE WANTED BETTER GUIDES… SO WE WROTE THEM

Insider Paris Guides are a series of electronically published, downloadable guides about Paris and France written by journalists and writers who live and work in, and love Paris.

We cover specific, niche-interest topics that are difficult to find anywhere else. Get an insider perspective on Restaurants... Making a Life... Black Culture... Expat Writers...and Practical Paris.

For more information, visit http://www.insiderparisguides.com/index.htm
---
ADVERTISE YOUR PROPERTIES AND SELL YOUR GOODS AT PARISMARAIS.COM
Did you know that Parismarais.com is a great place to make new contacts and to buy and sell practically anything you can imagine? Our partnership with Franglo.com allows you to post a small ad online for only a couple of euros and have it promoted on 20 other Anglophone web sites. Great isn't it? Start advertising now – it's fast and easy!
http://www.parismarais.com/buy-and-sell-your-goods.htm
---
REAL ESTATE
Why spend time looking through all the newspapers when you can find the best property search firms and agencies we trust on Parismarais.com? Plus, see our classifieds section where you can advertise your properties for sale direct by owner for just a couple of euros.
If you have not visited these sections of our site, bookmark them now:
http://www.parismarais.com/real-estate-paris.htm
http://www.parismarais.com/real-estate-agencies.htm
http://www.parismarais.com/paris-marais-free-classifieds.htm
---
LOW-SEASON DEALS…GET 20% OFF HOLIDAY APARTMENTS
IN FEBRUARY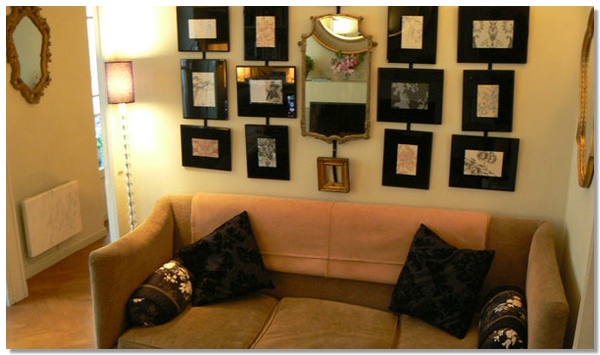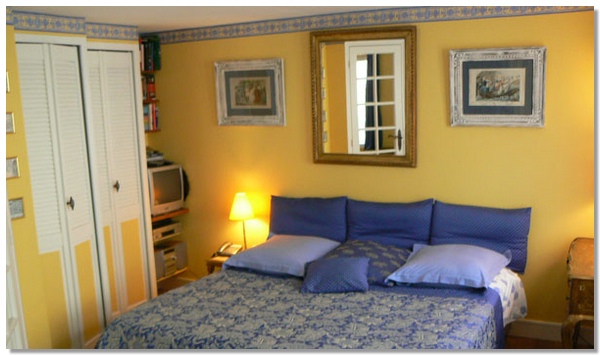 Looking for somewhere unique to stay for your next Paris holiday? Parismarais selects only the best of the best in each apartment category, just for you. You know that when you rent a flat with the owners and companies we select, you'll be welcomed like a friend, benefit from great service and enjoy exceptional accommodations.
BOOK ONLINE NOW WITH SPECIAL PROMOTION CODE «PM» FOR A ONE WEEK RENTAL AT 20% OFF!
http://www.parismarais.com/book-a-flat-le-marais-paris-france.htm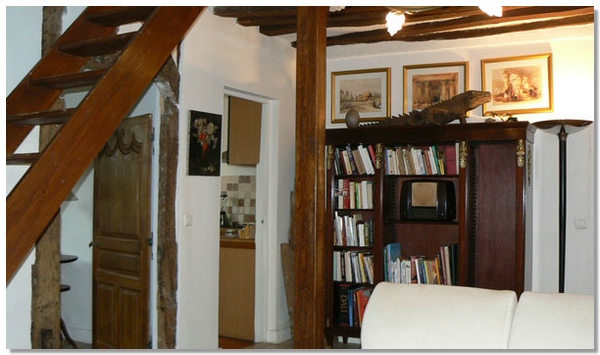 ---
NETWORKING IN PARIS
Following the success of the last two Ateliers where we welcomed over 100 multi-sector, international professionals, The Smartworking Company is pleased to announce our Moroccan Atelier - January 24, 2008!
The Smartworking Company and Travel & Network International, the business gateway to Morocco, invite you to the exquisite Moroccan Office of Tourism for a unique socio-business gathering where you'll have an opportunity to expand your network of must-meet, internationally focused business contacts and also get a glimpse of Morocco and taste some of their delicious specialties.
Continuing the Smartworking spirit of custom-tailored professional introductions: Before the Atelier we'll process your profile with our Smartworking software. We'll then organize your Atelier schedule according to your criteria. During the Atelier, you'll participate in strategic networking sessions. After the Atelier, we'll continue to work with you (Smartworking membership).
Where: Office National Marocain de Tourisme
161 Rue Saint-Honoré, 75001 Paris
Métro: Palais Royal, Musée du Louvre
When: Thursday January 24, 2008 7:00-9:30 pm (Doors open at 6:45 pm)
Registration Fee: 28 euros
Includes:
1) Personalized Atelier schedule
2) Traditional Moroccan Welcome Drink (plus surprise!)
3) Moroccan style Cocktail hour (a tasty buffet, prepared by Pyramide Services, including a variety of appetizers, salads, desserts, drinks, coffee, and tea). More information about the Moroccan style Cocktail hour out soon!
How to pay? Contact us and we'll send you the info!
PLEASE NOTE: REGISTRATIONS AND PAYMENT MUST BE MADE BEFORE JANUARY 22nd,
NO PAYMENT AT THE DOOR
How to pay? Contact us and we'll send you the info!
Email: contact@smartworking.fr
We look forward to seeing you on January 24th
Michelle Goldberger
President and Co-Founder
The Smartworking Company© SARL
http://www.smartworking.fr
---
MEET THE AUTHOR, THIRZA VALLOIS, AT THE AMERICAN LIBRARY IN PARIS
Wednesday, January 30, 2008, 7:30 pm

Thirza Vallois, will be presenting and signing copies of her latest book, Aveyron, A Bridge to French Arcadia.

"It all began with a riot of wisteria"... round the corner from Notre Dame. This led to Thirza's chance meeting with Georges and Odette, and to Thirza's journey into the last corner of undiscovered France, where La France Profonde and modernity are harmoniously one. Join Thirza as she unravels the captivating story of a once destitute corner of France, now singled out, by the French themselves, for its unbeatable, idyllic quality of life. The evening will be accompanied by stunning photos of the Aveyron and its people, young and old. You will be amazed!

Thirza Vallois is the author of the legendary Around and About Paris series, Romantic Paris and her recently published Aveyron, A Bridge to French Arcadia, already hailed as a "revelation". She is an expert on all things Parisian and is also the author of the Paris entry to the Encarta Encyclopedia. She contributes regularly to the international press and to television and radio worldwide (BBC, PBS, CNN, Discovery, The Travel Channel, the French Cultural Channel and others). Her United Airlines' Hemispheres award-winning "Three Perfect Days in Paris" was aired as a film on travel channels worldwide and on United Airlines international flights. Recently, she was the BBC consultant of a three-hour series on Paris. Ms Vallois lectures worldwide for arts societies and clubs, universities, libraries, museums as well as travel writers' workshops.
American Library, Wednesday, January 30, 2008, 7:30pm
10, rue du Général Camou, 75007 Paris
Tel: 01 53 59 12 60
http://www.americanlibraryinparis.org
Métro: Ecole Militaire, Alma-Marceau
RER: Pont d'Alma
Bus Routes: 42, 63, 69, 80, 82, 87, 92
Visit my website: http://www.thirzavallois.com
---
NO SMOKING PARIS, AT LAST!
By Richard Nahem, Editor of eyepreferparis

It's official: there is no smoking allowed in public places including bars, restaurants, cafés, and clubs in France.

With all the predicted hysteria and protest, things seemed normal and sober when I went to my local café yesterday. The café still smelled of smoke (I think it will be months until the distinct odor is gone) but no one lit up or even tried. I am not a smoker and will now appreciate my clothes not smelling like a pack of Camel's, but somehow I feel the corny yet romantic stereotype of a smoky café will disappear along with other French traditions. I thought that the outdoor cafés would reopen en masse to accommodate smokers, but they haven't and the French seem to be taking it lying down (Oops! I hope they don't smoke in bed).

Now I'm having romantic notions of large, angry protest groups marching down the rue de Rivoli or the Champs Elysées, carrying giant cigarette packs with simulated smoke coming out of them, screaming epithets like "I smoke, therefore I am"" or "No smoking, no life".

Alas, I think my romantic notions will go up in smoke and the French will abide by the new rule, even though they will be grumbling.
---
Parismarais Newsletter
Parismarais Newsletter, Janurary 2008 issue
Thanks for their contribution to Lynda Sydney, Thirza Valois, Laurent Queige, Richard Nahem, Frederic Latty, Michelle Goldberger.
http://www.parismarais.com
mailto:info@parismarais.com
To Subscribe:
http://www.parismarais.com/parismarais-newsletter.htm
To Cancel Your Subscription:
http://www.parismarais.com/unsubscribe.htm
To receive more news about Paris, subscribe to Parler Paris Newsletter and twice a week you will receive the latest information, events, tips, and details about what's new in the French capital, written by Adrian Leeds, long time resident of Le Marais, visit www.parlerparis.com
Copyright 2008, parismarais.com