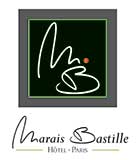 Hôtel Marais Bastille
36 Boulevard Richard Lenoir, 75011 Paris, France
Managers: Mr & Mrs Dolbeau
Chambre simple: 130€ à 220€
Chambre double ou twin : 140€ à 230€
Double Deluxe : 165€ à 280€
Hôtel Marais Bastille
El Hotel Marais Bastille ofrece un espacio ideal entre la animacion festiva de la plaza de la Bastilla, la nueva Opera y el maravilloso e historico barrio del Marais al cual llegará en pocos minutos caminando. Este hotel que está a lo largo de un gran bulevar, le permetirá ir descubriendo lugar inconturnables de la ciudad : la plaza de la Bastilla, la famosa Place des Vosges, los restaurantes gastronomicos de Bastille y el Marais, el museo Carnavalet … Su localización central permite a la los clientes turísticos como a los ejecutivos y empresarios de recorrer todo París facilmente, gracias al gran numero de transportes a disposición , como los buses y bicieltas (Vélibs) . Metro linea 1 : Bastilla , Metro linea 5 : Bastilla, Breguet-Sabin, Metro linea 8 : Bastilla, o el RER A : Gare de Lyon. En el corazón del hotel, hay un gran lobby y sus rincones de salón le permetirán darle la bienvenida a sus amigos y preparar sus visitas cotidianas. Las habitaciones superiores ofrecen vistas exepcionales sobre los techos Parisinos y la plaza de la Bastilla.
BEST ROOMS AND BEST RATES GARANTEED by PARISMARAIS.COM.
Free Marais Map offered to our clients.
Rating Hôtel Marais Bastille
/ No rating